Wai O Tapu Thermal Wonderland Review 2022
Wai O Tapu Thermal Wonderland was one of our favourite attractions near Rotorua. This geothermal attraction is one of New Zealand's must do's and is rated in the Top Ten Attractions in Rotorua by Tripadvisor. Read our full review and our top 11 tips for an awesome time at this incredible natural geothermal attraction.
What to see at Wai O Tapu Thermal Wonderland
Lady Knox Geyser
Largest Mud Pool in New Zealand
Champagne Pool
Volcanic Craters
Naturally coloured springs
Sinter terraces
Our tips for visiting Wai O Tapu Thermal Wonderland
Buy tickets online and head straight to the geyser without having to go to the Visitor Centre (this is in a separate part).
Arrive 30 minutes before the eruption at 10.15 am to get a seat.
If you have to buy tickets at the Visitor Centre, aim to get there at 9.30 am.
Allow at least 2 hours at Wai O Tapu.
Use the toilets at the Visitor Centre as there are none in the park area.
Don't forget your camera.
Wear sturdy, closed in footwear.
Be prepared for the stink of sulphur around the park. It can be very pungent at times in certain areas.
There is no swimming at the park.
Obey the safety signs – stick to the paths and do not cross the barriers.
Drones are not allowed unless previously arranged.
Disclosure: This post may contain affiliate links (of which we use) so we may receive a small amount of commission if you buy something through them. As an Amazon Associate, I earn from qualifying purchases. You can read the full disclaimer here.
Lady Knox Geyser
We timed our arrival at the park to get there early enough to see the eruption of this geyser at 10.15 am. It gets very busy so allow plenty of time to park and get to the amphitheatre. If you have bought tickets online, you can go straight to the geyser without having to go to the Visitor Centre first (this saves quite a bit of time). Despite having a lot of space, it does fill up quickly so I would advise getting there about 30 minutes before.
Lady Knox Geyser is forced to erupt once a day by the rangers using a bag of soap. It can reach heights of up to 20 meters and last up to an hour.
Wai O Tapu Thermal Wonderland Park
Visitor Center
You enter through the Visitor Centre, which is a great place to buy gifts and souvenirs. We compared prices and they are very competitively priced.
The cafe is here too and has outdoor as well as indoor seating. It sells hot and cold food plus drinks and ice cream. They also have gluten-free items for sale.
The toilets and baby changing facilities are also here. Be aware that these are the only ones in the park.
The Park
The geothermal park is the result of thousands of years of volcanic activity. It is a very diverse landscape which spreads for over 18 sq km.
The admission includes a detailed map of the park and all the paths are well signposted. There are 3 loops all colour coded which are easy to follow. You walk mainly along boardwalks and there are markers with numbers on and the colour relating to the loop.
The red loop (Walk One) is 1.5km long and will take about 30 minutes to complete. You can tag on Walk two (orange) which is another 10 minutes and Walk Three (green) would be an additional 35 minutes. We did the red and orange ones but left out the green due to time restraints.
As you go round, you will notice the smell of rotten eggs. This can be very pungent at times and is the result of the sulphur.
Craters
You will see craters where the ground has collapsed due to the acidic steam.
The colours that you see are due to the oxidisation of minerals. The colours are:
Brown/Red – Iron Oxide
Purple – Manganese Oxide
Yellow – Sulphur
Pink – Cinnabar (Mercury sulphide)
White – Kaolin
Mud Pools
These mud pools contain unrefined crude oil and graphite. The temperature is around 50 degrees centigrade as they are heated by underground thermal vents.
The Champagne Pool and Artist's Palette
The Champagne Pool is likened to a glass of bubbling champagne due to the carbon dioxide. It is the largest hot water spring at Wai O Tapu at about 73C. The orange colour edge contains arsenic and antimony sulfur compounds rich in minerals including gold and silver.
It was formed due to a hydrothermal eruption 700 years ago. The crater is 65m in diameter and roughly the same depth. The water that enters that depth is roughly 260C.
Mineral water overflows from Champagne Pool onto the sinter terraces. This is known as the Artist's Palette due to the mineral deposits that colour its surface:
Clear/Blue – Alkali Chloride
Cloudy yellow/green – Acid Sulphate
Orange – Antimony/Arsenic
Green/Yellow – Sulphur/Arsenic
Grey – Carbon
Sinter Terraces
These are the largest sinter terraces in New Zealand. They are formed by the overflowing Champagne Pool which evaporates leaving geyserite. Currently, they cover 1.5 hectares but are constantly growing.
Lake Ngakoro Waterfall
As mentioned, we didn't have time to do this loop but it will reward you with a beautiful waterfall. You can see the lake from the lookout on Loop 2.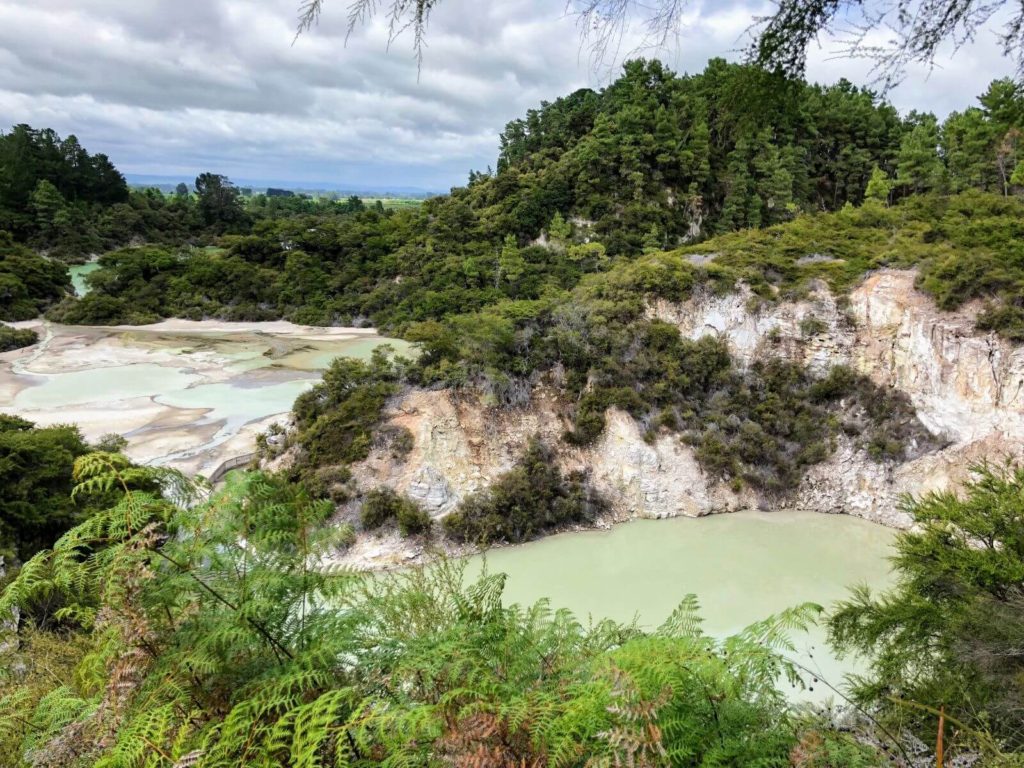 Roto Karikitea (Devil's Bath)
This has to be seen to be believed and was the highlight for us. It contains a toxic mix of Sulphur and Ferrous Salts which is combined with the minerals from the Champagne Pool.
Mud Pool
The Mud Pool is separate to the park and free to view. It is the largest mud pool in New Zealand. Originally it was the site of a large mud volcano which was destroyed through erosion in the 1920s. It is pretty cool to listen to the mud explode.
Opening Hours
Wai O Tapu is open 365 days a year as follows:
Winter: 8:30am to 5:00pm (last admission 3:45pm)
Summer: 8:30am to 6:00pm (last admission 4:45pm)
Christmas Day – 25 December: 8:30am to 5:00pm (last admission 3:45pm)
Address and phone number
201 Waiotapu Loop Road, RD 3, Rotorua 3073, NZ
+64 7 3666 333
How to get to Wai O Tapu
Directions From Rotorua
Head south along SH 5 ( The Thermal Explorer Highway) towards Taupo for 27km until you reach the Waiotapu Tavern. Then turn left opposite the tavern and travel 2km to the attraction.
Directions From Taupo
Head north along SH 5 (the Thermal Explorer Highway) towards Rotorua for 53km. Turn right where signposted and 1 km to the park.
Allow around half an hour from Rotorua and 40 minutes from Taupo. If you are coming from Auckland, it is 257km and will take you approximately three and a half hours.
Map
Parking
There is plenty of parking at the site of the Lady Knox Geyser (this is in a different location to the Visitor Centre). Some people leave their car there and walk to the Visitors Centre but we drove and parked at the Visitors Centre without a problem.
My Thoughts
We enjoyed our time here and thought it was worth the entrance price. There was a lot to see and we found the geothermal activity very interesting. We'd recommend adding this to your Rotorua itinerary.
Where to stay near Wai O Tapu Thermal Wonderland
We stayed in a 2-bedroom suite at the Best Western in Rotorua and would stay there again. It was centrally based, good value, and had a separate kitchen, dining and lounge area. The resort included free Wi-Fi, mini golf and a heated pool with spa pool.

As usual, we booked through Booking.com due to their competitive pricing and free cancellation on most properties.
Read more about the property here.
If you found this article helpful, please consider booking through one of our links. It won't cost you anything but will help towards the cost of running this site. Thank you.

To keep up-to-date with our travels, follow us on Facebook.