Hot Water Beach Tips – Discover Our Top 8
If you are thinking of going to Hot Water Beach, read these Hot Water Beach Tips before you go to make the most of your visit. This guide includes all the essential information you will need to plan your day.
Hot Water Beach Tips
Find out when low tide is and make sure you are at the beach 2 hours either side of it.
Try to avoid visiting on the weekend, especially in summer, as it will be extremely busy.
Arrive early. Parking can be a problem in the height of summer season and the beach gets packed.
You will need a shovel. If you don't have one, they can be rented from the shops.
Bring a towel and a dry bag to put your valuables in.
Test an area with your toes before digging. The hot springs are not all over the beach (see more below).
Be Careful – temperatures can reach 60 degrees Celcius.
This is not a great beach for swimming so be aware of rips.
Combine it with a walk to Cathedral Cove.
Why is Hot Water Beach hot?
Water seeps through two fissures down to hot molten magma and returns to the surface as hot water. This then exits through the hot springs on the beach and in Te Waiwaiwe Creek.
Parking for Hot Water Beach
There are 4 car parks at Hot Water Beach. The first one is in Domain Road, off Hot Water Beach Road (on Google Maps as Middle Car Park). It has access to the springs along the beach without having to cross the stream. It is free to park and has a small toilet.
Taiwawe carpark is the second and is also free. You access the springs via the Pa Track which runs alongside the stream.
Just over the small bridge on the left, is the third car park. There aren't any facilities here but it's a short walk to the main car park and shops.
The fourth is the Main Beach Car Park which is paid parking. This is the closest to Hot Water Beach and the main facilities. It does, however, require you to cross the stream.
Tips for finding the Hot Water Beach springs
If you come from the main car park, head towards the ocean. You will need to cross the stream. The depth of this will depend on how much it has rained the past few days. The hot springs are on the left where the beach narrows (you can see roughly where on the map above).
It is actually only a small section of the beach that you can get the hot springs. Instead of digging and then finding only cold water, try digging into the sands with your toes first. If you find a place, that has the right temperature, then you can start digging your spa.
Where is Hot Water Beach?
Hot Water Beach is about 175km from Auckland on the east coast of the Coromandel Peninsula. It is on New Zealand's North Island.
Disclosure: This post may contain affiliate links (of which we use) so we may receive a small amount of commission if you buy something through them. As an Amazon Associate, I earn from qualifying purchases. You can read the full disclaimer here.
How to get to Hot Water Beach from Auckland
The fastest way is by car and will take about 2 1/2 hours. You should allow longer if you are traveling in peak hour traffic.
You can take the Intercity bus which goes to Whitianga (this will take about 4 hours) and make your way from there (see below).
There are shuttles that run from the city and the airport to Hot Water Beach like Go Kiwi Shuttles but it's expensive.
How to get to Hot Water Beach from Whitianga
Hot Water Beach is only 34km from Whitianga and will take about 30 minutes by car or you can take a tour like this one.
Another option is to take the ferry to Ferry Landing and get one of the shuttles from there.
Tours to Hot Water Beach
If you don't have your own transport, consider taking a tour. This Cathedral Cove and Hot Water Beach Express departs from Whitianga and takes you to Cathedral Cove and Hot Water Beach. Read more here.
If you're staying in Auckland, this Coromandel Peninsula Highlights Small Group Tour includes Hot Water Beach, Cathedral Cove, and other viewpoints of the Coromandel.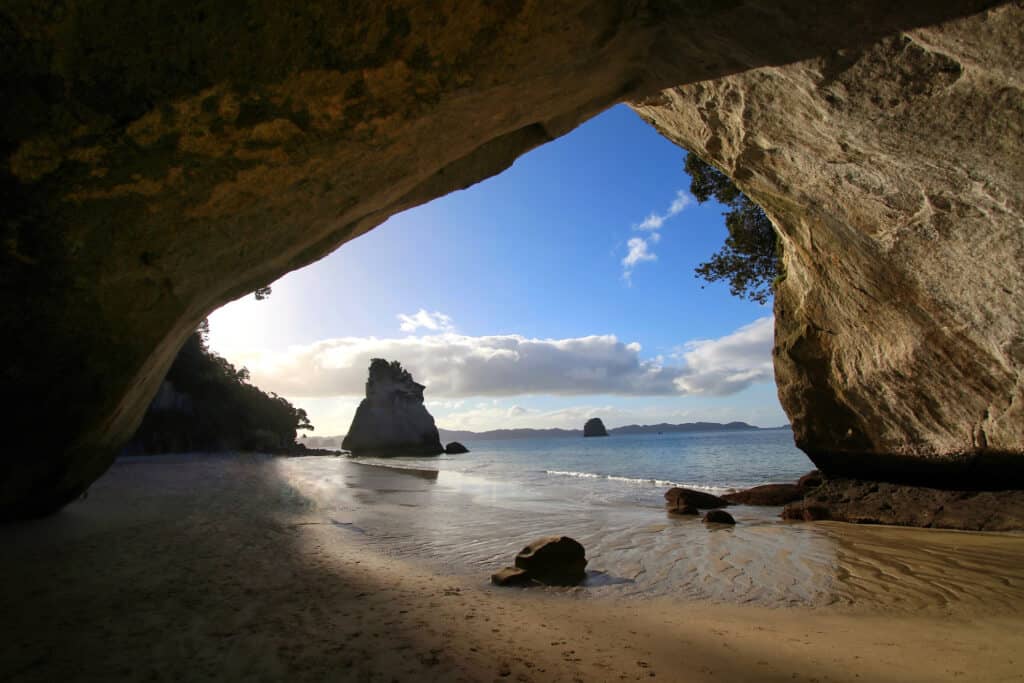 The best time of year to visit Hot Water Beach
We didn't have a choice as we were staying on an extra week after our Celebrity cruise. We went in the busiest time; summer, school holidays and on a weekend. You can read what I thought of it further on.
Some people loved it during winter as the springs were hot and there was hardly anyone around. No fighting over a spot! However, I don't like the cold, so probably wouldn't have gone if we'd visited in the cold weather.
My tip would be to go in summer but outside of school holidays. Also, try and visit on a weekday.
Hot Water Beach Tide Times
Check out the Coromandel's website for the Hot Water Beach tide times. Remember it will be at its best at low tide but can be accessed up to two hours either side of this.
Facilities at Hot Water Beach
As mentioned above, the main car park is where you will find toilets, changing room, outdoor showers, a cafe, and a shop.
What to bring
Bathers
Towel
Spade (or hire one)
Waterproof camera
Sun protection (hat, rashie, sunscreen)
Dry bag
Change of clothes (I would wear thongs/flip flops too)
My thoughts
Now you've got all the information, let me tell you what I thought about it. I hated it! Now, this could have been because we probably went on the busiest day of the year but I didn't love it. There were so many people crammed into such a small part of the beach and we couldn't even squeeze into a spot to dig even the smallest of holes.
We ended up asking someone if we could try their's out. I stuck my feet in and, yes it was warm, but I can't say it was spa-like.
Would I travel all the way from Auckland to go there? Probably not. However, it is worth seeing what all the hype is about if you are in the area. You may be able to enjoy it at a quieter time.
Accommodation near Hot Water Beach
We booked our Whitianga accommodation through Booking.com, which have plenty of options depending on your budget.
Click here to view all the properties, see photos, and read the reviews.