The Best Hobart Cruise Excursions
Wondering what to do in a day in Hobart or what are the best Hobart cruise excursions? We were here for a day on Celebrity Solstice and enjoyed the history and natural beauty of Tasmania's capital city.
Hobart is Tasmania's main cruise port due to it having the deepest harbour. As you arrive into Hobart, you will see the magnificent Mount Wellington in the distance towering over the city.
Hobart was founded in 1804 by Colonel David Collins and is Australia's second oldest city.
Disclosure: This post may contain affiliate links (of which we use) so we may receive a small amount of commission if you buy something through them. As an Amazon Associate, I earn from qualifying purchases. You can read the full disclaimer here.
Should you Book a Private Tour or Ship Tour?
The decision to book a private tour versus a ship's tour is completely down to your risk factor and preference. If you are held up for any reason on a private tour, the ship will not wait. However, they will hold the ship if the tour has been arranged by themselves. Always take your passport with you if you do a private tour in case you need to fly to the next port.
Private tours are much cheaper than ship tours, sometimes even half the price. You may even end up using the same tour company. If you prefer small groups, then a private small group tour is ideal.
We tend to use private tours in low risk countries like Australia and New Zealand but ship tours in Asia where traffic jams are frequent.
Hobart Cruise Terminal
Hobart's cruise terminal is located at Macquarie Wharf, on the Derwent River. The terminal has a waiting hall, visitor information services, retail shops (including locally-made crafts, souvenirs, and jewellery), and currency exchange. It is a short walk into the main area of Hobart and the Salamanca Markets.
Hobart Cruise Excursions
A tour like this Hobart full day excursion helps you make the most out of your day in Hobart as you'll visit five top attractions. You'll be amazed by the views from Mt Wellington, which is 1272m above Hobart. If you are there on a Saturday, the tour will include a visit to the famous Salamanca Market where you can browse the stalls before heading to Richmond to learn about Hobart's convict history. After lunch, not included in the price, you can see Kangaroos, Koalas, and Tasmanian Devils at the Bonorong Wildlife Sanctuary, and then visit the MONA art museum.
This 4.5 hour port excursion takes in the highlights of Hobart, including a visit to the Bonorong Wildlife Sanctuary and a visit to historic Richmond. The tour takes you past important landmarks with a full commentary and a visit to the Salamanca Market (Saturday only).
This Mt. Wellington, Richmond, and Bonorong Day Trip is very popular and receives excellent reviews. The tour lasts about 5-6 hours and you will visit Mt Wellington summit if the weather permits or the lower viewing point at Mt Nelson Signal Station which offers equally stunning views of Hobart, the Derwent River and Channel. The next stop is Richmond where you will learn about the early convict days that preceded Port Arthur at the oldest goal in Tasmania and see the oldest convict-built sandstone bridge still in use in Australia. The last stop is the Bonorong Wildlife Sanctuary.
During this 9-hour Tasmania Convict Trail Tour, you get to visit the historic site of Port Arthur where you'll have the opportunity to join a 40-minute walking tour. Your ticket includes a fully narrated 25-minute harbour cruise during which you will be able to see and learn about the ship building dockyard, the island cemetery, the 'Isle of the Dead' and the Point Puer, the site of the English colonies first reformatory boys prison.
Next, follow the notorious Tasmania Convict Trail, stopping at historic towns like Doo Town and Richmond. Stopping en-route at Eaglehawk Neck, you will see the stunning rock formations at the Blowhole, Tasman Arch, and Devils Kitchen.
This small-group tour is limited to 14 people for a personalized experience.
This scenic flight departs from Hobart's waterfront and heads to the famous Three Capes, which you will be able to see from this unique perspective. You will also get to view Port Arthur from the water.
A shorter 30-minute scenic flight by seaplane takes you over the city before heading south to follow the River Derwent as far as North West Bay. From here, you will head east to the rugged cliffs and white sandy beaches Bruny Island. Then it's back up the river's eastern shore, reaching the Tasman Bridge and experiencing views of the majestic kunanyi/Mt Wellington.
A local guide leads this 2-hour walking tour of Hobart, starting from Hunter Street and finishing at Salamanca Place. You will walk through beautiful gardens to view heritage-listed buildings with Victorian and Georgian architecture, including St David's Cathedral, Victoria Tavern, Treasury Buildings, Derwent & Tamar building and the famous red awnings of the old Savings Bank building.
This easy historic Battery Point Walking Tour starts at Parliament House and ends in Salamanca Place. Your guide will bring this area to life and will recreate for you the history of this quiet and exclusive area that was once farmland known as Cottage Green. This area is best explored on foot to get a real feel for it.
Parliament House
Parliament House was designed by Colonial architect John Lee Archer in 1830. The stone was quarried from the site now known as Salamanca Square where a small railway was used to carry the blocks. The building work, mostly by convicts, began in 1835 and the basement level a year later. By 1838, the second storey was finished and the Customs Department opened for business on 1 September 1840.
In 1841, the Legislative Council met in the 'Long Room' but moved to its present chambers in 1856. The Customs Department had moved out of this building by 1905.
Narryna
Narryna was built by Captain Andrew Haig in 1837-40. Haig was originally a Calcutta based merchant trading between Calcutta and Canton. In 1824, he sailed into Hobart and purchased land from Rev. Robert Knopwood's Cottage Green estate. On it he built Narryna and a pair of warehouses facing Salamanca Place where he sold imported foods and building materials. Narryna was not completed until October 1840 and Haig, on the verge of bankruptcy, was forced to sell it along with his other assets in April 1842.
Narryna was later home to businessmen and women, lawyers, politicians and bankers. In the early 20th century it became a boarding house before being bought by the Tasmanian Government as a health care facility. In 1955, it became Australia's first folk museum, thanks to a group of Battery Point residents who got together a collection of mercantile and maritime histories of Salamanca Place and Battery Point.
It is open Tuesday to Saturday 10am to 4.30pm at a cost of $10 per adult and $4 per child. We were in port on a Monday so didn't have the opportunity to look around inside.
Queen Alexandra Hospital
Tasmania was the first state to introduce midwifery training in Hobart in 1901. This led to the maternity hospital being opened in 1908. Prior to this, babies were born at home. Within a few years of its opening, the maternal and infant mortality rates reduced dramatically.
It was the only place to offer the training for many years but was never large enough to meet demand. Despite many additions over the years, the services were moved to Royal Hobart Hospital in 1980. The building has since been converted into luxury apartments.
6 Stowell Avenue
This was one of the earliest homes in Battery Point. It was built by John Montagu in 1831 on land granted to him by his uncle, Lieutenant Governor Arthur.
When Montagu left for England in 1839, Stowell was sold. Many changes were made over the years but it remained a private residence until 1917. It then became a private hospital until 1945 when it had to be sold due financial problems.
The CSIRO then used it for offices and labs until they moved tho their waterfront headquarters in the 90's. It was then modernized and turned into apartments.
You can view a map and more information on the Battery Point Walk website.
Salamanca Square and Place
Unfortunately the famous Salamanca Markets weren't on while we were in port as they are only open on Saturdays. However, the square has lots of cafes looking out onto the fountain. The best part though? Free Wifi, so we spent some time here catching up on emails and social media.
If you decide to explore Hobart on your own, the Hop-On Hop-Off Bus is a great-value way to get around the city and includes a commentary. There are 19 stops on this 90-minute loop where you can get off to explore the sights.
Hobart City Sights and History
Some of our favourite sights and things to do in Hobart were:
Hunter Street
As you exit the terminal, you will be in Hunter Street, which was originally a rocky island that was only connected to the mainland by a tidal sandbar. In the early days of settlement, all cargo arrived and left from the Old Wharf next to Hunter Island.
In 1820, a stone causeway was built to connect Hunter Island to the main shore. However, an economic depression hit in the 1830s and a new wharf had been constructed across the bay (at what is now Salamanca Place). Therefore, the Old Wharf was gripped by poverty as well as disease. The buildings in Old Wharf fell into disrepair, and with its brothels and taverns, it earned a bad reputation.
Around 1869, George Peacock set up his jam making business in these warehouses. Ten years later, Henry Jones and his two partners bought out the failing business, and over the next 35 years, Jones's IXL brand became a household name. In 1895, the company purchased a building in Melbourne and the premises in Hunter Street are now The Henry Jones Hotel.
St David's Park
Across the road from Parliament House, lies St David's Park. It's a beautiful place located on the site of St David's Cemetery. This was the first burial ground in Tasmania, chosen by Lieutenant-Governor David Collins and Reverend Robert Knopwood in 1804. The park was named after Collins and he was buried there in 1810.
When Cornelian Bay cemetery opened in 1872, St Davids and all the other burial grounds within the city were closed. Records from that time show that at least 900 people were once buried under the grass of St David's Park. Some were reburied at Cornelian Bay but most were left to rest under the beautiful gardens and lawns.
Many of the original headstones are cemented into the memorial wall. It also contains the names and details of many First Fleeters and a lot of the early settlers of Hobart Town.
It's a beautiful place to have a rest and take in the stunning trees and plants.
26 Murray Street
This Regency style building was built in 1859. It became the Head Office for The Hobart Savings Bank which eventually amalgamated into The Commonwealth Bank of Australia. It is now a private dwelling that has been beautifully restored.
St David's Cathedral
In 1810 a wooden church was built in what is now St David's Park. However, this blew away in 1812 and the foundations of a new church was begun in 1817. The site was declared sacred in 1823 and made a Cathedral in 1842.
The current St David's Cathedral was built between 1868 and 1936 in a Neo Gothic design. It's worth having a look inside as the interior is amazing with the gorgeous stained glass windows.
Hobart Town Hall
The foundation was laid in April 1864 and built from sandstone quarried from the River Derwent. It was opened with a Grand Ball in September 1866.
Domain House Science Hobart University
Built in 1848, this neo-Gothic building started life as Hobart's first high school. The university moved into Domain House in 1892 but vacated in the early 1960's for its new campus at Sandy Bay. It was then used by the Tasmanian School of Art and other education providers until the late 90's. After that, the building was left vacant for 15 years and, therefore, fell into a poor state of disrepair.
Domain House was re-acquired, along with a number of other buildings, by the University of Tasmania in 2011. A $3.5 million refurbishment was carried out to the overall building fabric, The Great Hall, floors, external stonework and roof. These works were completed in March 2015.
Cenotaph and Tasman Bridge
This war memorial looks out over the city and River Derwent. The views are lovely up there and you can see the ship (there were two in port when we were there) as well as the Tasman Bridge.
In 1943, the Hobart Bridge was completed and was one of the first in Australia to have a section that lifted to allow vessels to pass beneath. Engineers began designing a replacement to handle a population growth in 1956 and construction started 4 years later.
On 5 January 1975, the bulk ore carrier Lake Illawarra, struck the bridge causing severe damage and killed 7 crew members and 5 motorists.
The reconstructed Tasman Bridge re-opened on 8 October 1977 and cost about $33 Million, with upgrades including impact absorbing pile caps on the main section of the bridge and the addition of a fifth lane.
Just a word of warning. When we were there, a few homeless people were using the area as a camp ground. It didn't worry us and we weren't approached by anyone.
Royal Tasmanian Botanical Gardens
Continue up from Cenotaph Hill and you will find Hobart's Botanical Garden.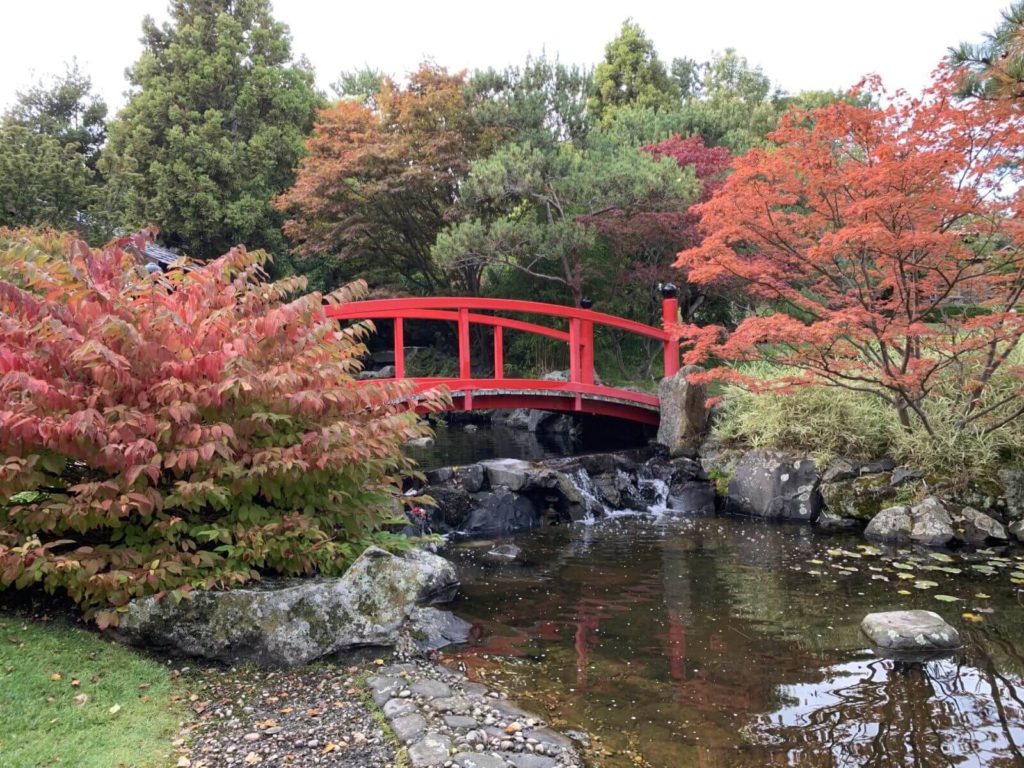 Cascades Brewery
Cascades Brewery, the oldest operating brewery in Australia, is open seven days from 11am for food and drink.
What to Take on your Excursion
A jacket as it is always cold at the top of Mount Wellington
Sunscreen
Hat & Sunglasses
Hobart Cruise Calendar
If you want to see what cruises are in Hobart port on the day you are there, check out this Hobart Cruise Calendar.
If you found this article helpful, please consider booking through one of our links. It won't cost you anything but will help towards the cost of running this site. Thank you.

To keep up-to-date with our travels, follow us on Facebook.