Cathedral Cove Walking Track – Important Information and 12 Top Tips
The Cathedral Cove Walking Track was the highlight of our two days on the Coromandel Peninsula. These tips and information will make your time at Cathedral Cove more enjoyable.
Cathedral Cove Walking Track Tips
Use the toilets in the village as the ones at Cathedral Cove are drop toilets and not very pleasant.
Wear good walking shoes.
Take plenty of water (and food) as there isn't anywhere to get any along the way or when you arrive.
Don't forget your camera.
It can get hot in summer; remember sun protection and sunscreen.
Take a towel and bathers if you want a swim.
If you have a snorkel, take it with you.
My recommendation would be to walk there and take the water taxi back.
Check the tide times on Coromandel's website as the best time to visit is at low tide or mid tide. This allows you to walk through the arch.
Be careful of falling rocks near the arch.
No dogs are allowed on this track or the beach.
Combine it with a visit to Hot Water Beach.
Disclosure: This post may contain affiliate links (of which we use) so we may receive a small amount of commission if you buy something through them. As an Amazon Associate, I earn from qualifying purchases. You can read the full disclaimer here.
Where is Cathedral Cove?
The nearest place to Cathedral Cove is Hahei, on the Coromandel Peninsula. It is 185 km from Auckland, on the north island of New Zealand. You can only access Cathedral Cove by foot or boat.
How to get to Cathedral Cove
From Auckland
The fastest way from Auckland to Cathedral Cove is by car to Hahei, which will take about two and a half hours. You should allow longer if you are traveling in peak hour traffic.
You can take the Intercity bus, which goes to Whitianga (this will take about 4 hours), and make your way from there (see below).
Some shuttles run from the city and the airport to Hahei, like Go Kiwi Shuttles, but they are expensive. A tour like this one is a great option to combine Cathedral Cove and Hot Water Beach from Auckland.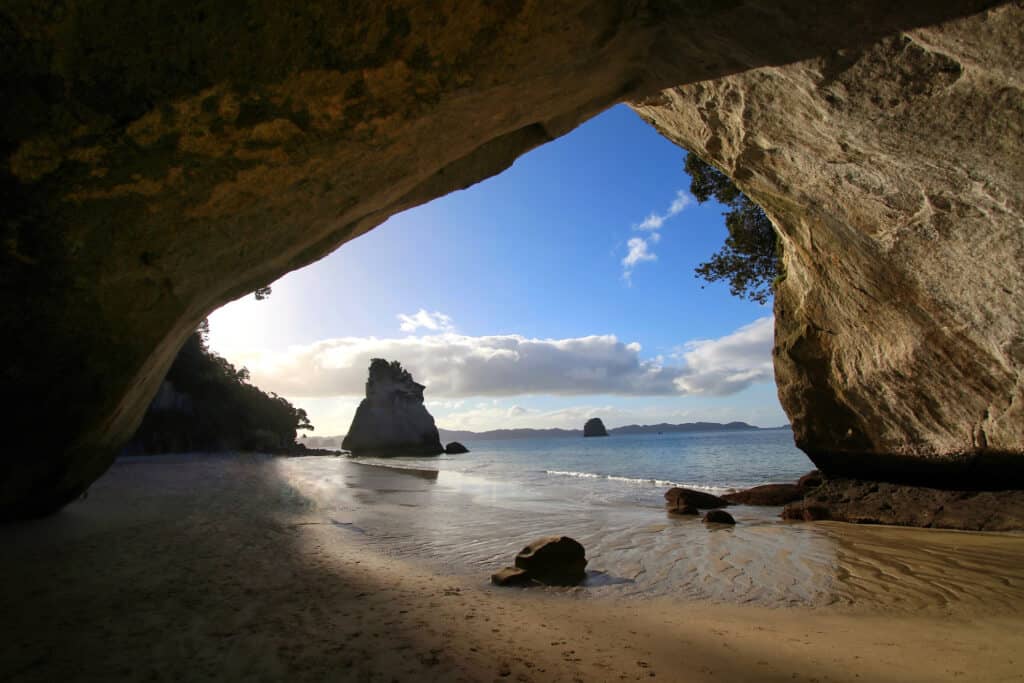 From Whitianga
Hahei is only 35 km from Whitianga and will take about 30 minutes by car.
Parking near Cathedral Cove
The Cathedral Cove walking track starts at the end of Grange Road, where there is a small car park. However, this is closed from 1st October to 30 April and only available as a drop-off/pick-up point. You can park there the remainder of the year, but parking is limited and costs NZ$15 with a 4-hour limit.
The main car park is the Hahei Visitor Car Park at the entrance to Hahei. From here, you can get the shuttle (see below) or walk. This is free all day.
There is also parking available at the beach, but it fills up quickly.
Cathedral Cove Park & Ride
The Cathedral Cove Park & Ride costs NZ$5 per adult, NZ$3 per child, or NZ$10 for a family (2 ad + 2 ch) for a return ticket. The buses run continuously from 9 am to 6 pm.
The shuttle runs from the Hahei Visitor Car Park to the start of the walking track. Alternatively, it's a 2km walk (one way) uphill.
The Cathedral Cove Walking Track
Cathedral Cove is a 2.5 km walk which will take around 45 minutes one way. It is classified as easy, but a moderate level of fitness is required. It can be steep in parts, and there are lots of wooden stairs leading down to the cove.
The coastal views are stunning from the track so take your time to take it all in. Part of the trail takes you through the native forest, which is a lovely treat on a hot day. Keep a look out for the different birds.
You can also access two other beaches from here; Gemstone Bay and Stingray Bay. Gemstone Bay has a snorkel trail and is supposed to be a superb place to see marine life.
Cathedral Cove Beach
The steps lead you down to a bay called Mare's Leg Cove. It's a beautiful sandy beach and a great swimming spot. We spent most of our time on this part of the beach. The snorkeling here is also good as it is part of the marine reserve.
To the left, you will see Cathedral Cove, an archway eroded by the ocean and weathering. At low and mid tide, you can walk through to the other side and another beach. Just make sure to return before high tide! From here, you will also see Te Hoho Rock.
Cathedral Cove Water Taxi
A water taxi service runs from Hahei to Cathedral Cove and vice versa. You can to do this return or just one way. They run every 30 minutes, and it's a 10-minute boat ride. There is no need to book; wait on the beach by the yellow/black flag. Be prepared to have to wait for a couple of trips when it's really busy (summer school holiday weekends).
Adult = $15, Children = $10 (age 2-14) each way. They accept cash or card.
Tours
If you want to hike the whole Coromandel Coastal Walkway, take a tour like the Coromandel Coastal Walkway Day Tour. The coastal walkway hike starts at Stony Bay through native bush on a track once used by early Maori and European Settlers. The 10 km trail finishes at Fletcher Bay after a downhill stretch through expansive coastal farmland with views to Great Barrier Island and beyond.
Cathedral Cove is a beautiful place to see from the water, and this 3+ hour Cathedral Cove Kayaking Tour is ideal. Join your knowledgeable kayaking guides for a journey through the waters of the Te Whanganui-a-Hei Marine Reserve, an area renowned for its pristine, wildlife-rich waters. You'll pass through majestic sea caves and look down into the crystal-clear water with the chance to view a variety of marine life such as dolphins, seals, and numerous fish. See photos here.
If you'd rather sit back and relax, this 2 hour Cathedral Cove guided boat tour is for you. Listen to the guides as they point out all the history and geography of the area as you pass picturesque white cliffs, stunning beaches, and sea caves. You'll see Lonely Bay, Shakespeare Cliff, Cooks Beach, and Hahei before arriving at Cathedral Cove, and there will be an opportunity to go snorkelling if the weather permits. As you venture across the Te Whanganui-A-Hei Marine Reserve, you'll get up close to the towering pinnacles, giant blowholes, and sea caves, even entering the exciting Orua Sea Cave if conditions allow. Read more here.
History of Cathedral Cove
The area around Cathedral Cove was first visited in the 13th century by Hei, an esteemed spiritual tauira (authority), who sailed with Kupe to Aotearoa on the waka Te Arawa. Hei's descendants still retain a strong ancestral and spiritual attachment to the area and continue their role of kaitiaki (guardians) of the resources within it.
FAQ
When is the best time to visit Cathedral Cove?
The Cathedral Cove walk is beautiful any time of the year, but the warm weather in summer (and autumn) makes it ideal for the beach. This is the most popular time, though, so photographers may prefer winter and spring.
How long does it take to walk to Cathedral Cove?
It will take about 45 to 60 minutes to walk to Cathedral Cove.
Is it hard to walk to Cathedral Cove?
It's not hard to walk to Cathedral Cove, but a moderate level of fitness is required. There are steep sections and lots of wooden stairs leading down to the cove. It can be very hot in summer.
Can you walk through Cathedral Cove at high tide?
No, you can't walk through Cathedral Cove at high tide. The best time to visit is at low tide when you can access the other side.
Are there toilets at Cathedral Cove?
Yes, there are drop toilets at Cathedral Cove. However, use the ones in the village as they are a lot nicer.
Can you swim at Cathedral Cove?
Yes, you can swim at Cathedral Cove. The beach is perfect for swimming.
Accommodation near Cathedral Cove
We booked our Whitianga accommodation through Booking.com, which have plenty of options depending on your budget.
Click here to view all the properties, see photos, and read the reviews.
For more information to help you plan your New Zealand holiday, read our New Zealand Travel Guide which provides lots of valuable information, including what to do, where to go, and travel tips.
If you found this article helpful, please consider booking through one of our links. It won't cost you anything but will help towards the cost of running this site. Thank you.

To keep up-to-date with our travels, follow us on Facebook.