The Best Dunedin Tours from Cruise Ships
Are you looking to find the best Dunedin tours from cruise ships? We stopped at Dunedin as part of our Australia New Zealand Cruise on Celebrity Solstice and there are lots of different tours depending on interests and budget.
Dunedin is the second-largest city on the South Island of New Zealand, after Christchurch.
Archaeology suggests that Dunedin was inhabited first by the Māori around 1100 AD with most of the population concentrated along the southern coast.
In early 1770, Captain James Cook named Cape Saunders on the Otago Peninsula. His reports of seals in the area brought sealers and then whalers, both being focused in the lower harbour.
The Lay Association of the Free Church of Scotland founded Dunedin as the principal town of its Scottish settlement in 1848. 'Dunedin' originates from the Scottish Gaelic name for Edinburgh—Dùn Èideann.
Dunedin Cruise Terminal
Most cruise ships dock at Port Chalmers, which is approximately a 20-minute drive into Dunedin city centre. However, smaller cruise ships can berth in Dunedin. You can view the Cruise Ship Schedule to find out where you will dock.
Disclosure: This post may contain affiliate links (of which we use) so we may receive a small amount of commission if you buy something through them. As an Amazon Associate, I earn from qualifying purchases. You can read the full disclaimer here.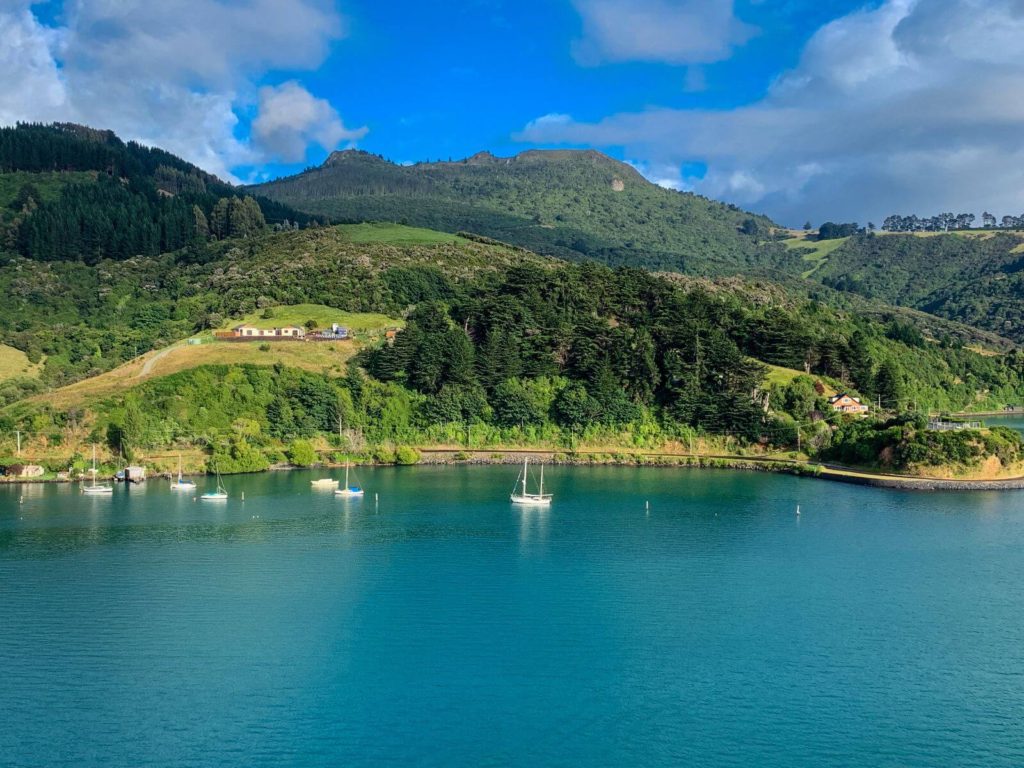 Dunedin Tours from Cruise Ships
Two of the most popular shore excursions in Dunedin are to the Otago Peninsula and the Taieri Gorge Railway. Some of the tours incorporate both or include a visit to Dunedin city centre.
This half day excursion includes the Otago Peninsula and covers the highlights of the city center such as the Dunedin Railway Station. You stop on the way at scenic lookouts and for a beachside view of basking sea lions.
You meet your guide at a dockside meeting point in Port Chalmers, then board your vehicle for the short drive into Dunedin, where you'll get to see the beautiful railway station and the steepest street in the world. The tour takes you along coastal tracks by scenic inlets and stops at the beach for a short walk and hopefully a glimpse of New Zealand sea lions — aka Hooker's sea lions — that often bask here.
Views of Cape Saunders from the peninsular lookout are stunning and you stop at several vista points overlooking Otago Harbour before checking out some of the harbour-side bays on the return journey to the cruise port.
As this tour is limited to only 19 people, you will receive personalized attention from your guide and this tour is covered by Viator's worry-free policy: guaranteed on-time return to your ship.
Click here to see the pricing.
On this small group Dunedin and Otago Peninsula Wildlife Tour you'll explore the city before heading to the Otago Peninsula. Here you'll see Otago Harbour, Sandfly Bay, Tunnel Beach, and historic Larnach Castle. Your tour includes pickup and drop-off in central Dunedin or the port.
Taieri Gorge Railway and the Otago Peninsula Day Trip from Dunedin
The minivan picks you up at the cruise port and takes you to Dunedin Railway Station. Before your train leaves, you have time to explore the 19th-century train station whose beautiful Renaissance revival style was designed by the architect known as 'Gingerbread George.' On the Taieri Gorge Railway train, you will have a comfortable seat in a heated carriage with large windows.
Making its way to Pukerangi, the train travels through the Taieri Plains, crossing over bridges and viaducts that span canyons such as Taieri Gorge, then curves around mountains. An informative commentary about the historical and natural features of the region is provided. There's the option to visit the open-air platform cars for unobstructed views and stretch your legs at a stop or two.
Once the train reaches its destination, you will have free time to wander around while the engine is switched for the return journey to Dunedin. Once back in Dunedin, your guided tour of the Otago Peninsula begins, including visits to several spectacular beaches where you can stroll the shoreline in search of penguins and other wildlife before returning to the cruise port.
We use Viator due to its cancellation policy and lowest price guarantee.
Dunedin's attractions
Signal Hill
Signal Hill is a great lookout with panoramic views over Dunedin. Here you will find the Otago Centennial Memorial, a large structure including two large bronze figures representing "History" and "The Thread of Life" designed by F. W. Sturrock and F. W. Staub, which commemorates the centenary of New Zealand becoming a British colony.
Baldwin Street
According to The Guinness Book of Records, Baldwin Street is the world's steepest street. It is made of concrete as tar would run downhill on a hot day and it provides a better grip in the frosty winters. Instead of a footpath, the street has stairs that run up the side of the road. It's a steep climb but is a great accomplishment to reach the top.
Dunedin Railway Station
This railway station was built in Flemish Renaissance style and is the most photographed building in New Zealand. It was designed by George Troup and dates back to the early 1900s. The building features white Oamaru limestone facings on black basalt rock, which gives it the characteristic 'Gingerbread House' appearance.
The station is open to the public to admire the ornate interiors and period adornments, including the mosaic floor tiles which consist of nearly 750,000 Minton tiles. A frieze of cherubs from Royal Doulton in England encircle the ticket hall below the wrought-iron balcony.
Law Courts
The Law Courts building was designed by John Campbell and is a great example of Victorian Gothic architecture. Completed and opened in 1902, the courthouse was built upon the site of the old goal and can be found opposite the railway station.
St Paul's Cathedral
St. Paul's Cathedral is the central Anglican church of Dunedin and replaced the Old St Pauls that was built in 1863 and demolished in 1914. The foundation stone of the new cathedral was laid in 1915 and was consecrated by the Bishop of Dunedin, Samuel Nevill, on 12 February 1919. The building is Victorian neo-gothic with square towers and no spire.
Municipal Chambers
Work on the Municipal Chambers commenced in 1878 but wasn't opened until 1880. Built in an Italianate design, complete with Corinthian columns, it is New Zealand's only surviving significant Victorian Town Hall.
Otago Peninsula
It's only a short ten-minute drive from Dunedin city centre to the start of Otago Peninsula. You have the choice of two roads – the low road (Portobello Road) or the high road (Highcliff Road). The whole drive is around 64km but, if you aren't going to the Albatross Centre, you can turn around at Portobello. It's a beautiful and easy drive although there are lots of winding bends, so care should be taken.
Larnach Castle Dunedin
Larnach Castle is New Zealand's only castle and dates back to 1871. It took 3 years to build and another 12 years to finish the interior. William Larnach imported marble from Italy, glass from Venice, and tiles from England. Tragically he committed suicide in 1898 and didn't leave a will so the family faced legal battles. Eventually, Larnach Castle was sold in 1906 and was used for many things until Barry & Margaret Barker bought it in 1967. By this stage, however, it was in near ruins and many of the architectural features were missing. Therefore, they researched the original décor and lovingly restored most rooms to their original state.
Larnach Castle Gardens
The garden was overgrown when they bought the property, but it is now listed as a "Garden of International Significance" by the New Zealand Gardens Trust.
Allow a couple of hours to explore the inside of the castle and the gardens.
Larnach Castle Opening Times
It is open 365 days a year from 9 am.
Tickets
For slip-the-line tickets, click here to view prices for Larnach Castle & Gardens Admission Tickets.
Penguin Place
Penguin Place is the world's first entirely tourism-funded conservation programme, dedicated to helping the endangered Yellow-Eyed Penguin survive. You can book tours direct or as part of a tour like this one.
Royal Albatross Centre
The Royal Albatross Centre is the only mainland breeding colony of Royal Albatross in the world. A tour allows you to learn fascinating insights about the Northern Royal Albatross and view them raising their young.
St Clair Beach
A 5-minute drive from the start of the Otago Peninsula brings you to this sandy beach. It's a popular spot for surfing as well as socialising in the many cafes. There's also the St Clair Hot Salt Water Pool which dates back to 1884.
Cadbury's Chocolate Tour | Closed
Unfortunately, Cadbury's Dunedin has closed for good and, therefore, will not be operating any more tours.
Car Rental from Port Chalmers Cruise Port
If you want to do a self-guided tour, you can hire a car from Port Chalmers. It is more expensive to rent from the cruise port than the city centre, but you will save on the cost of any transfers and it is more time-efficient.
We used Pegasus Rental Cars and they were great. The rep for Pegasus was waiting for us inside the cruise terminal and took us to the car (A Nissan Tida). It was perfect for what we needed and would, therefore, use Pegasus again.
Consider this self-guided GPS audio tour of the inner route of the Otago Peninsula. You will pass through the small communities of Macandrew Bay, Pukehiki, and Waverley and visit Sandfly Bay. Along the way, you'll see old castles, isolated and windswept beaches, breathtaking views, and sleepy seaside towns. Places to stop along the way include the Glenfalloch Gardens, Macandrew Bay, Larnach Castle, Sandfly Bay, Highcliff Road Viewing Point, Rotary Park and Waverley.
Tips for Dunedin
Bring a light sweater and a rain jacket as the weather can be very changeable.
Hire a car from Port Chalmers to save time or book a tour.
Try and get out beyond the city centre – that's where the true beauty lies.
Drive slow round the tight bends on the Peninsula and look out for the many camper vans that use this road.
Dunedin Weather
Dunedin has a temperate climate with four distinct seasons but can be changeable with a lot of cloud cover. The hottest month is January and the coldest is June. It is advisable to wear warm clothing in winter (June to August). December has the most rain while September has the least.
Population
Dunedin's population is only 130,700 despite being the world's fifth-largest city in geographical size. It's easy to drive around as there's not much traffic compared to larger cities.
If you found this article helpful, please consider booking through one of our links. It won't cost you anything but will help towards the cost of running this site. Thank you.

To keep up-to-date with our travels, follow us on Facebook.