Things To Do in Singapore in 2 Days
If you will be spending 2 days in Singapore, we have all your options covered. Our family have travelled to this stunning city three times and have found the best ways to spend 2 days there.
Disclosure: This post may contain affiliate links (of which we use) so we may receive a small amount of commission if you buy something through them. As an Amazon Associate, I earn from qualifying purchases. You can read the full disclaimer here.
2 Days in Singapore For Families
There are so many fun things to do in Singapore for families that it makes the ideal family holiday destination. Add that to the fact that it is clean and safe, it's the perfect place.
Singapore Zoo – Day One
Singapore Zoo is the most popular attraction for kids in Singapore with 1.9 million visitors each year. It is also one of the most ethical zoos in the world. Read our review of Singapore Zoo for more information on this family activity.
This will take up half a day. You have the option of doing the Night Safari instead to give you more time at other attractions.
Hop On Hop Off Bus – Day One Afternoon
We've done this twice with our daughters. The first time they were about 3 and it saved them walking (or us carrying them). It's a great way to see the main sights of Singapore if you don't have much time. Yes, you can do it yourself, but this is the best option if you only have two days in Singapore. It also gives the kids a rest but you are still out seeing the sights.
We book through Get Your Guide as they offer free cancellation and are competitively priced.
There are two companies that do the Hop On Hop Off Bus tours; Hippo Singapore and Big Bus. The Big Bus has a shuttle out to the zoo which will save money on a taxi.
Book tickets direct with Big Bus here.
Singapore Flyer – Late Afternoon/Evening
Not only is the Singapore Flyer a great way to see the city skyline, and get 360-degree views, but the kids also love this giant big wheel. You can read all about it in our Singapore Flyer Guide.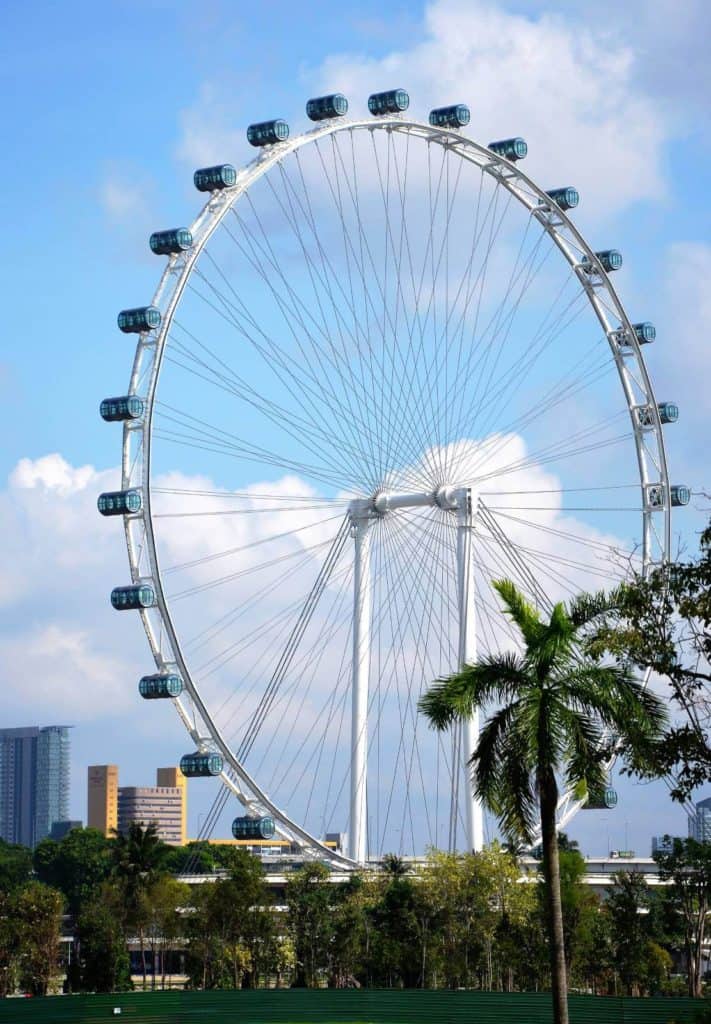 Universal Studios – Day Two
Universal Studios Singapore is another favourite of our children. They always ask to go here when they know we are travelling to Singapore.
Our post on Universal Studios will give you valuable tips and information about the best rides.
You should allow half a day here. If you visit at a peak time (weekend/school holidays), consider the express pass as the queues can be 30-60 minutes long each ride!
Get a great deal with Klook here.
Sentosa Island
If your kids don't like theme parks, then maybe look at some of the other attractions on Sentosa Island. There are plenty of activities to choose from and you can tie it in with a trip to the beach.
Our article on the best things to do in Sentosa will give you lots of ideas and information.
How about taking the cable car across? It's an exciting way to get there.
River Cruise – Afternoon
I'm sure your family, like ours, enjoy the water. We always try to incorporate some type of water activity on our trips, whether it's a ferry, cruise, or boat trip.
Singapore was no exception and we enjoyed our Singapore river cruise. The bumboat passed underneath the many bridges in this scenic city as well as historic buildings. It included a detailed commentary and was a fun way to learn more about Singapore.
Spectra – Light Show
The Spectra light show is a spectacular 15 minute light and water show from the Marina Bay Sands Hotel. The best part is that it is free so budget-friendly too.
The best place to see the show is at the Event Plaza outside the Shoppe at Marina Bay Sands. Here you will see mist, lasers, and here the audio. Get there around 15 minutes before the show starts.
Showtimes
Sun – Thu: 8pm & 9pm
Fri & Sat: 8pm, 9pm & 10pm
Swim at the Hotel Pool
When our girls were younger, we would get out early and head back to our hotel in the early afternoon. They would then have a nap followed by some time around the hotel pool. It worked out well for us and we were then able to take them out at night.
2 Days in Singapore for Couples/Solo/Older Families
You can see so much more when you don't have small children to consider. Obviously, you can do any of the above but I'll add in some additional things for your 2 day Singapore itinerary.
Again, the Hop On Hop Off bus will save time as it stops at these places. Otherwise, the MRT is easy to navigate.
Botanical Gardens – Day One
This is a beautiful oasis and has several trails to take in the amazing gardens. It is the only tropical botanical gardens to be awarded a UNESCO World Heritage Site.
If you are planning on doing one of the trails, be prepared for the humidity and take water, sunscreen, a hat and insect repellent with you.
It's best to get here as early in the day as possible.
Shopping at Orchard Road
If shopping is more your thing, then stop off at Orchard Road. Not only is it a shoppers paradise but you can grab some food at one of the food courts in the shopping malls.
While there, go to Emerald Hill for some gorgeous Chinese Baroque architecture.
Raffles Hotel
Raffles Hotel opened its doors in 1887 and is one of the few remaining 19th Century hotels left in the world.
If you can't afford to stay in this historic hotel, then at least treat yourself to the drink it is most famous for. The Singapore Sling was created by bartender Ngiam Tong Boon in 1915 and is now considered by many as the national drink. Buy one in the Long Bar where you are encouraged to sweep your peanut shells onto the floor! This custom dates back to the origins of this bar when it was full of patrons from the rubber and palm oil plantations.
Little India
This is a far cry from the 1840s when Europeans would gather here for the racecourse. Now the air is filled with the aroma from the many spice shops and Indian foods. There's also plenty of shops selling saris, textiles, and flowers.
The streets are very colourful and popular with photographers.
If this area interests you, there are some great food and cultural tours of Little India.
Kampong Glam
After Little India, explore the area Kampong Glam. This is where a lot of the photos on Instagram are taken. It's full of hip cafes, colourful street art, cool shops, and the beautiful Sultan Mosque.
Kampong Glam started out as a port town but in 1822 Sir Stamford Raffles allotted the area to Malay, Arab and Bugis communities.
In fact, it was where Malay royalty lived but the Istana (palace) is now the Malay Heritage Centre.
No visit to Kampong Glam is complete without going to Haji Lane. This small street is full of beautiful shophouses and amazing street art.
Chinatown
Chinatown is a fascinating mix of old temples, souvenir markets, delicious food, and trendy bars. I can't visit here without buying some delicious street food. It is also a good place to buy all those presents and souvenirs to take back home with you.
Buddha Tooth Relic Temple & Museum
This temple gets its name from what is believed to be the left canine tooth of Buddha. However, the tooth is 7.5cm which is too big for a human, but I like the thought that it belonged to a historic Buddha.
Admission into this Buddhist temple is free of charge and if you happen to be there on a Saturday, volunteers also do a free tour. The Buddha Tooth Relic Temple provides a lot of interesting exhibits on the art and culture of Buddhism.
You must wear appropriate clothing and cover up bare shoulders, backs, and legs. They can lend you sarongs if need be.
Sri Mariamman Temple
Sri Mariamman Temple is the oldest Hindu temple in Singapore and dates back to 1827. However, most of the present structure is thought to have been built around 1862 by Indian tradesmen. The six rows of sculptures of deities and mythological figures are stunning.
Entry is free but a donation is appreciated. Again appropriate clothing is required.
Drinks at Clarke Quay
Finish off the day with drinks at Clarke Quay. This is Singapore's party zone and known for its bars. It is also a great place to have dinner if you didn't eat in Chinatown. There are plenty of choices to choose from including a Michelin Star restaurant.
Jumbo Seafood is the place for the famous Chilli Crab and highly recommended.
Gardens By The Bay – Day Two
Over 50 million visitors have been to Gardens By The Bay since it opened at the end of 2011. There is so much to see here that I doubt you will be able to squeeze it all in if you are only here for two days (that's always a good excuse to return though).
I would get here as early as you can. It opens at 5 am (I'm not asking you to get there that early) but it gets busy quickly with big tour groups. The paid attractions open at 9 am. Save time by booking online to enter directly with a voucher.
Supertree Observatory & OCBC Skyway
Gardens By The Bay Supertrees are between 25 and 50 metres tall and provide shade during the day. At night they are spectacular, all lit up.
You can wander around this part for free but need to buy a ticket to access the skyway and Supertree Observatory.
The OCBC Skyway is a 128 metre walkway that connects 2 Supertrees. It's a great place for photography lovers to capture the beauty of this area. Tickets are S$8 per adult.
The Supertree Observatory is S$14 per adult and sits at the canopy of the tallest supertree. From here you can see city views from the rooftop deck.
Cloud Forest
It costs S$28 an adult to visit two conservatories; Cloud Forest & Flower Dome. You should allow 2 hours for these.
As you go up to the highest point (35m), you will see ferns and moss. The Cloud Walk showcases cloud forest vegetation and the Tree Top Walk enables you to look down onto the tree canopies. Here you will find the world's tallest indoor waterfall.
After your walks, take time to explore the new Secret Garden with over 7,000 plants.
Flower Dome
This huge dome is the largest greenhouse in the world and contains spectacular flowers from 5 continents. A flower-lovers dream.
Floral Fantasy
Floral Fantasy is where technology, flowers, and art come together. There are 4 different garden landscapes plus a 4D ride. The price to enter is S$20 per adult. We didn't do this one but the photos look incredible.
If you are interested in seeing the two conservatories and the walkway, a Combo ticket is the way to go.
Katong
The eastern Singaporean area of Katong is a bit out of the way but well worth a visit. The Peranakan culture shines through as you walk along the streets filled with heritage shophouses and quaint stores.
If you are here around lunchtime, I recommend 328 Katong Laksa which is a favourite by locals. They make the best laksa, a curry coconut soup.
The best streets for cute Instagram worthy photos are Tembeling Road, Koon Seng Road, and Joo Chiat Road. Just be mindful that these are people's houses so please be respectful.
Gardens Rhapsody light show
Head back to Gardens By The Bay for the Gardens Rhapsody light show. It starts at 7.45 pm and 8.45 pm every day and is a free event. Do get there early though as it gets extremely busy and you will want a good spot to see this outstanding light and sound show.
Marina Bay Sands Skypark Viewing Deck
If, like us, you can't afford to splurge on staying at Marina Bay Sands Hotel, the Skypark Viewing Deck is the next best thing. The entrance to the 57 storey high deck will cost S$26, but includes photos and that incredible view.
A little tip though. If you go up to the Ce La Vi Restaurant and Sky Bar, you pay S$23 entry but it's redeemable against food and drink. If that still doesn't seem like a good deal, then some nights after 10 pm are free to enter. See the Marina Bay Sands page for more details.
Other Attractions if you have longer
Esplanade & The Merlion
A walk along the Esplanade provides views of the river, Fullerton Hotel, bridges, and the famous Merlion statue. If time allows, you could always do a boat tour as above.
If you do the Hop On Hop Off Bus, look out for this. We found it amazing as it is so different from our washing lines. Singaporeans use bamboo sticks to hang the washing out of their apartment windows. Ingenious!
Old Hill Police Station
Another building you will see on your journey is the Old Hill Police Station. The Police Station has moved now and the building is used by government departments.
This Neo-Classical style building has over 900 windows with the shutters all beautifully coloured.
ArtScience Museum at Marina Bay Sands
At this immersive, educational experience, you'll learn about art, space, and technology. This museum has become one of the most popular attractions in Singapore. See ticket prices here.
Singapore Multi Attraction Pass
Why not save $$$ with a Singapore tourist pass which includes general entry to your favourite Singapore's attractions – find out more here.
Where To Stay in Singapore For 2 Days
We stay at Holiday Inn Singapore City Centre as it is close to an MRT station and centrally located.
Otherwise, look at the top-rated hotels on Booking.com or Agoda (we use both).