The Best Universal Studios Singapore Rides 2022
What are the best Universal Studios Singapore rides? Let's dive into them as well as important information and bonus tips to make the most of your visit to this popular Sentosa attraction.
We have been to Universal Studios a few times on our trips to Singapore. Our daughters were six when we first visited and already little thrill-seekers. The last time we went they were ten and went on every single ride. It's always a lot of fun for the big kids as well as the small.
Disclosure: This post may contain affiliate links (of which we use) so we may receive a small amount of commission if you buy something through them. As an Amazon Associate, I earn from qualifying purchases. You can read the full disclaimer here.
The Best Universal Studios Singapore Rides
Battlestar Galactica: HUMAN vs. CYLON™ | 5 Stars
A high-speed roller coaster – well two actually – Human and Cylon. They are intertwined with twists, turns, and drops and race towards each other at speeds of up to 90 km/hr. If you choose Cylon (blue), you'll be suspended from seats during the 1 km track. On Human (red), you're strapped into standard rollercoaster seats, and is slightly less scary than Cylon. The rides last about 90 seconds each. This was our second favourite ride, so we tried to go on it a few times, but the queues were an hour long (this is where an express pass will save you time).

Tip: Head to this ride as soon as the gates open before the queues get too long.

Guests under 125cm may not ride.
Revenge of the Mummy™ | 5 Stars
This indoor high-speed roller coaster features sudden acceleration, climbing, and dropping. It gets up to speeds of 72 kilometres per hour in darkness most of the time. It's a fun ride aboard your minecart as you begin your quest for the Egyptian Book of the Dead. It's not for the faint-hearted.
This was the girls' favourite ride – told you they loved a bit of adventure.

I suggest going on this ride after Galactica as this is another ride that can have long wait times.
Guests under 122cm may not ride.
TRANSFORMERS The Ride: The Ultimate 3D Battle | 4 Stars
A realistic 3D thrill ride in the world of TRANSFORMERS. The cart remains in one place but moves around to make you feel like you're moving. This one can make you a little nauseous if you are prone to motion sickness but a lot fun.

Queues can be extremely long for this ride.
Guests must be 102cm in height to ride. Children 102cm to 122cm must be accompanied by an adult.
Jurassic Park Rapids Adventure™ | 4 Stars
An outdoor adventure raft ride through the rapids and waterfalls of Jurassic Park. Be prepared to get wet, maybe drenched, on this fun ride. This is one of my favourites, although a bit tame for our daughters.

Tip: Wear quick drying clothing; not only for this ride but for Singapore's tropical showers. Water gets onto the raft seat so a rain poncho doesn't stop your shorts or trousers from getting soaked.
Guests under 107cm may not ride. Children between 107cm and 122cm must be accompanied by supervising companion.
The Best Rides for Kids
Accelerator™
Accelerator spins you around while sitting in the capsule. Think tea cup ride times 10; not my idea of fun but the girls enjoyed it.
Children under 122 cm must be accompanied by a supervising companion.
Treasure Hunters™
One for the smaller kids. An outdoor ride where they can "drive" their own vintage car.
Children under 122cm must be accompanied by a supervising companion.
Canopy Flyer™
A tame outdoor aerial flyer with 2 seats facing forward and 2 back. A fun experience for the younger children.
Guests under 92cm may not ride. Children between 92cm and 122cm must be accompanied by a supervising companion. 
Puss In Boots' Giant Journey
A family roller coaster with a carriage of 9 seats.
Guests under 100cm in height may not ride. Children between 100cm and 122cm must be accompanied by a supervising companion.
Enchanted Airways
A junior roller coaster that is enjoyed by younger children.
Guests under 92cm may not ride. Children between 92cm and 122cm must be accompanied by a supervising companion. 
King Julien's Beach Party-Go-Round
Who doesn't love a carousel ride? Even adults can't keep away from these.
Madagascar: A Crate Adventure
An indoor riverboat ride which is great for young children but ours thought it was boring.
Guests under 80cm may not ride.
Other Activities
There are plenty of photo opportunities with the characters and some pretty cool vintage cars on display too.
The two shows are great – Lights, Camera, Action is a special effects stage showing a hurricane tearing through New York – and Waterworld is a live water stunt show.
Universal Studios Singapore Location
Universal Studios is on Sentosa Island which can be accessed by taxi, bus, MRT, or by the walkway. We find the easiest way is by MRT as follows:
Take North-East line or Circle line to HarbourFront station.
Take Exit E to VivoCity and proceed to level 3 to board the Sentosa Express. You will need to buy a ticket that includes the entry onto Sentosa.
Get off one stop later at Waterfront station.

You can read our Sentosa guide for more information on the different options as well as what other things there are to do on Sentosa.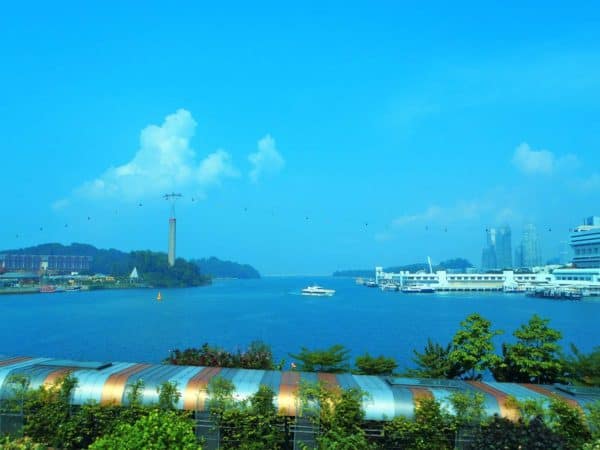 Universal Studios Singapore Opening Times
New opening times are 12:00 pm to 7:00 pm (Thursday to Saturday) and until 6.00 pm on Sundays) but check their site for updates.
Universal Studios Singapore Ticket Prices
Klook are currently offering the best deals on tickets to Universal Studios Singapore.
Check the low prices here or on the link below.
Why not save $$$ with a Singapore tourist pass which includes general entry to your favourite Singapore's attractions – find out more here.
Tips for your day at Universal Studios Singapore
Take sun protection and hats, it can be very hot.
Get there as soon as it opens and head to the big thrill rides first (the queues are shorter first thing). If you have an Express Pass, head to the rides that aren't included.
Your ticket is valid all day but make sure you get your hand stamped on the way out.
Avoid School Holidays if you can (it will be very busy). Also, weekdays are a lot quieter than weekends.
Bring water bottles (they can be refilled in the park).
Book tickets online before you go. Sometimes they are cheaper and it saves you lining up at the ticket booth.
Download a copy of the map.
Work out what rides you want to go on and make a plan of attack. 
If you don't like getting wet, bring a poncho, or buy one from the vending machine inside the park. My advice is wear quick-dry clothing.
Have FUN.
Where To Stay in Singapore
Luxury
The Marina Bay Sands is on my bucket list. I will get there one day! For those that are lucky enough, why not splurge on at least one night at this fabulous modern hotel.
Take a look at how incredible the rooms are and the views from the rooftop infinity pool here.
For Agoda prices, click on the photo below:
If you prefer a historic and iconic hotel, look at The Raffles.
For Agoda prices, click on the photo below:
Mid-Range
We stay at The Holiday Inn Orchard City Centre when in Singapore. This family-friendly hotel is great value and located near the shopping mecca Orchard Road.
Read more on our guide to the best hotels for families in Orchard Road.
Related Articles
A complete travel guide to Singapore
Top 10 Things to do on Sentosa Island
Travel Resources to save you money
Other Things To Do in Singapore