Emerald Hill – 1 of the best places to visit in Singapore
Location of Emerald Hill
Emerald Hill is located just off the shopping mecca of Orchard Road in Singapore. It's worth the short detour to see these colourful, historical buildings that are part of Singapore's culture.
The nearest metro is Somerset and is a short walk from there.
Disclosure: This post may contain affiliate links (of which we use) so we may receive a small amount of commission if you buy something through them. As an Amazon Associate, I earn from qualifying purchases. You can read the full disclaimer here.
History of Emerald Hill Singapore
The area of Emerald Hill was thought to be originally rainforest, but Chinese immigrants began using it for pepper plantations. However, when William Cuppage took over the land in 1837, it was barren.
William Cuppage was originally a Postal Clerk who first leased Emerald Hill in 1837 and subsequently obtained a grant for a nutmeg plantation in 1845. Unfortunately, in the 1860's, disease went through the plantation and the business failed. William continued to live there until he died in 1872. The land and two houses were passed onto his two daughters and, later, sold to his son-in-law, Edwin Koek.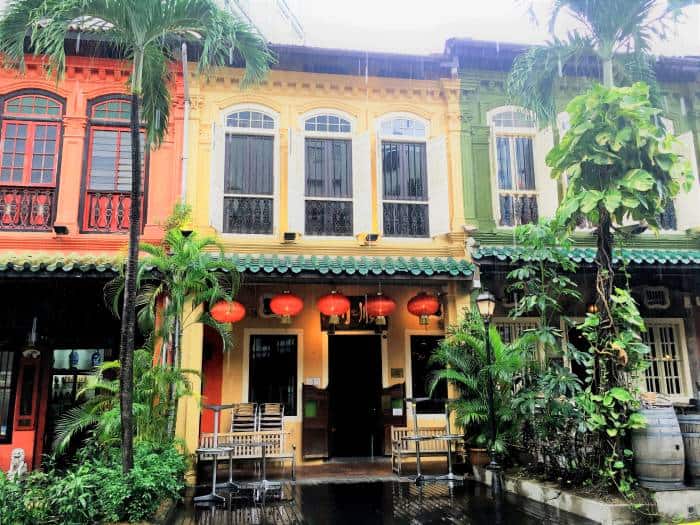 Koek then built another house on the land and turned the area into an orchard. Unfortunately, this failed, and he went bankrupt, so ended up selling to Thomas Rowell in 1891.
Seah Boon Kang and Seah Boon Kiat bought the land from Rowell and then demolished the houses to make way for terrace houses.
The land was subdivided in 1901 into 38 plots and 28 of those were sold. The builders were mainly Peranakans or Straits born Chinese, which shows in the architecture.
In 1985, it was announced that Emerald Hill would be a conservation area in order to retain some of the best examples of Straits Chinese style of housing. The conservation area also includes the development known as 'Peranakan Place', which is a row of 6 two-storey shophouses (about 1902) fronting Orchard Road.
The Houses in Emerald Hill
Emerald Hill boasts a number of high-quality restoration projects. These can be seen at 6, 41, 45, 50, 63, 65, 66, 74, 77 and 94 Emerald Hill Road.
The intricate wooden carved shutters, Peranakan tiles, and whitewashed facades are beautiful. Number 39 features a traditional Teochew gateway and was built for Goh Kee Hoon.
This street is worth a walk if you are in the vicinity of Orchard Road to see this stunning architecture. Please be mindful that most of the houses are residential so noise should be kept to a minimum and privacy respected.
The Bars in Emerald Hill
There are a few bars that occupy Emerald Hill which have some great happy hour(s).
Acid Bar is at the front of Emerald Hill, on Orchard Road. It is packed solid on weekends with people enjoying their cocktails while listening to the live music.
No 5 Emerald Hill has been operating since 1991. This two-storey cocktail bar is in a restored 1910 Peranakan shophouse, complete with original wall paints and antique carvings. Try their signature Chilli Vodka and Chicken Wings.
Alley Bar is a cool cocktail bar situated between two Peranakan houses along Emerald Hill. This contemporary bar looks nothing like the derelict space that was once there.
Ice-Cold Beer are known for their wide range of local and international beers, kept cold by the bar's custom-built ice tanks.
Que Pasa is an authentic Spanish tapas bar, serving 60 wines from all around the world. It is also located in a 1910 Peranakan shophouse.
The Ultimate Singapore Itinerary
Whilst planning your trip, have a look at what else there is to do in Singapore in this Singapore Itinerary. It will keep you extremely busy for two days, or a week at a more relaxed pace.
Our Top 10 Favourite Singapore Activities
Klook are the official partner of top attractions and operators worldwide and ensure all attractions deliver quality experiences at the best price. If you find any better deals, they'll refund the difference! Read more here.
Where to stay near Emerald Hill
If you are looking for accommodation close to Emerald Hill, read our guide on the best hotels near Orchard Road. Alternatively, see what amazing deals Klook has today.
Singapore Articles
A complete travel guide to Singapore
Top 10 Things to do on Sentosa Island
The Best Rides at Universal Studios