Honest Singapore Zoo Review & Information 2023
Singapore Zoo is touted as one of the world's best zoos and has around 1.9 million visitors a year. We don't usually visit zoos on our travels, but we felt that this one deserved our attention. Was it worth going? Read our Singapore Zoo review to decide for yourself.
Disclosure: This post may contain affiliate links (of which we use) so we may receive a small amount of commission if you buy something through them. As an Amazon Associate, I earn from qualifying purchases. You can read the full disclaimer here.
While I'm not a big fan of animals in captivity, most exhibits are "open", and it has an excellent reputation for its conservation and breeding programmes. 
Singapore Zoo is part of the Mandai Wildlife Reserve which includes Night Safari, Bird Paradise, and River Wonders.
It's located at 80 Mandai Lake Road. There are several options to get to the zoo, but we usually travel by taxi. You can also get there by MRT to Khatib and then transfer to the Mandai Khatib Shuttle Bus.
Singapore Zoo is one of the best zoos we have visited. Despite being in a city, it feels like you are in the middle of the jungle, with the lush rainforest surrounding you. This habitat is great for the animals, too, as they get to be closer to their natural environment, rather than being in concrete cages.
Most of the enclosures are open and allow the animals more freedom while still providing visitors safety.
If you have young children, are seniors, or someone with limited mobility, Singapore Zoo offers a rental service. Hire a stroller, wagon, wheelchair or an electric scooter. They are loaned on a first-come basis but can be booked online. Lockers can also be rented, and the zoo offers a Left Luggage service, starting at S$10 for the first 3 hours and S$2 for every additional hour or part thereof.
The park is set out in zones, which makes it easier to explore. In Australasia, find kangaroos, wallabies, tree kangaroos, and a cassowary (being from Australia, this was our least favourite). Due to my love of elephants, I enjoyed the Elephants of Asia. The one-hectare exhibit on the banks of the Seletar Reservoir provides the five female elephants with plenty of space to play. I like that the zoo provides "toys" to stimulate them, both physically and mentally. The Fragile Forest mimics a tropical rainforest habitat where you will see frogs, birds, insects, reptiles, and my favourite two-toed sloth.
The Great Rift Valley of Ethiopia is where you will find the cute Meerkats (look for the one keeping guard). In Primate Kingdom, the primates have their own little islands consisting of bamboo, palms, trees, and grasses. We found the Reptile Garden fascinating with Aldabra Giant Tortoise, King Cobra, and the Komodo Dragon.
Reptopia is also home to reptiles and amphibians; in fact, there are over 60 different species. Tortoise Shell-ter, as the name suggests, is where the tortoises hang out. However, it's not just tortoises that can be found here; you may see chameleons and geckos too. The highlight of Singapore Zoo for us were the Orangutans and Wild Africa. It's fantastic to see the Orangutans from the boardwalk swing above you from their trees.
We heard the lion before we saw him, sitting majestically on the rock looking over his kingdom. The lioness was sitting by the large glass window and looking right at us.
I recommend the giraffe feeding, especially if you have young children. Our girls were amazed by their long tongues and how they leaned over the fence to get their carrots.
Treetops Trail replicates a rainforest, and animals can be seen in the tree canopies, on the ground, and in the water.
We ended our time at Singapore Zoo at the Rainforest Kidzworld. Our children enjoyed the freedom to run around and cool off in the water playground. Here is also the best place for your picnic, or purchase food at one of the outlets.
Where to book Singapore Zoo Tickets
Tickets can be purchased online direct from Singapore Zoo or through a third party site like Get Your Guide.
These third party sites usually include free cancellation, mobile ticketing, instant confirmation, and sometimes discounts!
Singapore Zoo Tips
1. Get There As Soon As It Opens
The zoo is open from 8.30 am to 6 pm every day of the year. If you get there as soon as it opens, there will be fewer crowds. It starts to get busier late morning.
We usually spend at least half a day there.
2. Try To Avoid School Holidays & Weekends
As you can imagine, these are the peak times and best avoided if you can help it.
3. Pack A Picnic To Save Money
You can eat your own food in the picnic areas, so why not bring your snacks/ lunch and save some money.
Alternatively, buy food from the food vendors.
4. Bring Your Water Bottle
There are water dispensers around the zoo, so save money and the environment by bringing your water bottle and refilling. This is another way Singapore Zoo is working towards a sustainable future.
5. Save Your Legs and Take The Tram
Tram rides are now free, providing an easy way to get around the zoo.
6. Get A Map
Make sure you grab a map on your way in as well as a show timetable to plan your route or download one here.
7. Arrive Early To Animal Shows
The shows are included in the price of your ticket. Currently, they have Splash Safari (sea lion), Animal Friends (domestic animals), and Rainforest Fights Back. The elephant experience was unavailable in May 2022.
The cute sea lion is the main star of the Splash Safari Show. Just don't sit right at the front if you want to stay dry!
The seats fill up fast, so we try and get there at least 10 minutes before the start of the show.
Each show lasts between 15 and 20 minutes, which allows you to see all of them. They have two performances of each one per day (morning and afternoon).
8. Stay After The Shows Have Finished
Instead of fighting your way through the crowds to leave the show, consider staying behind. Often, you can talk to the zookeepers and have your photo taken with the animals.
9. Feed the animals
The Elephants, Giraffes, Goats, giant tortoises, and White Rhinos can be fed at certain times for a nominal fee which goes towards funding their wildlife conservation in the region.
Animals feedings must be booked online. Arrive 15 minutes before your allotted time.
10. Don't Forget Bathers
The Water Playground is a great place for the kids to cool off and let off some steam. There are slides, sprayers, and a jumbo water bucket that tips over!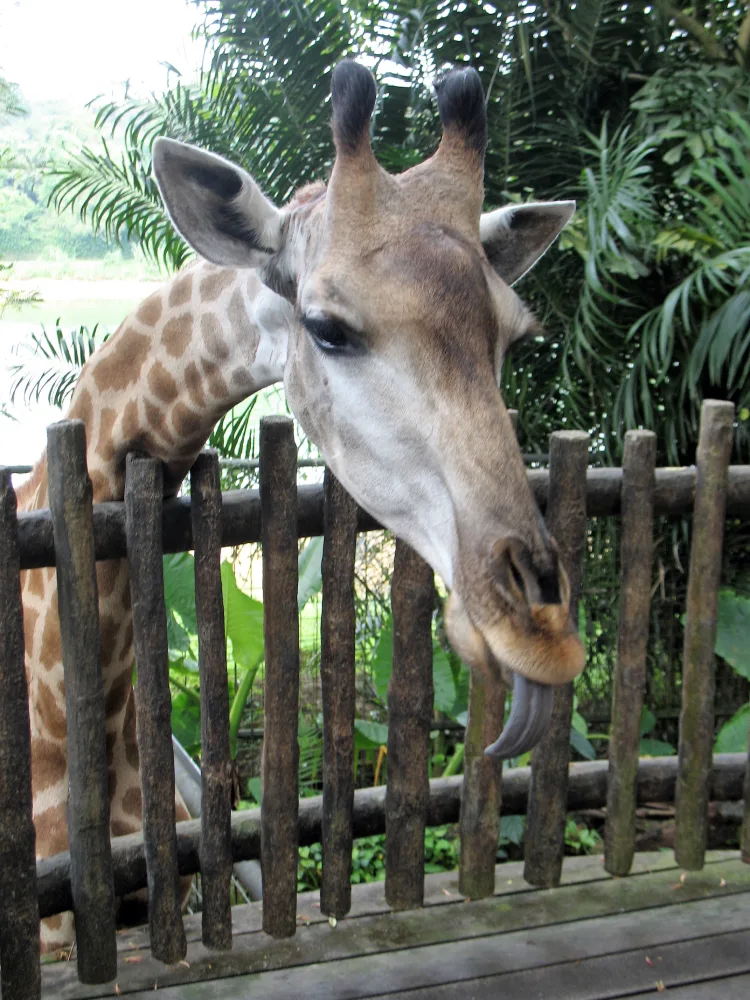 What To Pack for Singapore Zoo
Apart from what is mentioned above, make sure you have sunscreen, a hat, and wet weather protection. I'd recommend wearing comfortable shoes as well.
Being in a rain forest environment, it's a good idea to wear insect repellent.
If you forget something, look in the gift shop as they were selling ponchos when we were there.
Don't forget your camera. Singapore Zoo is a great place to practice your photography skills. Just ensure the flash is turned off.
Other Singapore Attractions
Find out what other amazing things there are to do in Singapore.
Where To Stay in Singapore
Luxury
The Marina Bay Sands is on my bucket list. I will get there one day! For those that are lucky enough, why not splurge on at least one night at this fabulous modern hotel.
Take a look at how incredible the rooms are and the views from the rooftop infinity pool here.
If you prefer a historic and iconic hotel, look at The Raffles. This is another Singapore hotel that I would love to stay at.
Mid-Range
We stay at The Holiday Inn Orchard City Centre when in Singapore.
If you want to stay in Orchard Road, you can read our list of the best places to stay in Orchard Road.
Singapore Articles
A complete travel guide to Singapore

The Ultimate Singapore Itinerary
The Best Rides at Universal Studios
Top 10 Things to do on Sentosa Island
The Best Orchard Road Family Hotels
Travel Resources to save you money