Australia Travel Guide
In depth Australia travel guides on destinations
plus honest reviews of attractions, accommodation, and restaurants.
Australia is the largest country in Oceania and consists of the mainland, the island of Tasmania, and many small islands. It is made up of six states and two major mainland territories; New South Wales, Victoria, Western Australia, Queensland, South Australia, Tasmania, Northern Territory, and Australian Capital Territory.
Despite Sydney being the largest city, and probably the best known, Canberra is the capital. The other main cities are Melbourne, Brisbane, Perth, and Adelaide.
Given its huge size, it has a diverse landscape, with rainforests, dry forests, mountains, and deserts. Australia is bordered by the Pacific Ocean and the Indian Ocean.

More than 80% of the 24 million population live by the coast due to the middle having such a harsh climate.
Disclosure: This post may contain affiliate links (of which we use) so we may receive a small amount of commission if you buy something through them. As an Amazon Associate, I earn from qualifying purchases. You can read the full disclaimer here.
Weather and Best Time to Visit Australia
The best time to visit Australia depends on what part of Australia you are visiting and what activities you plan.

The seasons are as follows:
Spring – September, October and November.
Summer – the three hottest months December, January and February.
Autumn – March, April and May.
Winter – the three coldest months June, July and August.

Parts of Australia, like Far North Queensland, Northern Territory and north Western Australia are more categorised by a wet (November to April) and a dry season (May to October).

The most popular time to visit Australia is from April to September when the weather is mild, and most of the country is dry. However, you will have to book things well in advance.

For hiking, I like winter and spring as it's generally cooler and spring brings the wildflowers.

Summer (or the wet) temperatures are too hot and humid for most people, especially in the outback and Western Australia.

From October to April is "stinger season," making the ocean unsafe unless swimming in the enclosures.
Do I need a visa to enter Australia?
Yes, you will, unless you are an Australian or New Zealand citizen.
You must apply for a visa before traveling. Some visas, including tourist and working holiday visas, can be applied for at your local Australian Embassy.
You can also apply for some visas on the Australian Department of Home Affairs.

Prohibited Items into Australia
There are certain items that are not allowed inside Australia and you can be in a lot of trouble for not declaring them. Some of the prohibited items are drugs, steroids, weapons, firearms, protected wildlife, fresh or packaged food, fruit, eggs, meat, plants, seeds, skins, and feathers. More information can be found on the Australian Border Force website.

Health
Speak to your health professional before travelling to Australia and any travel advice from your country. Also, check on the Australian Department of Health website for current information.

Prescription medication must be declared upon arrival. It is also a good idea to get a letter from your doctor detailing what you require the medicine for.

The Australian sun is very strong and can burn you in as little as 15 minutes. Make sure to protect yourself with a hat, sunglasses, sunscreen, and cover up your skin as much as possible. Take particular care between 11 am and 3 pm when UV radiation levels are at its highest.

Always purchase travel insurance before travelling to Australia. We use Cover More and Travel Insurance Direct.

Australian Currency
The currency of Australia is Australian Dollars. Both cash and credit cards are widely accepted.

You can exchange currency at banks, hotels, and international airports. There are ATMs in most towns but may be scarce in small remote towns and the outback.

Electricity
The electrical current in Australia is 220-240 volts, AC 50Hz.
You may need an adapter for your appliances: the adapter required for Australia is a Type 1 Australia plug. The plugs in Australia have two flat metal pins, forming an inverted 'V' shape, and a third pin in the centre.

Mobile
The best mobile coverage in Australia is from Telstra, the main provider. If you're staying in a city, the Optus network is cheaper and provides a good service.

For the regions, Telstra is recommended, although no service is available in remote areas.

We use Boost on Telstra 4G Mobile Network.

With up to 82GB for 28 days or 240 GB for 12 months, unlimited national calls and texts, and international inclusions on selected plans, you're sure to find the right prepaid SIM for you.

Safety in Australia
The emergency number for police, ambulance and fire brigade is 000.
Australia has a low crime rate, but you should take the same precautions as you would when travelling anywhere.
Despite what you might think, shark attacks are rare in Australia. To minimise your risk, swim at patrolled beaches, avoid cloudy days and dusk/evening time and don't swim a long way offshore or near deep water drop offs.
Crocodiles live in rivers and coastal estuaries in parts of northern Australia. Obey all warning signs and keep away from mangroves and avoid swimming or fishing near their habitat.
From around November to May, marine stingers are found in the ocean in Northern Australia. During this time, make sure to swim within the enclosures on popular beaches. If you are snorkelling or diving, you must wear protective clothing.
Australia also have their share of venomous snakes and spiders. However, deaths are very rare since anti-venom were introduced. If hiking, wear protective footwear. 
Australia has some of the best beaches in the world and with over 10,000 of them, you are spoilt for choice. Popular beaches are patrolled by Surf Lifesavers from October to April, where red and yellow flags mark the safest area to swim. To avoid the chance of being caught in a rips, swim between the yellow and red flags.
You should always pay attention to signs as you enter the beach and on the beach. They can warn of dangers like crocodiles and marine stingers.
The Australian sun is strong so make sure to regularly apply a SPF50 sunscreen and wear protective clothing like rashies, hats, and sunglasses.
Distances in Australia are huge and you can go thousands of kilometres without seeing anyone.
Make sure your vehicle is roadworthy and you have two spare tyres if you are driving in the remote areas. Also take maps, extra food & water and fuel.
Mobile phones have limited coverage in some parts too so don't rely on them.
Don't drive tired. Break up your journey with rest stops. The roads can be long and straight which can make you drowsy if tired and even fall asleep at the wheel.
Booking your trip to Australia
Our travel resources page lists all the companies we use to get the best deals on travel to and within Australia.

Bucket List of Things To Do in Australia
Australian States & Territories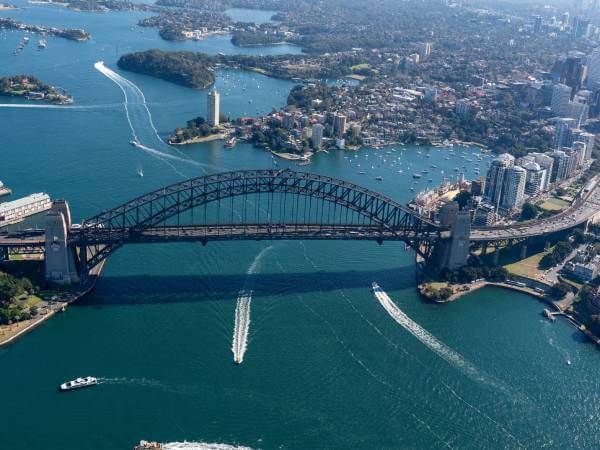 New South Wales
NSW is on the east coast of Australia and Australia's most populous state. Sydney is the capital city and Australia's most populous city.
Queensland
Qld is Australia's second largest state and third most populous. The capital city is Brisbane which is the largest city in the state.
South Australia
SA is the fourth-largest of Australia's states with more than 77 percent of South Australians living in the capital, Adelaide.
Tasmania
Tasmania is an island state of Australia, situated to the south of the mainland. The state city is Hobart and also Tasmania's largest.
Victoria
Vic is the second-smallest state but the most densely populated. Melbourne is Victoria's state capital and Australia's second largest city.
Western Australia
WA is Australia's largest state and the second-largest country sub-division globally. Perth is the state's capital city.
ACT
The Australian Capital Territory contains Australia's capital, Canberra. It is an enclave within the state of New South Wales.
Northern Territory
NT is an Australia Territory and the third-largest Australian federal division. It has a small population with most people living in the capital, Darwin.
Popular Tours in Australia
Most Popular Posts
Things to do in Airlie Beach for Families
Airlie Beach is the best place to base yourselves when travelling to the Whitsundays with children. It is much cheaper to stay there than on the islands, and there are more kids activities to keep them occupied. This guide on things to do in Airlie Beach for families provides plenty of ideas to keep your children entertained.

Where to stay in Sydney before a Cruise
Are you looking for the best place to stay in Sydney before a cruise? We have cruised from Sydney and holidayed there numerous times. This is a list of our recommendations for Sydney pre-cruise and post-cruise accommodation for all budgets.

The Latest Australia Articles
Wondering what to do in a day in Hobart or what are the best Hobart cruise excursions? We were here for a day on Celebrity Solstice and enjoyed the history and natural beauty of Tasmania's capital city. Hobart is Tasmania's main cruise port due to it having the deepest harbour. As you arrive into Hobart,…
FAQ
Is it better to exchange money in Australia or Overseas?
It depends on what country you are planning to exchange your money into Australian dollars. Countries like Indonesia and Thailand tend to have favourable rates. Check the exchange rates in your country with those advertised online at Travelex.
Do you tip in Australia?
You don't have to tip in Australia, in fact most people don't. However, a 10% tip will be appreciated in restaurants and bars.
Can I haggle in Australia?
Haggling is not custom in Australia. However, if you are buying a big ticket item, you can ask if they can do a better price or price match.
What is the legal drinking age in Australia?
The legal drinking age in Australia is 18 years old. ID will be required.
If you found this article helpful, please consider booking through one of our links. It won't cost you anything but will help towards the cost of running this site. Thank you.

To keep up-to-date with our travels, follow us on Facebook.