The Ultimate Sydney to Brisbane Road Trip Itinerary
If you're thinking of doing a Sydney to Brisbane Road Trip then this travel guide and itinerary will help you plan it. It is tried and tested with two 5-year-olds.
This scenic drive from Sydney to Brisbane takes you along the Pacific Coast of Australia.
Disclosure: This post may contain affiliate links (of which we use) so we may receive a small amount of commission if you buy something through them. As an Amazon Associate, I earn from qualifying purchases. You can read the full disclaimer here.
How far is it from Sydney to Brisbane?
It's 909km from Sydney, New South Wales, to Brisbane, Queensland.
How long does it take to drive from Sydney to Brisbane?
It takes about ten hours to drive from Sydney to Brisbane.
Of course, the whole point of a road trip is to see what's in between. To view the best attractions along this beautiful coastal route, the distance will be about 1,050 km.
Is it cheaper to fly or drive to Brisbane from Sydney?
Flights are inexpensive so that would be the cheaper option. It is also the quickest. However, you would miss out on all the beautiful towns and scenery along the way.
Is it worth driving from Sydney to Brisbane?
Yes, it is worth driving from Sydney to Brisbane. You miss out on the stunning scenery and places in between these cities when you fly. Highlights for us were Port Stephens and Byron Bay.
What is the best time to do a Sydney to Brisbane Road Trip?
A road trip from Sydney to Brisbane can be done at any time of the year. However, I would choose either spring or autumn. The hot summer (Dec to Feb) temperatures could make the journey uncomfortable. As you travel north, it will become humid too.
We did the trip at the end of March and had quite a bit of rain. There is less chance of rain in the winter months but it is cooler.
Car or Campervan?
I costed it out and, for the time we went and the number of people, it worked out slightly cheaper to hire a car. We stayed at various accommodations along the way that offered good value for money.

To compare the price of car hire, use Discover Cars, an award winning car rental comparison website. They offer competitive pricing in over 10,000 locations worldwide and are highly-rated.
We take out a travel insurance policy that includes vehicle rental excess as it is much cheaper than paying the car hire company direct. We use Covermore.
Road Trip Map
Sydney to Brisbane Drive Itinerary
Sydney New South Wales
New South Wales capital city, Sydney, is the most populous city in Australia and makes a great base to explore the East Coast.
Things To Do in Sydney
The Hop On/Hop Off Bus is a great way to see the sights of Sydney when you are limited for time. We did this as part of our itinerary as we only had two days there. It was worth the money and highly recommend it. You can book here.
Take a tour of the Sydney Opera House. It is an Australian icon and on this hour-long tour, you will get to see inside the world-famous theatres and foyers.
Walk across the Sydney Harbour Bridge or, if you're brave enough, do the bridge climb. The views from the top are incredible and something to tick off your bucket list.
Do a walk of The Rocks. It's a historic part of the city and takes in some wonderful sights. You can follow my guide to The Rocks or take a walking tour like this one.
See Sydney from the water. Take one of the many ferries (one from Circular Quay to Milsons Point goes under the Harbour Bridge) or splash out on a Tall Ship 90-minute harbour cruise. We've seen this 1850s style wooden tall ship in Sydney but haven't had the chance to go on it yet. Next time!
Our post on the best Instagram spots in Sydney gives you tips on where to take the best photographs. Be sure to check it out.
Where To Stay in Sydney
Sydney is an expensive city to stay in so we look for hotels that offer good value.
We have stayed at Holiday Inn Old Sydney which is in the Rocks, close to Circular Quay, and Holiday Inn Darling Harbour. The HI Old Sydney has now been taken over by Rydges. Both were clean but a little dated. However, that is reflected in the price and both had great service and excellent locations.
Terrigal via The Entrance
Distance 97km
Driving Time 1 hour 40 mins
Drive over the Sydney Harbour Bridge and along the M2 and M1.
Depending on what time you leave Sydney, you can head straight to The Entrance for the Pelican Feeding. This takes place at 3.30 pm every day. It is one of the Central Coast's most popular tourist attractions.
Things To Do in Terrigal
Alternatively, in summer, take a dip in the ocean or lagoon. There are also walking and cycling trails that loop around Terrigal.
There are plenty of cafes or restaurants to choose from along the vibrant Esplanade strip. Two cool rooftop bars to check out are Mumbo Jumbos and Rhonda's.
Where To Stay in Terrigal
The Crowne Plaza Terrigal Pacific was wonderful. Our room had views overlooking the ocean and was spacious and clean. We stayed in a twin room with two Queen size beds and a balcony.
Nelson Bay, Port Stephens
Distance 142km
Driving Time 2 hours
The direct route will take you straight to Nelson Bay in under 2 hours. If you want to go via Newcastle, it adds about half an hour.
Things To Do In Nelson Bay
Gan Gan Lookout provides spectacular views over Port Stephens. At 160m above sea level, it is the highest and most accessible viewpoint in the area. It's a short and easy walk from the car park.
For the more energetic, there's the Tomaree Head Summit Walk. It's a Grade 5, 2.2km hike with some steep sections. The views over Port Stephens and beyond are incredible. Take binoculars with you to spot dolphins or whales.
We only stayed 1 night but if you are here for longer, consider these too:
Port Stephens is home to over 200 dolphins so it's the ideal place to do a dolphin tour. If you don't mind an early 6 am start, this Wild Dolphin Cruise is the only permitted wild dolphin swim in New South Wales. The 4-hour cruise includes all gear, a light breakfast, educational commentary, plus all above-water photos. Watch the sunrise from the deck of the beautiful 52-foot catamaran. They are eco-certified so support sustainable practices as well.
Stockton Sand Dunes stretch for 32 km over the entire length of Stockton Beach. The dunes are home to ancient Aboriginal cultural sites, as well as beautiful Birubi and Stockton Beaches. A great way to experience the dunes is on a Sandboarding & 4WD Sand Dune Tour. The custom-built 4WD takes you for a ride over the largest moving sand mass in the Southern Hemisphere. The views are amazing as the height can reach 40m, the equivalent of a 10 storey building. From here, learn how to sandboard using the custom-designed boards, made for maximum safety and speed.
Pick one of the 26 beaches from surfing spots to sheltered bays. One Mile Beach and Fingal Bay are both excellent surf beaches whilst Shoal Bay is calm and perfect for stand up paddleboarding.
For divers, you have the choice of shore dives or boat dives. The shore diving is the best in New South Wales but if you head over to Broughton Island, you could be rewarded with 20m visibility and a large colony of grey nurse sharks.
Where To Stay

The accommodation we stayed in is no longer available. However, I would choose to stay at the Marina Resort. It has good reviews, within our price range, clean, good facilities and 250m from Nelson Bay.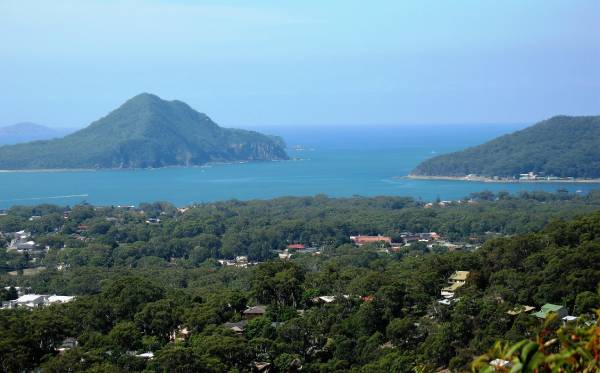 Port Macquarie
Distance 250km
Driving Time 2 hours 45 mins

The Hunter Valley is a worthwhile detour if time permits. Nelson Bay to Hunter Valley will take around 2 hours and I would suggest staying the night. This will then leave you plenty of time to explore this stunning wine region. From here, it is just over a 3-hour drive to Port Macquarie.

This relaxing coastal town has 17 beaches to choose from. However, as you can see, we didn't have the best beach weather!

There are also plenty of activities and experiences to keep you busy.

Things To Do In Port Macquarie

The Koala Hospital is the world's first hospital dedicated solely to the care and preservation of koalas. The hospital is open to visitors free of charge but now requires booking. It is a not for profit organisation that relies on donations so please consider donating to help these vulnerable animals.

Take a walk along the breakwall with beautiful views of the Hastings River. Stop and admire the artwork where rocks have been painted by visitors and locals. If you want to venture further, the 9km coastal walk to Tacking Point Lighthouse is stunning. 

If you have young children, head to Shelly Beach. There are plenty of rock pools to explore and a long stretch of white sandy beach. Keep a lookout for the resident bush turkeys and goannas.

The Sea Acres Rainforest Centre is in the Sea Acres National Park. It is free to enter (the cafe is great there) but a charge for the boardwalk applies.

Where To Stay

We stayed at Town Beach Beachcomber Resort in a 2 bedroom apartment. It's surrounded by tropical gardens and has an outdoor swimming pool, a hot tub, table tennis, and barbecues. We had partial sea views from our balcony. It's close to town so easy to walk in and out.

It's great value for money but if you want something a bit more modern, look at Ki-ea Apartments. They also have great reviews.
Coff's Harbour
Distance 150km
Driving Time 1 hour 45 mins
Make sure to stop at Nambucca Heads on the drive from Port Macquarie to Coff's Harbour.
It's a small town at the mouth of the Nambucca River. What it lacks in size, it makes up for in natural beauty. The views from Captain Cook and Rotary Lookouts are stunning and Shelly Beach lives up to its name.
Coffs Harbour is the halfway point between Sydney and Brisbane. To be honest, we weren't overly impressed with it and was our least favourite stop.
Things To Do In Coffs Harbour
Explore the local beaches like Jetty Beach and Park Beach.
The Big Banana Amusement Park is probably the most iconic thing in Coffs Harbour. It's the biggest theme park between Sydney and the Gold Coast. We, however, decided to wait until the Gold Coast to get our thrill rides.
If you are here for longer, take a tour to Gondwana Rainforests of Australia. You will get to hike through the ancient rainforests in the Dorrigo National Park and view incredible Dangar Falls waterfall.
Visit Orara East State Forest and take the 600m Gumgali Track. This interpretive walk tells the story of Gaumgali, a part of the local Gumbaynggirr culture. It leads to Korora Lookout which affords spectacular views of the area.
The Forest Sky Pier at Sealy Lookout is also in Orara East State Forest. Another lookout which offers magnificent coastal views.
Walk over to Muttonbird Island Nature Reserve, just off the coast. The Eastern lookout offers stunning views of the Solitary Islands. Find out more about Aboriginal history on a guided tour with an Aboriginal Discovery ranger.
Go diving in the Solitary Islands Marine Park where you can expect to see plenty of marine life. There's a mixture of tropical fish from the Great Barrier reef and Sub-tropical fish from Sydney.
Where To Stay
We stayed at The Observatory Holiday Apartments. They're close to the harbour with views from the balcony. It's an easy walk to restaurants and the apartment was spotless. Just be aware that there is a bit of train noise although it didn't disturb us.
Byron Bay / Ballina
Distance 230km
Driving Time 2 hour 45 mins

Byron Bay is a must-do on your Sydney to Brisbane road trip. It's a small, quirky, individual town with a great vibe. It's known for its laid back lifestyle, surfing culture, and being the hippie capital of Australia.

Things To Do In Byron Bay

Spend some time just exploring the town with its boutique stores, cafes, and bars.

Head to the beach and join the locals for a surf. If you don't know how to surf, do a 3-hour surf lesson.

Cape Byron Lighthouse is a must. It sits on Australia's most easterly point with amazing views over the ocean. Take a guided tour and visit the Maritime Museum to learn about this lighthouse and shipwrecks off the coast.

While here, follow the coastal trail from the lighthouse towards Fisherman's Lookout. Not only does it provide views back towards the lighthouse but has incredible ocean vistas too.

Explore Arakwal National Park which features 3km of gorgeous beach bordered by sand dunes. Have a swim, surf, or look for whales.

Byron Bay is a popular place to kayak alongside dolphins, go on a sunrise hot air balloon ride, go whale watching, and diving with the chance to spot manta rays, wobbegong sharks, sea turtles, and over 500 species of fish.

Explore the World Heritage-listed Nightcap National Park. There's so much to do here including Minyon Falls Lookout, hikes, and a Hinterland Magic and Glow-Worm Experience.

Where To Stay

Byron Bay can be expensive to stay in, especially in peak season and school holidays. We opted to stay just outside in Ballina at Ramada Hotel & Suites by Wyndham Ballina Byron. Our modern one-bedroom suite overlooked the river and had kitchen facilities. Our daughters slept on the sofabed which they found comfortable. It was a short walk to the shops and restaurants. A great option.
Gold Coast Queensland
Distance 115km
Driving Time 1 hour 30 mins

Coolangatta, at the start of the Gold Coast, is just over an hour from Ballina.

The Gold Coast is renowned for its theme parks, beaches, and high rise buildings. It's a popular holiday destination for Australians and international visitors.

Our article on the Gold Coast provides information on what to do here and where to stay.

Having two young children, we opted to stay here for 4 nights.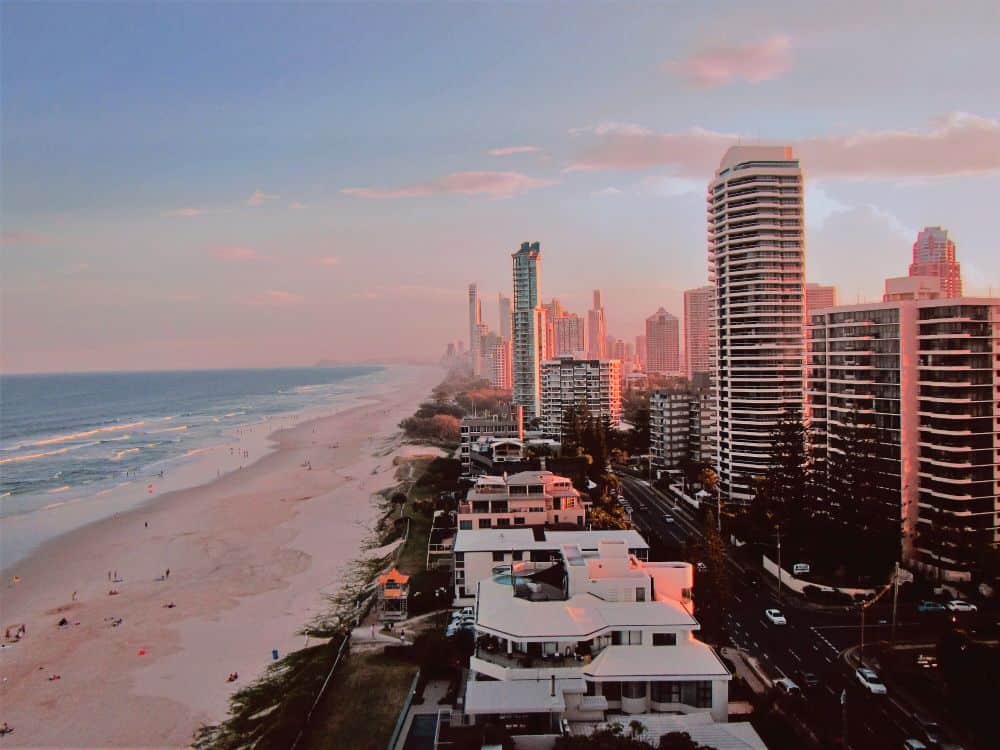 Brsibane
Distance 80km
Driving Time 1 hour

This is the end of your Sydney to Brisbane road trip, 900km from leaving Sydney.

Brisbane is the capital city of Queensland and a beautiful city to visit. It's very well designed with the Brisbane River cutting through the city. Along the river banks, there are plenty of restaurants and bars, boardwalks, and parklands.

The Brisbane Information Centre has lots of ideas for things to do and attractions in the city.

Where To Stay

I can't recommend any accommodation as we did not stay in Brisbane. I do, however, recommend booking.com which we use to find good value places to stay.
Driving Tips
Leave early in the morning to arrive well before dusk when animals can become a hindrance and danger on the roads.
Don't drive tired. If you are feeling sleepy, pull over at one of the stops on the side of the road.
When you see a petrol station, fill up. It could be a long way to the next one (or that could be closed, that's happened to us and we only just made it to the next one).
Get Roadside Assistance if it's not included in your vehicle rental.
Make a flask of tea or coffee for your journey.
Make sure you have plenty of water for your road trip – stay hydrated.
Keep some snacks handy for the car journey.
Tours
For more things to do in Queensland, check out this Queensland Travel Guide.
If you found our Sydney to Brisbane Road Trip guide helpful, please consider booking through one of our links. It won't cost you anything, but will help towards the cost of running this site. Thank you.