Top 25 Interesting Things To Do in Sydney
Having lived in Australia for over 20 years, we have visited Sydney numerous times. We've discovered plenty of interesting things to do in Sydney, some popular tourist places and others off the beaten track.
Disclosure: This post may contain affiliate links (of which we use) so we may receive a small amount of commission if you buy something through them. As an Amazon Associate, I earn from qualifying purchases. You can read the full disclaimer here.
Interesting Things To Do in Sydney
The Sydney Opera House consists of a network of theatres and halls linked together beneath its famous roofline. This performing arts centre is one of Australia's most popular tourist attractions and one of the 20th century's most famous and distinctive buildings. Designed by Danish architect, Jørn Utzon, the building opened in October 1973.
The Sydney Opera House Official Guided Walking Tour is a great way to explore behind the scenes of one of the world's busiest performing arts centres.
The sun rises behind the Opera House and one of the best locations to catch this from is Hickson Road Reserve, right in front of the Park Hyatt. You will most likely be sharing this spot with a few photographers (there was a professional shoot on while we were there) but there is plenty of space to get that perfect sunrise photo. You can also get the city skyline, Circular Quay, and Sydney Harbour Bridge from the same position.
From here, head straight round to the Opera House stairs. It will be empty this early in the morning and you can grab a photo/selfie before the crowds arrive.
If you want to get both the Opera House and Harbour Bridge in one photo, then the best way is to head to the Botanical Gardens and walk to Mrs Macquarie's Point. This gets very busy at sunset but you should be able to get the photo you want.
Sydney Harbour Bridge
Sydney Harbour Bridge was completed in 1932 and links the city centre to the residential north side. The single-span steel arch, or coathanger as it's known, was built in two halves and supports the deck. It took 1400 workers to construct it, of which 16 were sadly killed in accidents.
You can see the best views of Sydney Harbour Bridge from:
outside Sydney Opera House
Hickson Road Reserve
top of Observatory Hill
Luna Park
Mrs Macquarie's Chair
Jeffrey St Wharf
The best view from Sydney Harbour Bridge is on the Bridge Climb, the views are incredible on the twilight climb.
Queen Victoria Building
This shopping centre is one of the world's most beautiful, housed in the elaborate Romanesque Queen Victoria Building. The QVB was constructed between 1893 and 1898 and opened as a market, replacing the original Sydney Markets. The most striking features are the central copper dome and the glass roof.
The market closed at the end of World War 1 and the building deteriorated, threatening with demolition in 1959. After a refurbishment at the cost of A$75 million, the shopping centre opened in 1986.
Pierre Cardin called the Queen Victoria Building the most beautiful shopping centre in the world and I may have to agree.
My favourite part of QVB is the Royal Clock which features a copy of Big Ben's four dials beneath part of Balmoral Castle. The wishing well includes stone from Blarney Castle, a statue of Queen Victoria and her dog, and a sculpture of Islay.
Strand Arcade
Strand Arcade opened in 1892, but had to be restored after a fire in 1976. This stunning Victorian shopping arcade links George Street with Pitt Street and is filled with beautiful shops and cafes. It is Sydney's only remaining Victorian era arcade in its original form today.
Angel Place
In between George Street and Pitt Street, is Angel Place. There you can find empty birdcages hanging from above. Michael Thomas Hill designed the art which is called "Forgotten Songs". You can hear the sounds of birds tweeting as you stand beneath the cages.
Sydney Tower
The 309m Sydney Tower, completed in 1981, has been designed to withstand earthquakes and strong winds. There are several ways to experience Sydney's tallest structure:
Sydney Tower Eye – enjoy 360-degree panoramic views of Sydney from the Observation Deck. Ticket includes admission to the 4D Cinema, which takes you on a 4D journey over Sydney landmarks
Skyfeast at Sydney Tower is a buffet lunch or dinner at Sydney Tower's revolving restaurant.
Infinity at Sydney Tower – Gourmet lunch or dinner at 360 Bar and Dining with an à la carte menu.
Sydney Tower SKYWALK – Secured by a safety harness, you will walk around the outside of the tower, then step out on the glass-floored viewing platform that extends over the edge of Sydney Tower Eye at 250m high.
St Mary's Cathedral
When the European settlers first arrived in Australia, they weren't allowed to hold Mass for the fear of civil unrest. It wasn't until 1820 that the first Catholic Priests were assigned and services allowed. St Mary's Chapel was the first Catholic Church in Australia, opening in 1882.
Hyde Park
Australia's oldest park, named after London's Hyde Park, was once used as an exercise field for garrison troops and later included a racecourse and cricket pitch. This open space is much smaller now but still a wonderful refuge from the bustling city centre. There are plenty of trees to provide shade and this inner city park features the bronze and granite Archibald Fountain commemorating the Australian and French World War I alliance.
Sydney Town Hall
Completed in 1889, Sydney Town Hall is a great example of High Victorian architecture, renowned for its spectacular interiors and rich decoration. It is not the creation of one architect but several culminating in the largest and most ornate late 19th century civic building in Australia.
St. Andrews Cathedral
The foundation stone for Australia's oldest cathedral was laid in 1819 but St. Andrews Cathedral wasn't consecrated until 1868. The Gothic Revival design was inspired by England's York Minster and the southern wall includes stones from London's St. Paul's Cathedral, Westminster Abbey, and House of Lords.
Australian Museum
Australia's oldest museum, and the fifth oldest natural history museum in the world, was founded in 1827. I recommend a visit to this museum to learn about the First Nations cultures and experiences. It has one of the world's most-significant First Nations collections showing these cultures, with art, technologies, and cultural material. The Australian Museum has collaborated with the First Nations communities to ensure the objects held in the Australian Museum Aboriginal and Torres Strait Islander Collection are interpreted appropriately.
State Theatre
The State Theatre, opened in 1929, is a spectacular example of ornate period cinemas in Australia. The baroque style is visible in the foyer, with the mosaic floor, marble columns, and high ceiling. It is now a special events venue so check the State Theatre homepage to see what shows are on.
Art Gallery of New South Wales
This sandstone building has been the home of the Art Gallery of New South Wales since 1897. Some of the finest works of art in Australia are housed here with collections of Australian, Aboriginal, European, Asian and Contemporary art.
The Yiribana Gallery is one of the largest globally to exclusively show Aboriginal and Torres Strait Islander art and culture.
The Rocks
The Rocks, an important part of Sydney's history, is home to Sydney's oldest surviving residence, historic walkways, markets and old pubs. You can read more about this area in our guide on Things to see in The Rocks.
Darling Harbour
Before the A$3 billion rejuvenation of Darling Harbour, it was a busy international shipping port and industrial area. Now a pedestrian-friendly entertainment region, complete with the Australian National Maritime Museum and Sydney Aquarium, it attracted 4.7 million international and domestic visitors in 2019.
Some of the best things to do in Darling Harbour are:
Dining harbourside in one of the many restaurants and cafes
Explore the Australian National Maritime Museum and the HMAS Vampire destroyer
Take a walk through the Chinese Garden of Friendship
Experience Paddy's Markets and grab dinner in Chinatown
Be amazed as sharks swim above you in the underwater tunnels of Sea Life Sydney
See a huge variety of Aussie animal favourites including the Koala Sanctuary where you'll have the chance to have your photo taken with one at the Koala Rooftop at Wildlife Sydney Zoo or have a memorable breakfast with the Koalas experience.
Visit Madame Tussauds and have your photo taken "with" some of these world-famous celebrities.
Click on the above links to read more about these attractions and for up-to-date prices.
TIP: Book this Sydney Combo Pass and SAVE $$$.
The Royal Botanic Garden
Established in 1816, the Royal Botanic Garden Sydney is the oldest botanic garden and scientific institution in Australia.
The traditional owners of the Royal Botanic Gardens and Domain area are the Cadigal people. They would hunt and hold ceremonies in Woccanmagully (Farm Cove) and the place known as Mrs Macquarie's Chair is sacred to the Cadigal men who call it Yurong.
Upon arrival of the First Fleet, Captain Phillip had the area that is now the site of the Cadi Jam Ora – First Encounters Garden cleared to make way for crops like coffee, wheat, barley and corn. The farm moved later to near Parramatta as the soil and climate wasn't suitable.
Governor Macquarie inhabited the land as his own and established the gardens in 1816 as part of the Governor's Domain. He built a sandstone seat for his wife, which is now known as Mrs Macquarie's Chair. Macquarie appointed Charles Fraser Colonial Botanist in 1817 and he became the Garden's first Superintendent.
You can read more about the fascinating history of these botanical gardens on the The Royal Botanic Garden website.
Taronga Zoo must have one of the best zoo views in the world but the protection and conservation of animals are their top priority.
With your entrance to the zoo, your ticket allows access to the Sky Safari cable car, which gives you the chance to look down into the animal enclosures and enjoy the stunning views of Sydney Harbour Bridge and the city skyline.
There are lots of ticket options as you can see from below. We mainly book with Viator due to their free cancellation policy and lowest price guarantee.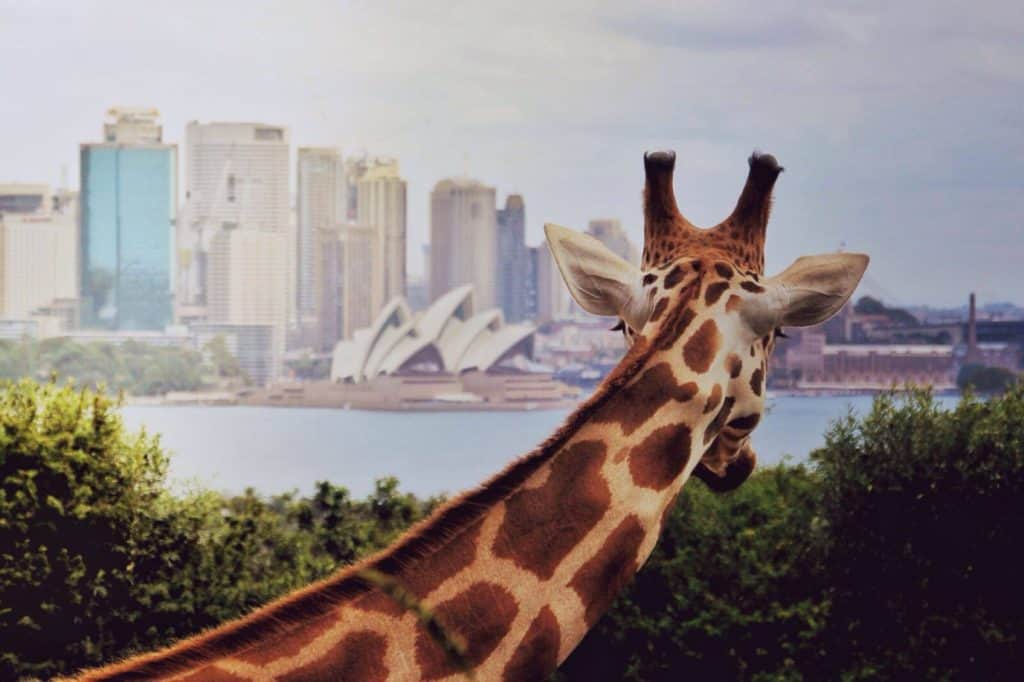 Luna Park
Luna Park is an iconic amusement park with incredible views of Sydney Harbour Bridge and Opera House. The heritage-listed fairground is located in the harbourside suburb of Milsons Point, on the northern side of the harbour. Famous for its (kind of creepy) smiling face, the Ferris Wheel is popular at sunset for panoramic views of Sydney Harbour.
Bondi Beach
I have to be honest, I'm not a big fan of the world-famous Bondi Beach. Maybe it's because Western Australia have some of the best beaches in the world. However, it is worthy of a visit to see the location of Bondi Rescue and experience the Sydney beach culture. It's also an excellent place to surf or have surf lessons. Bondi Beach also home to one of Australia's oldest swimming clubs, Bondi Icebergs at the southern end of the beach. You can visit Bondi Baths and swim laps with the Icebergs, named after those brave enough to go swimming in winter.
Manly Beach
I prefer Manly Beach to Bondi and part of the fun is getting there. It's one of the best ferry routes and a popular excursion to get out of the city.
Manly Beach is where the world's first surfing contest was held in 1964 and still brings the world's best surfers. The beach stretches from South Steyne to North Steyne and Queenscliff, where a submerged reef, or bombora, creates the surf break.
Whether you want to lie on the white sand, surf, or snorkell, it's worth the trip from the city.
Ferries
One of my favourite things to do in Sydney is to take the ferries across the harbour, to Darling Harbour, and Manly Beach. The ferry network makes an affordable sightseeing option as some routes pass under the Sydney Harbour Bridge and in front of the Opera House.
You can download a copy of the Sydney Ferries Network Map here and find out about how to pay and plan your trip on the Transport NSW website.
Fort Denison – Muddawahnyuh
Fort Denison, first named Rock Island, is a former penal site and a former defence facility. Once called Pinchgut, probably due to meagre rations, it is the most complete Martello Tower in the world and a popular Sydney attraction.
Unfortunately, Fort Denison is closed for maintenance and conservation works until early 2022.
Cruises
A harbour cruise is a great option if you love being out on the water, like me. There are lots to choose from depending on your preferences. Sunset is a beautiful time of day to view the sights and this 2-hour sunset cruise on the MV Sydney 2000 includes a three-course a la carte dinner plus live music. Adrenalin junkies will have a thrilling ride on this 30-minute jet boat ride and get to experience twists, spins, wave riding, and power brake stops.
If the idea of an exhilarating half-day sailing cruise on Sydney Harbour aboard a luxury yacht appeals to you, then you will enjoy this Sydney Harbour Luxury Sailing Trip which includes lunch.
Whale Watching
Whale Watching season is between the months of May and November and several cruise operators offer whale watching cruises. This two-hour speed boat tour is on Sydney's fastest commercial boat where you'll encounter migrating whales in their natural environment.
Sydney Tours
If you are only in Sydney for a short amount of time, consider a tour to maximize your day, and have the benefit of an experienced and knowledgeable local guide. Click on the links to find out more information on these incredible tours.
Sydney Bike Tours are very popular, with a choice of four routes, taking in a mix of famous and lesser-known Sydney sights.
We used the Sydney Hop On Hop Off Bus to get around Sydney as it takes you to Sydney's top destinations so you don't have to worry about transportation and provides a commentary. This sightseeing tour by double-decker bus allows you to discover the highlights of Sydney and Bondi Beach at your own pace.
Cruise passengers can take advantage of a private full-day tour tailor-made just for you. Your private tour includes cruise terminal pick-up and transport by air-conditioned vehicle to the iconic sights you want to see.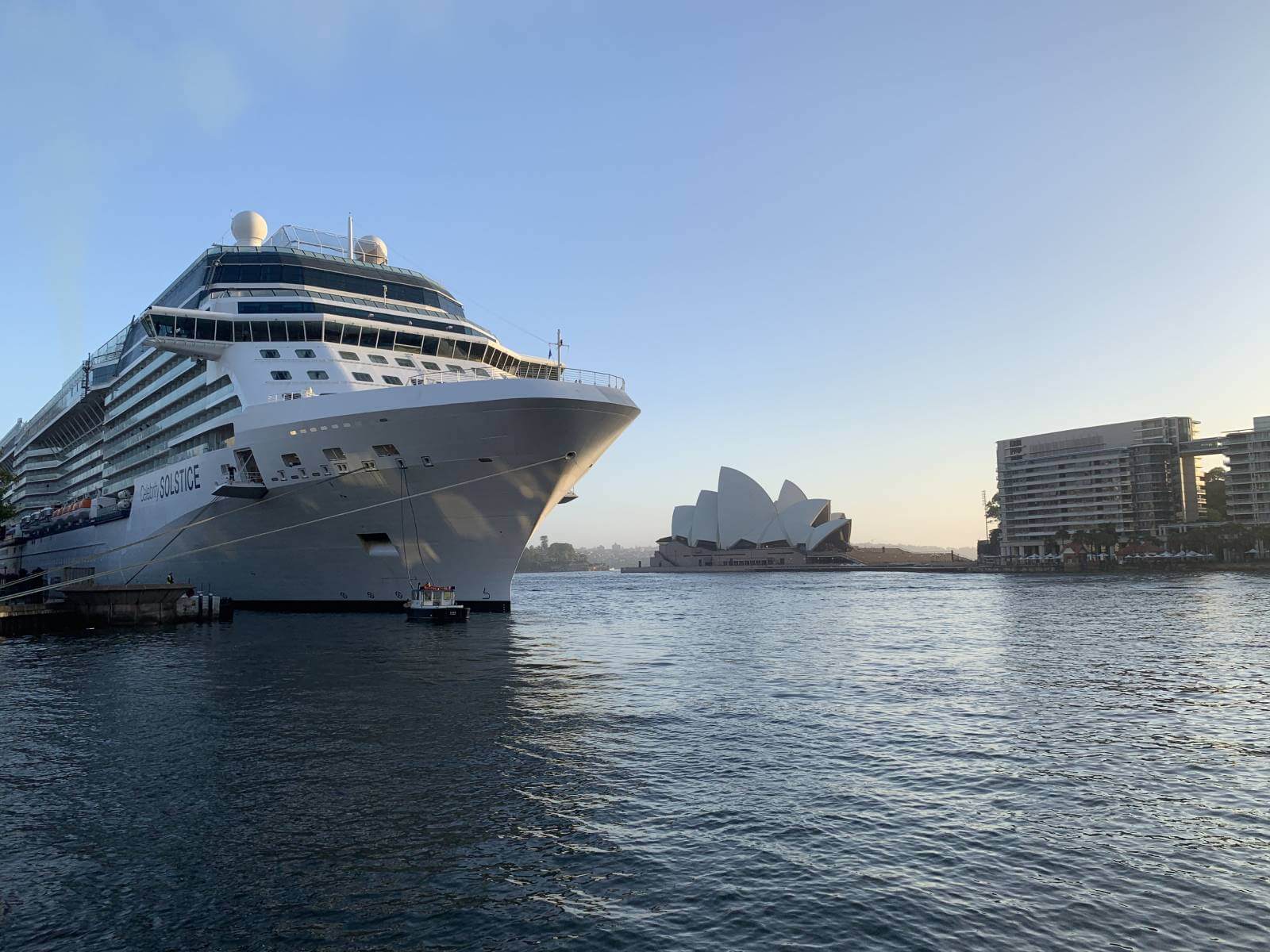 Free Australia Travel Guide
For other ideas on where to visit in Australia along with the best things to do, the ultimate road trips, bucket list items, where to stay, how to get around, and other essential information like safety & health, click on the link below.


Save money planning your holiday
Flights: We use different sites to get the best possible price for flights. Check matrix.itasoftware.com to get an idea of the cheapest dates, but you can't book through this site. Compare the cost of flights with Kiwi.com and try different routes.

Accommodation: We mainly use Booking.com for accommodation as they consistently have the lowest rates with free cancellation on most properties. We also book through Stayz/VRBO for private accommodation as they are usually cheaper than Airbnb.

Car Rental: To compare rental car company prices, we use Discover Cars, an award winning car rental comparison website. They offer competitive pricing in over 10,000 locations worldwide and are highly-rated.

Tours: We use third-party sites Viator, Get Your Guide & Klook due to their free cancellation policies, instant confirmation, price guarantees, and mobile ticketing. We occasionally book through Red Balloon too.

Money: We recently started using Wise to access funds internationally, including trips to Bali and Malaysia. They offer a debit card in 50 currencies and transfers are fast and free from hidden fees and exchange rate markups. Funds can be accessed through ATMs too. Wise has saved us a lot of money compared to our usual credit card and debit card.

Find out more from Wise here.

Travel Insurance: Cover-More protects the travel dreams and experiences of more than 15 million people worldwide every year (including us!). Part of Zurich Insurance Group, they cover 22 countries across five continents with leading positions in the USA, Australia, Brazil, Argentina, Ireland, India and New Zealand. Protect your trip against several COVID-19 scenarios during the current coronavirus pandemic. 


If you found this article helpful, please consider booking through one of our links. It won't cost you anything but will help towards the cost of running this site. Thank you.

To keep up-to-date with our travels, follow us on Facebook.