How To Plan Your Trip To Penang
Let us help you plan your dream trip to Penang. This travel guide will give you advice on when to go, what to do, where to stay and tips to make your holiday a memorable experience.
Disclosure: This post may contain affiliate links (of which we use) so we may receive a small amount of commission if you buy something through them. As an Amazon Associate, I earn from qualifying purchases. You can read the full disclaimer here.
Plan Your Trip To Penang: Things To Consider
Is Penang Expensive?
It's cheap to eat street food and at hawker centres. Even dinner at a mid-range restaurant won't cost that much. However, wine is expensive and hotels charge a tourism tax.
I would say that Thailand is slightly cheaper but Penang is still much better value than Europe, Australia, or North America.
Is It Safe in Penang?
Penang is relatively safe. You just need common travel sense as petty crimes are committed here. See our Malaysia Travel Guide for more information on safety issues.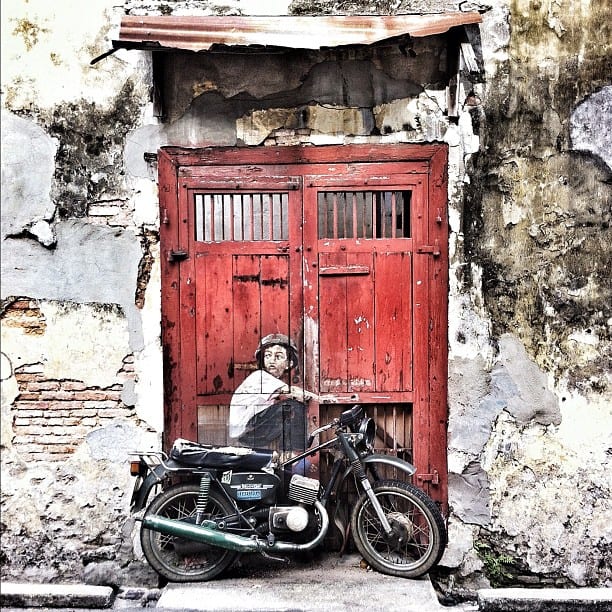 When Should I go to Penang?
December to March is the ideal time for your trip to Penang. The rainy season is April to November, with October being the wettest.
Things To Do in Penang
Penang is known for its beaches, street food, and Georgetown, its well preserved cultural capital.
Historical Heritage
Founded by Captain Francis Light of The British East India Company in 1786, Georgetown became the first British settlement in Southeast Asia.
Due to its well-preserved cultural and historical heritage, parts of Georgetown were added to the World Heritage list by UNESCO in 2008.
There are more than 1700 historic buildings within the Georgetown Core Zone. Many heritage traders still exist and you can see examples of signboard carvers, pastry bakers, kapok pillow makers, and shoemakers along with many more.
There are too many places to see to list them all but Penang Tourism has lots of different maps available to download that show all the attractions and places of interest.
Penang Street Art
One of the best ways to explore Georgetown is to follow the street art trail. The murals here have become world-famous and there is plenty to see. The Tourism Bureau has street art maps to download and plan your route.
My tip is to get there early (before 9 am) so it's not too hot and to avoid the large crowds.
Peranakan Culture
In Malaysia, the term Peranakan refers to mainly the community of Chinese unique to this part of the world, especially in the Straits Settlements (Penang, Malacca, and Singapore).
Also known as Babas & Nyonyas, they adopted some ways of the local Malays as well as Colonial British. This created a unique lifestyle and their own version of the Malay language called Baba Malay.
The Pinang Peranakan Mansion is a great insight into how Peranakans lived. It depicts the typical home of a rich Baba and gives you a glimpse into their lifestyle.
The building itself was built at the end of the 19th Century and was the residence of Kapitan Cina Chung Keng Kwee. He was not a Baba but his house was typical of the Peranakan design with Chinese carved wood and English floor tiles.
Penang Views
Penang Hill is the most popular viewpoint in Penang. You can read more about it on our guide to Penang Hill.
Penang Temples
Kek Lok Si Temple is probably the most iconic place in Penang and was the highlight of our trip. You can read about it in our post on Kek Lok Si Penang.
Other temples to visit are:
Wat Chaiyamangalaran Temple
Dhammikarama Burmese Temple
Khoo Kongsi Temple
Yap Kongsi Temple
Hean Boo Thean (Kuan Yin) Temple
Penang Snake Temple
Clan Jetties
The Clan Jetties also form part of the UNESCO World Heritage Site. There are six jetties (used to be seven before a fire demolished one) that are home to various Chinese clans. These houses on stilts are over a century old.
It wasn't until 1957 that the jetty settlements had water and electricity; before that, they carried water in kerosene tins.
As they are not living on land, none of the families have to pay any tax.
Please remember that people live here so please ask permission before taking photos of their homes.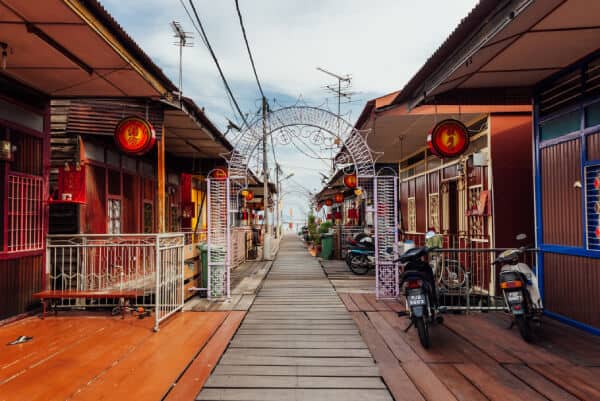 The Blue Mansion
Cheong Fatt Tze, or The Blue Mansion, was an elaborate building in its time. Cheong Fatt Tze wanted to build something to preserve his heritage and his love for tradition. No expense was spared as he brought in artisans from Southern China and furnishings from the UK.
The Blue Mansion is now a boutique hotel but they run tours daily.
Shopping
While I'm not a big shopper while travelling, I do like to spend an hour or so seeing what a place has to offer. The best malls in Penang are Gurney Paragon Mall and Gurney Plaza, both located along Gurney Drive.
The Batu Ferringhi Night Markets are legendary and a popular place to shop. Get your bargaining skills ready to get a good price. It's mainly the usual market merchandise of fake anything, souvenirs, and home decor.
Penang Beaches
Penang is also known for its beaches. Most visitors head to Batu Ferringhi but Tanjung Bungah, Gertak Sanggul, Pasir Panjang and Teluk Bahang are all lovely.
Penang Food
Although this is last on my list, it was the main reason for our trip. I'd heard that Penang is a food lover's dream and it certainly lived up to its reputation.
Street Food is delicious and safe to eat. There are so many hawker stalls dotted around as well as food courts where you will find many under one roof. We always look to see which ones have queues as they would have the most turnover and freshest food.
If you're not sure where to go or what foods to try, consider a food tour. It's a great way to try the local food specialties with an expert guide.
Where Can I Go in Penang at Night?
There's still plenty to do once the sun goes down. Some of my favourite choices are:
Kek Lok Si at night
Soak up the atmosphere and try the street food on Gurney Drive
Check out the bars in Georgetown including Slippery Senoritas, SoHo Free House & Soju Room
Where to Stay in Penang
It depends on whether you want to base yourself in Georgetown or by the beach. As I'm a beach lover, we opted for Batu Ferringhi where a lot of resort-type hotels are based.
Some of these include Parkroyal Resort (where we stayed), Shangri-La's Rasa Sayang Resort & Spa, and Hard Rock Hotel.
Hotels in Georgetown worth looking at are The Edison George Town, Seven Terraces, Jawi Peranakan Mansion, and Cheong Fatt Tze – The Blue Mansion.
Is Penang Worth Visiting?
Yes, it definitely is. The food and culture are amazing. Just beware that the ocean may not be swimmable. It can be quite dirty and there's a presence of jellyfish. However, this is a small inconvenience and most of the hotels have great pools anyway.
We enjoyed walks along the beach and watching the stunning sunsets over the ocean.
The food was our main draw and we enjoyed our visit to Kek Lok Si temple. Georgetown is interesting and has some amazing historical architecture. Street art fans will love the 100's of murals around the city. We didn't get to the National Park but the hike trails there are supposed to be very good.
I hope this guide provides you with enough information to plan your trip to Penang.