The Best Food in Batu Ferringhi Penang 2022
Penang is a foodie's delight. Find out where you can eat the best food in Batu Ferringhi. It is honestly the best food we've had in Asia and cheap.
Disclosure: This post may contain affiliate links (of which we use) so we may receive a small amount of commission if you buy something through them. As an Amazon Associate, I earn from qualifying purchases. You can read the full disclaimer here.
Best Food in Batu Ferringhi Penang
Long Beach Hawkers Market
We ate at Long Beach Hawkers Centre twice during our holiday to Penang. It's basically a square with hawker stalls around the outside and tables in the centre. Order the food at whatever stall you want and give the table number so the food gets delivered to you. A waitperson takes your drink order separately.
The food is good although it can depend on what you order. The satay sticks and spring rolls are fantastic as is the seafood. We had prawns and sea bass, both of which were amazing value and delicious. The Nasi Goreng wasn't as good in our opinion. The drinks are cheap here as well.
If anyone in your group doesn't like Asian food, there are some western favourites available too. We saw pizza at one stall for example.
We recommend at least one night to experience this Batu Ferringhi hawker centre, but I bet you will return.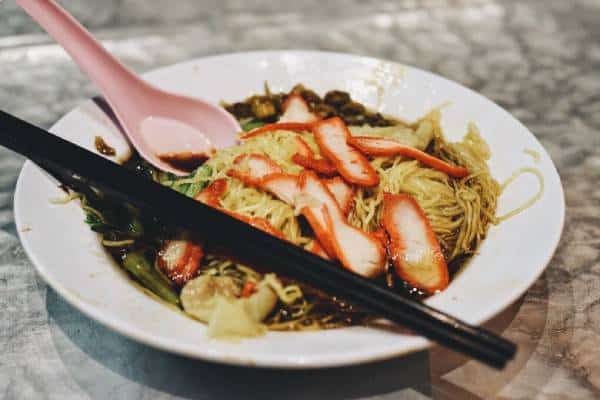 The Boatman Restaurant, Batu Ferringhi
We went here after reading some great reviews but were a bit hesitant as it doesn't look much from the outside. We were very glad we did. It's not fancy but the food and service was first class. We had the chicken curry and the Malaysian Rendang curry which was amazing! The best Rendang I've ever had and excellent value too. We were made to feel very welcome as everyone was so friendly.
The Boatman is our vote for the best restaurant in Batu Ferringhi.
The Tamarind Brasserie
The Tamarind Brasserie (now called Cinnamon) was the main restaurant in the hotel we stayed in and decided to give the Seafood Buffet a go after reading good reviews. Although it was expensive by Penang standards, it was cheap compared to Australia and much better. The food was amazing and even included lobster. Well worth the money in our opinion. The service and ambiance were great too. It can be found at the Pan Pacific Parkroyal Penang Resort.
The Living Room Cafe & Bar, Batu Ferringhi
Unfortunately I had tonsillitis towards the end of our holiday and was told by the doctor not to eat spicy food (easier said than done in Penang). This spoilt my meal at The Living Room as I wasn't able to have any of the recommended dishes although we did try out the squid which was very nice. My husband had the Rendang Curry which was delicious. The service was very good and friendly. I'd like to return and try out some of the other dishes.
This has to be the best cafe in Batu Ferringhi.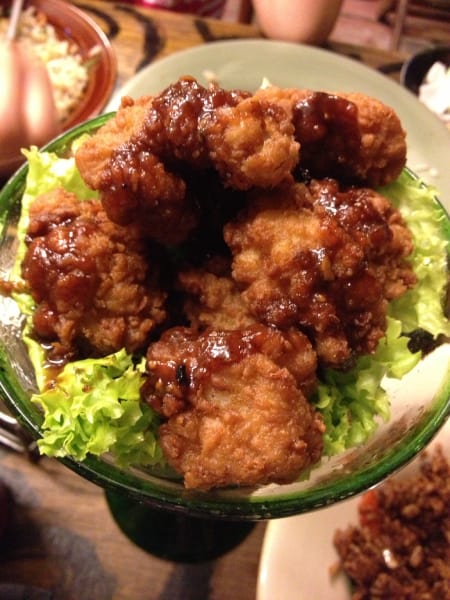 Andrew's Kampung Restaurant
Andrew's Kampung provides delicious home style local food at a great price. The crispy duck is delicious as is the chicken curry.
I'd recommend booking as it is always busy. It's on the second floor of Eden Parade so there are stairs to climb.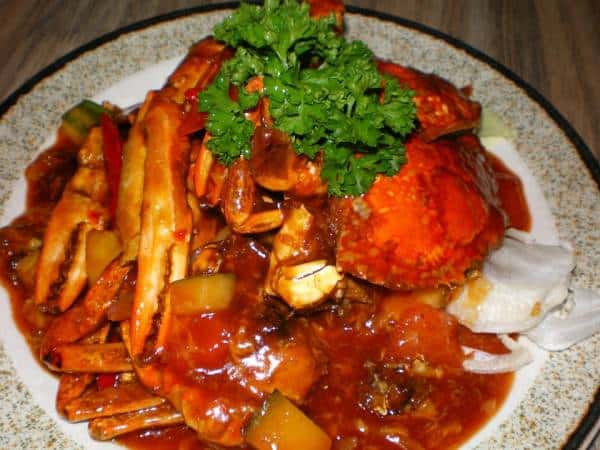 Knife and Fork Restaurant
If you want delicious food with generous portions, friendly service, and a restaurant that provides great value then Knife and Fork Restaurant the place for you.
Like Andrew's Kampung restaurant, it is located on the second floor of Eden Parade.
The menu has both Asian and Western dishes. Beer is served in a cold iced glass, perfect for the heat in Penang. Make sure to book as it can be very busy and is only a small restaurant.
Food Tours
Food Tours are a great way to experience the food and culture of a country with a local guide to show you the best places.
Tip: If you go on a food tour at the start of your holiday, you can ask the guide for food recommendations for the rest of your trip.
We use Viator or Get Your Guide to book our tours due to their free cancellation policy, instant confirmation, and competitive pricing.
Where To Stay in Batu Ferringhi
We stayed at Pan Pacific Park Royal in Batu Ferringhi. It's in a great location with direct access to the beach. The pool has slides which provided much entertainment for our children. We found the rooms a bit dated but they have all been refurbished now and the photos of them look stunning. The staff were friendly and happy to help. Breakfast was delicious as was lunch. We would stay here again.
A cheaper alternative that has great reviews is the Rasa Motel or HUPO Resort Pool Villa.
For a large family, two families or a large group, consider By The Sea Duplex Penthouse, it looks incredible.
If you found our guide on the best food in Batu Ferringhi helpful, please consider booking through one of our links. It won't cost you anything but will help towards the cost of running this site. Thank you.