Disclosure: Some of my links are affiliate links (all of which I use), which means that I may receive a commission if you use them and purchase something. This does not cost you anything, nor do you pay more. It just means that I get a little towards running this site so I can keep it going. If you are thinking of booking through any of these companies, I would be very grateful if you could use my links. I am appreciative of all your support.
Are you looking for Holiday Inn Baruna Bali reviews? Look no further. We have stayed there four times and can provide all the help in making your accommodation decision.
Best Time to Visit Bali
The best time to visit Bali is during the dry season, April to October.
During the wet season, humidity is high, and there is a lot more rainfall. However, this is the best time for visiting the rice paddies.
Location & Map
Holiday Inn Baruna is on the island of Bali in Indonesia, Asia. This hotel is in Tuban, also known as South Kuta, close to the airport. Despite this, there isn't any aircraft noise, but you can see the planes coming into land.
The centre of Kuta is 15 minutes away, but you wouldn't guess it. Tuban is a lot quieter.
The hotel is situated right on the beachfront with direct access to Segara Beach, locally known as Pantai Jerman. The ocean doesn't look very clean, though, so I would not let our children swim here. This beach is relatively quiet compared to Kuta and Seminyak, with not many hawkers.
A half-hour walk (or 10-minute taxi), will take you into the vibrant centre of Kuta. We usually walk along the path by the beach. Bars, restaurants, shops, and markets line Kuta's streets and laneways.
If you don't want to go into Kuta, there are several bars and restaurants close to the hotel. Discovery Mall and Lippo Mall are near too.
Amenities
The beautiful tropical gardens of Holiday Inn Baruna are immaculately maintained.
There are two clean swimming pools; the main one, with a swim-up bar, and a children's pool. The kids' pool is quite small, but perfect for toddlers and small children. It has a shade sail over it to protect the youngsters from the sun.
The pool is heated but still on the cool side, which is excellent in the hot, humid months, but I found it a bit cold in July.
This resort doesn't have a pool slide like some of the family-orientated hotels close by, but there are basketball hoops, balls, and a volleyball net to keep the family entertained. The plus side was there weren't loads of screaming kids running around the pool area.
The pool area and gardens have sun loungers scattered around which are well spread out. There are also private gazebos dotted around too. These are comfy to chill out on, but we found them pretty hot.
Complimentary Wi-Fi can be accessed all over the resort, including the rooms.
There is a Kids Club, but a charge applies if you are not staying in a suite. Most families stay in a suite anyway as it is usually more economical than two separate standard rooms.
Our girls aren't a big fan of Kids Clubs but did enjoy going to this one. They chose what activities they wanted to do from the weekly list and were happy to be left with the caring staff. A mobile phone is given to you when you drop the kids off to contact you if needed.
Children aged from 4 to 12 are allowed in the Kids Club. However, under 4's can access it too, but a parent or guardian has to accompany them.
The Tea Tree Spa has a special couples room among its five treatment rooms. The menu covers everything from massages and body wraps to manicures and pedicures.
The hotel minimart is similar in price to the shops and handy for snacks or drinks to put in your mini-fridge. 
If you want to keep up with your exercise while on holiday, the gym provides all the necessary equipment. It's not that big but has free weights, treadmills, step climbers, and stationary bicycles. It's open 24 hours a day, accessed with your room key card.
The gardens are immaculate and provide an ample open space for children to play in.
Food and Bars
Palms restaurant is open for breakfast, lunch, and dinner. They have themed dinners most nights as well as an A La Carte menu.
This restaurant is where the buffet breakfast is. There's a lot to choose from, although, if you are here for over a week, it can be a bit repetitive. The quality is excellent with some Asian dishes and hot English breakfast, fresh fruits, pastries, continental, pancakes, and waffles (the waffles are the best!). The coffee is from a coffee machine where you can help yourself.
The menu is Asian Tapas and up to four kids aged 12 and under eat free any time of the day. This applies to the kids' menu when an adult orders from the main menu. You can read the full terms and conditions here.
Envy is more upmarket overlooking the beach. It's perfect for watching Bali's incredible sunsets while drinking a cocktail or juice. We enjoy having dinner here too, especially with live music. The menu has lots of options but is predominately Italian or Seafood influenced. My perfect combination. Don't miss Happy Hour every day from 5 to 6 pm, offering 2 for 1 drink specials.
The Pool Bar is open from 10 am to 8.30 pm. Order drinks and food at the bar or by one of the friendly staff around the pool area.
Our daughters thought they were pretty cool drinking their mocktails on a bar stool in the pool.
Happy Hour is 4 pm to 5 pm daily here. We enjoyed drinks by the pool at this time and then headed to Envy for theirs 🙂
Room Types
This resort has 193 guest rooms and suites all with private balconies or patios. The rooms range in size from 28 to 75 square metres.
The guestrooms are decorated in a modern Balinese style and come with flat-screen TVs, a fridge, safe, tea and coffee making facilities, and a DVD player.
The bathrooms are stylish with bathtubs in addition to showers in all suites.
We found the rooms to be in perfect condition ( we stayed in suites only), and the pictures on their site are a good reflection of what you are getting.
The rooms are always clean and serviced daily.
Kids Suites
The Kids Suite was the first room we stayed in but haven't been able to book them since as they are so popular with families.

Our girls loved the pirate-themed room with beds decorated as boats. They had their own bathroom with a bath and a TV with a Play Station.

There is a connected separate bedroom for adults with a King Bed and shower in the bathroom. These are the largest rooms at 75 sqm.

Both rooms lead onto a patio with sofa lounges that overlook the gardens.
Studio Garden Access / Garden View
The Studio Garden Access is our favourite. It's cheaper than the Kids Suites but still has a separate area with bunk beds.

The room is 50 sqm and features a king bed, sofa bed, and bunk beds. The Garden Access rooms have a patio and lead onto the manicured tropical gardens. The Garden Views have balconies overlooking the gardens.

The bathrooms are large and have both a bath and a shower.

We like the garden access room on the corner (pictured here).
One Bedroom Suite
We have stayed in this suite too. I think it's more for families with older children that have the same bedtime as you.

The one bedroom suite is 64 sqm and features a king-size sofa bed in the main area. The separate bedroom has a king bed with a bath & shower in the bathroom.

Connecting rooms are possible on request and availability.

Big Room Pool Garden / Ocean View
The Big Room Ocean View has 52 sqm of living space and can accommodate five guests (maximum of 3 adults). It features a king bed, a single bed, and a sofa bed. The bathroom has a bath and a shower.

The Big Room Pool Garden has the same features but is 78 sqm. It is also close to the swimming pool, so an excellent choice for families. A porch swing is a lovely addition to this room.
Junior Suite Garden Access / Garden View
The Junior Suite is 60 sqm and has a king-sized bed and an adjacent living area featuring a sofa bed. These rooms have a patio (garden access) leading onto the gardens or a balcony overlooking them.

This room also has a bath and a shower.
Deluxe Rooms
Deluxe rooms are 36sqm and feature either a king or twin bed configuration.

The Deluxe Ocean View faces the ocean and has ocean views from the floor to ceiling windows and balcony. The Deluxe Garden View has views over the lush gardens.

The Deluxe Pool Garden rooms are located on the ground floor with easy access to the swimming pools. There is a patio instead of a balcony. The Deluxe Garden Access is also on the ground floor but overlooks the garden instead of the pool.

Connecting rooms are available, making this a great family-friendly option.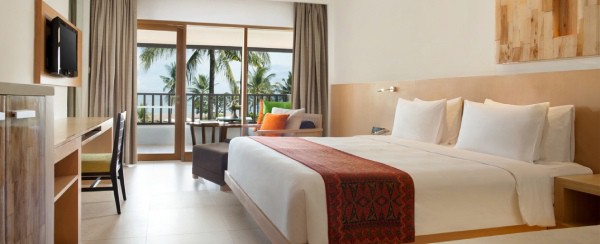 Superior Rooms
The Superior rooms have a choice of a King or two single beds. The room is 28sqm with a private balcony. 

If travelling as a family, connecting rooms are possible based on availability.

This room is quite small but offers the cheapest accommodation option.

People have stated that these rooms feel inferior to the deluxe rooms, but the price reflects this.
Checking In
Holiday Inn Baruna has a contemporary Balinese beach design. The reception area immediately relaxes you with views of the ocean.
Check-In is from 3 pm, but you can use the resort's facilities while you wait.
The staff at the front desk are wonderful. They make you feel very welcome and give you a refreshing drink and cold towel upon arrival.
Check out is 11 am but luggage storage is available.
Staff
The staff at Holiday Inn Baruna make this hotel special, and their level of customer service is outstanding. Every team member is always smiling and friendly. Some even remember your name.
Airport Transfers
Holiday Inn Resort Bali is only 10 minutes from Denpasar International Airport. You can arrange your own private airport transfer, order the airport shuttle through the hotel, use the taxi service at the airport, or the app Grab.
Our Holiday Inn Baruna Bali Review & Why We Stay Here
Our top reasons for staying at the Holiday Inn Bali are the location and the staff. We enjoy being in a quiet spot but close enough to the action if we want that. It's handy being so close to the airport as it's so easy after a flight to hop in a taxi and arrive within ten minutes.
It's a family-friendly area and hotel. There are many lovely restaurants close by, and the Lippo Mall is brilliant for shopping.
Once you arrive at Holiday Inn Baruna, your troubles seem to melt away, and you immediately feel relaxed.
The hotel is kept clean, and it has a cool beach resort vibe. It's right on the beachfront to make the most of the sunsets.
The bar fridge is left empty, so it can be filled with what you want and not have to pay mini bar absorbent charges.
How To Book and Get the Best Deals
Let's be honest; we want the best price. I usually find that Booking.com has the best deals and offer free cancellation. I had booked through them and cancelled completely free of charge when COVID first hit. It's easy to do and all online.

Click here to see what discount they have today.
Sometimes Agoda is a bit cheaper. You can check their pricing here. They also offer free cancellation plus a price guarantee.
Also, check directly with the hotel and see what rates they are offering. Just make sure you know what is included and remember that their price doesn't include taxes.
If you found this Holiday Inn Baruna Bali review helpful, please consider sharing by the buttons below or booking through one of our links. It won't cost you anything but will help towards the cost of running this site. Thank you 🙂