A Detailed Celebrity Solstice Review with Photos
Disclosure: This post may contain affiliate links (of which we use) so we may receive a small amount of commission if you buy something through them. As an Amazon Associate, I earn from qualifying purchases. You can read the full disclaimer here.
Are you thinking of booking a cruise on the Celebrity Solstice? We cruised on her from Sydney to Auckland and put together this detailed Celebrity Solstice review.
Celebrity Solstice was one of the highest rated ships in Australian waters when we booked our cruise. It also had excellent reviews so we were eager to see how she compared to our previous cruises. Although owned by The Royal Caribbean Group, Celebrity is touted as a step up from the RC ships.
Celebrity Solstice Facts
Celebrity Solstice was built by Meyer Werft in Germany but is registered in Malta, which is why you will see the Maltese flag flying. She made her maiden voyage on 23rd November 2008 and was the first of five Solstice Class ships. The ship can hold 2,850 guests as well as 1,250 crew and has a cruising speed of 24 knots. There are 19 decks and she is 1,041 feet long and weighs around 122,000 tonnes.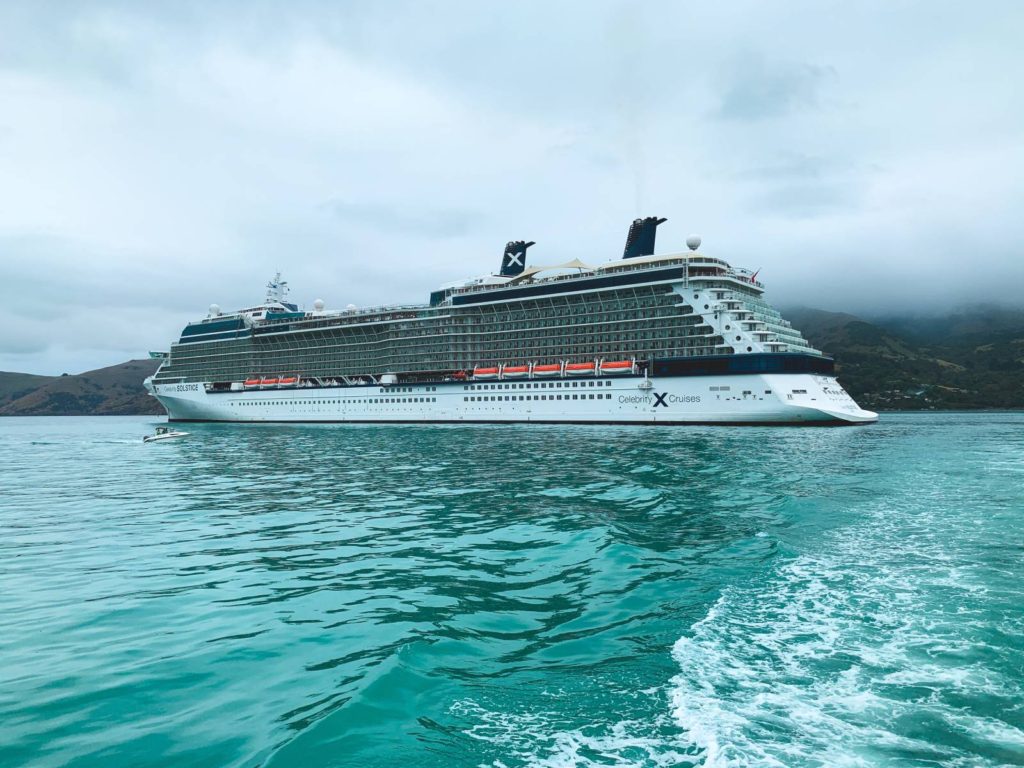 Celebrity Solstice Review
Embarkation
As we were staying in Sydney before the cruise, we were able to drop our luggage off early and return for check-in. This saved queuing up later and we were able to walk straight into the terminal.
As check-in had just opened up, there wasn't much of a line inside and we made our way to the check-in desks quickly. After an efficient check-in, we had a 15-minute wait before boarding.
Deck 3 Celebrity Solstice
The Grand Foyet is near the centre of the ship and a hive of activity day and night. Live music is performed here and you can listen to it from the Cafe and Bars that surround the area. The atrium covers decks 3 to 5 with a sweeping staircase as well as nearby lifts.
Grand Épernay Restaurant
The Main Dining Room is spread over two floors (decks 3 and 4). Deck 3 is for Traditional Dining (set times) and Deck 4 is Anytime Dining. We chose Anytime as we wanted to eat when we felt like it and not stuck with a certain time. It worked well for us and were either seated straight away or given a buzzer (by the time we had ordered a drink from a nearby bar, the buzzer had gone off). You can request to sit in the same area each night, therefore having the same staff.
This beautiful restaurant is a formal dining service and A La Carte, all included in the price of the cruise. You do have to pay for drinks though if you don't have a Drinks Package. The food was delicious and the service was first class. It features a two-story glass wine tower and dazzling chandeliers.
Passport Bar
This was our favourite bar to pop in to after being on land. It's close to the Grand Foyet and a great spot to relax over a drink after a busy day sightseeing. It's close to Guest Relations and Shore Excursions which makes it the ideal place to plan your next day.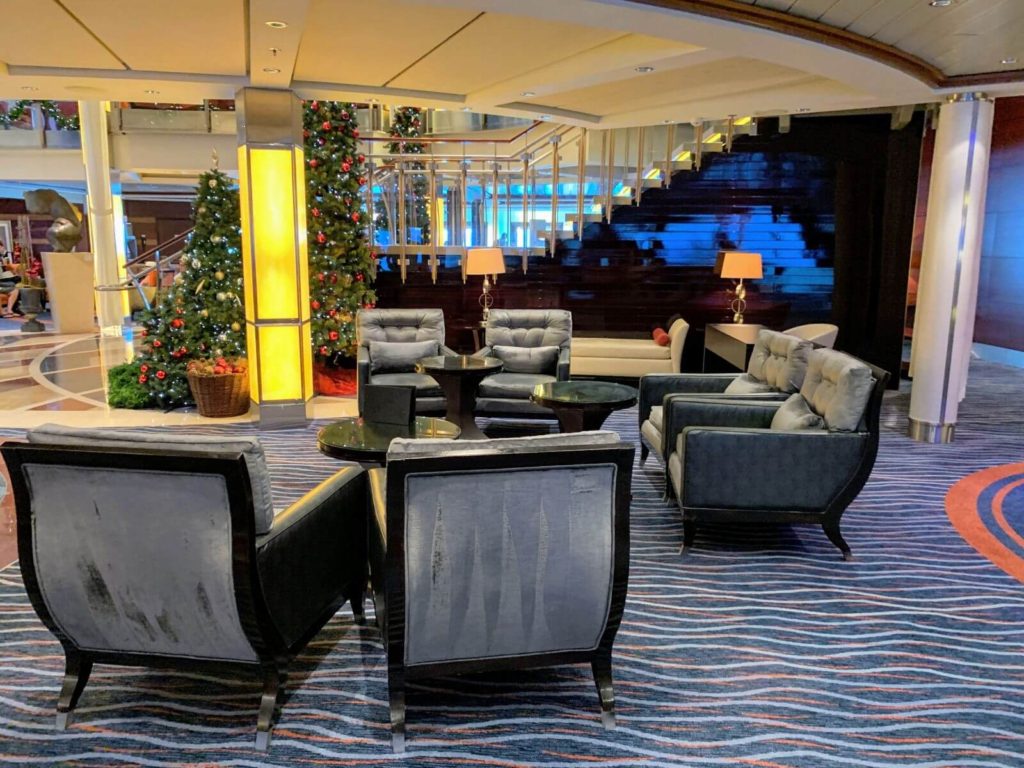 Solstice Theatre
The theatre is spread over three decks (3, 4 and 5) and is where the live performances are held. There are normally two shows each night of the same performance, giving everyone the chance to see it. Solstice Theatre can seat over 1100 guests but still retains an intimate atmosphere.
Our favourite shows were The Other Guys, Euphoria (an aerial show) and Rock City.
Luminae
The Luminae restaurant is solely for the use of Suite Guests.
Deck 4 Celebrity Solstice
Cellar Masters
This beautiful wine bar is close to the MDR making it the perfect location to have a glass of wine while waiting for your table. Cellar Masters was inspired by the Napa Valley and holds a global wine tour where you learn about wines around the world.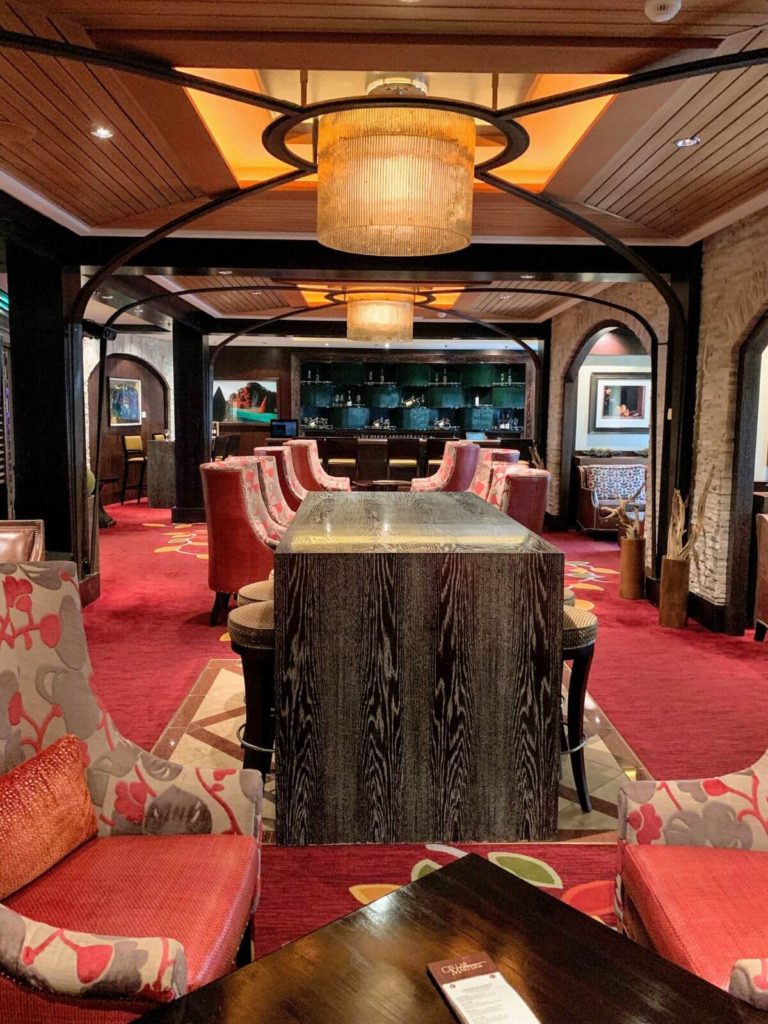 Quasar
Quasar is where you can dance the night away, Solstice's nightclub.
Fortunes Casino
The casino is open when at sea only.
Martini Bar
The Martini Bar, inspired by ice and snow, is the busiest and most popular of the ship bars. As the name suggests, this bar serves all types of martinis and elegant cocktails. The frosted bar top is a fun added touch.
Celebrity Central
Celebrity Central is an intimate entertainment venue that seats just over 200 guests. You will see presentations, movies, activities and some live entertainment here.
Shops on The Boulevard
Keep an eye out for the special sales in the shops and pick up a bargain or two.
Deck 5 Celebrity Solstice
Specialty Restaurants
Deck 5 is where you will find Blu, Tuscan Grille, Murano, Sushi on 5 and Silk Harvest.
Blu is reserved exclusively for AquaClass guests but the others are available to all guests at an extra cost. There are packages you can pre-purchase that work out cheaper.
Ensemble Lounge
The Ensemble Lounge is an elegant, romantic bar perfect for after dinner drinks. This intimate bar lounge has live music most evenings.
Café al Bacio and Gelateria
Café al Bacio is a stunning coffee shop with amazing views. As well as coffee. you can find an assortment of teas and hot chocolate as well as pastries, cakes, and gelato. If there aren't any desserts you fancy at dinner, come here for coffee and cake. Coffee liquors are on the menu too.
World Class Bar
World Class Bar is where you'll find the expert mixologists creating world-class cocktails using fresh ingredients and premium spirits.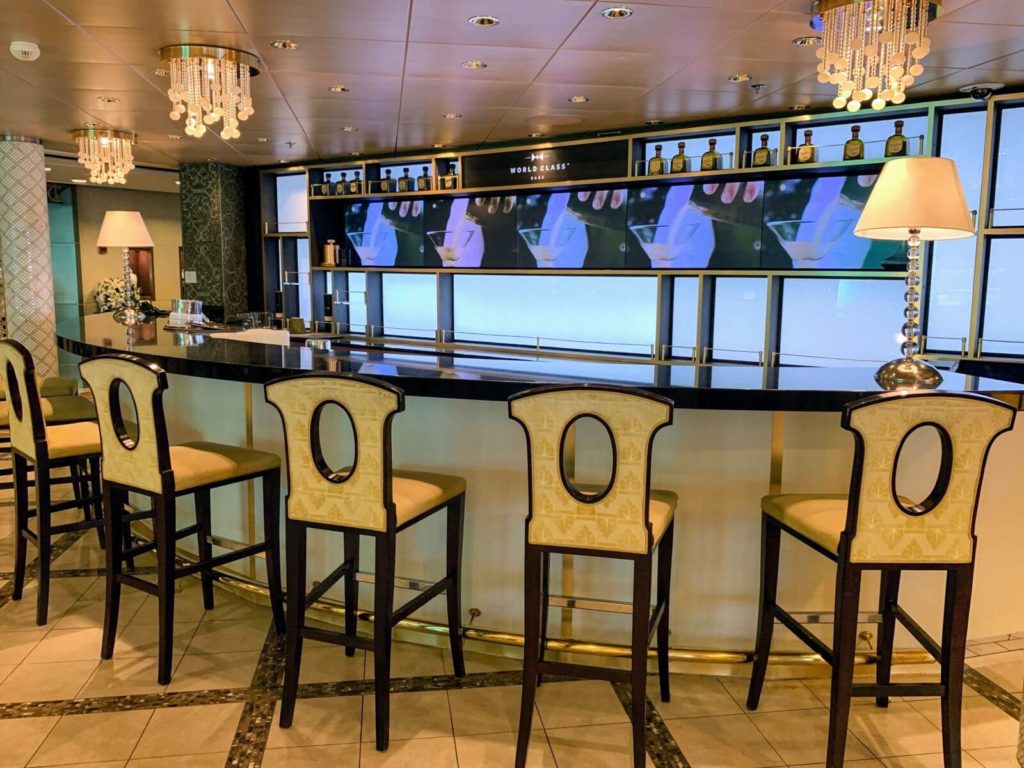 Decks 9, 10 & 11 Celebrity Solstice
Decks 9, 10, and 11 are mainly staterooms but the Card Room is on Deck 9, which also has board games and puzzles, and the Library on Deck 10. Both of these are popular places to hang out on sea days.
Deck 12 Celebrity Solstice
Canyon Ranch Spa, Fitness Centre & Persian Garden
Facilities include a solarium, lap pool, Persian Garden, private treatment rooms, relaxation room, and fitness center.
Solarium and Spa
The Solarium and Spa is an adults-only indoor pool with sun loungers and the Spa Café serves healthy food and drinks.
Pools
The two outdoor pools and hot tubs get crowded on sea days although there are plenty of sun loungers in the sun and shade. There is a pool bar for any drinks you may want, but we found it hard to get served so ended up going into The Oceanview Café for drinks.
Deck 14 Celebrity Solstice
Sky Observation Lounge
The Sky Observation Lounge was one of our favourite places on Celebrity Solstice. It was a great place to be for Sail Away and had lots going on including quizzes and DJs at night. It's at the front of the ship and has amazing views from its floor to ceiling windows with comfortable seating.
Mast Grill and Bar
The Mast Grill and Bar is a casual eatery serving Burgers, Hot Dogs and chips to eat by the pool.
There's a jogging track on this deck but it only goes round half the deck so isn't very long.
Oceanview Cafe & Bar
The Buffet at Oceanview Café is the best and largest we have experienced at sea. It has separate stations which eases the burden so there are hardly any queues. The quality is amazing for a buffet, especially of this size.
We normally had breakfast and lunch here but always had dinner in the MDR. It can be very busy at peak times and it's sometimes hard to find a table. I recommend finding a table before getting food (you see people wandering around for ages with food getting cold). There's always pizzas, pasta, grilled meats, salads, and curries on the lunch menu but it has changing menus from around the world for that added variety. The curries were delicious and I had to try them out every lunch. Our daughters loved the ice cream (either soft serve or a variety of ice cream) that is also included in the price of the cruise.
The Oceanview Bar out the back has seating if you want to dine al fresco or just have a drink and take in the view from the AFT.
Deck 15 Celebrity Solstice
Sunset Bar
Sunset Bar has stunning views from the AFT with real grass. The Solstice was the first cruise ship to have real grass and picnic blankets are provided so you can sit on the lawn and enjoy the views. It was very busy when we sailed away from Sydney and had a great atmosphere.
The Lawn Club
At The Lawn Club, you can watch a movie or relax on the manicured grass. This is where you will find the Alcoves that are available to hire for the day.
This deck is also where the kids' clubs are based and the Basketball court.
Deck 16 Celebrity Solstice
Deck 16 is only small but the views are impressive (although it can be very windy). There are sun loungers to sit on to soak up the rays. We spotted a pod of dolphins surfing the waves from the bow of the ship from up there.
Activities
There's always something going on, especially on Sea Days. Make sure to check the Today guide that's delivered to your cabin each night.
The highlights for us was the ship's Galley Tour, How the Solstice was built presented by Captain Tasos and the music trivia quizzes. The Galley Tour was very interesting as was the presentation by Captain Tasos (which was also very funny due to his wonderful sense of humour) and the trivia is always a lot of fun.
Captain Tasos
Unfortunately Captain Tasos no longer captains the Celebrity Solstice. If you are lucky enough to have him as your captain on another Celebrity cruise, you are in for a treat. He is the funniest and friendliest captain we have experienced and will always put the safety of his passengers and crew first.
Conclusion
This was our best cruise to date and we would definitely sail with Celebrity again, maybe even on Solstice. The service was exceptional, the food was delicious and the ship itself was well maintained. The ship is due to be refurbished in late 2021.
The only issue was the constant upsell the first couple of days for photo, drinks, and restaurant packages, which we politely declined. We knew the staff were just doing their job but I personally don't think Celebrity should push them to upsell.
We stayed in Verandah cabin 9155, you can read our review and see photos here.
If you are looking for a hotel pre or post-cruise in Sydney, you can find out the best places to stay in Sydney before a cruise here.
Prices and Itineraries
Cruise Direct was voted the world's leading cruise travel agent for 2019 and 2020. They offer a best price guarantee and easy online booking.
Click here to see what amazing deals they have today and check the upcoming itineraries for Celebrity Cruises.