Discover the Best Things To Do in Colmar France in 2023
If you're looking for a place to spend an enjoyable weekend, Colmar is the perfect city to do so. With its beautiful half-timber architecture and pretty canals, it seems like something out of a fairytale. There are plenty of things to do in Colmar to keep you entertained, including wine tastings, delicious Alsace food, museums, and the city's many historic buildings.
Disclosure: This post may contain affiliate links (of which we use) so we may receive a small amount of commission if you buy something through them. As an Amazon Associate, I earn from qualifying purchases. You can read the full disclaimer here.
Why Colmar?
We wanted to break up our journey from Zurich to England. Colmar was easily accessible by train, and the pretty town with its historic, colourful, half-timbered buildings and picturesque canals appealed to me – it didn't disappoint; it is like a postcard.
Free Things To Do in Colmar
One of the best free things to do in Colmar is a walk around the city streets, exploring the historic buildings and attractions. If you have time, visit one or all of the museums too.
Colmar Old Town
The best place to start is outside the Tourist Information, where you can get a map (or download a copy of the Tourist Trail Map here). The 6.1 km signposted trail leads visitors in a loop around the main tourist sights. Look for the gold triangles to help guide you to the attractions. Each place has a sign in French and English about Colmar's history.
This walk was the highlight for us. As you meander along the cobbled lanes, admiring the beautiful half-timbered buildings decorated with flowers, it's easy to picture what it would have been like in times gone by.
La Maison des Tetes
19 Rue des Têtes
One of my favourite buildings is the House of Heads, named after the 106 carved stone heads on its façade. This German Renaissance palace was built in 1609 for Anton Burger, Colmar's mayor at the start of the 17th century.
Look up at the house's gable with a small pewter cooper by Auguste Bartholdi, the creator of the Statue of Liberty.
The building now houses a 5-star hotel and restaurant.
Église des Dominicains
3 Pl. des Dominicains
The Dominican Church dates back to the first half of the 14th century and is a great example of the mendicant orders architecture. Sadly the roof and cloister were damaged by a fire in 1458 but have since been restored. The late-medieval stained glass windows are impressive.
About 1475, Martin Schongauers' studio (a 15th-century Alsacian painter) created the Altarpiece of the Dominicans, which is now displayed in the Unterlinden Museum. However, the Dominican Church has owned his famous 1473 Madonna of the Rose Bush masterpiece painting since 1973.
Open daily from 10 am to 1 pm and 3 pm to 6 pm. It costs €1.50 per adult and €0.50 per child. It may not be free, but it's cheap to do in Colmar.
Voltaire's Residence
10 Rue Berthe Molly
Voltaire arrived in Colmar to work on his "Annales de l'Empire" (Annals of the Empire) in 1753 and stayed in this house for three months.
Maison Pfister
11 rue des Marchands
Pfister House, built in 1537, has become one of the symbols of Old Colmar with its painted facade, wooden gallery, and octagonal turret. Despite some medieval features, this building is an excellent example of Alsatian renaissance architecture.
The house, a display of wealth in the 16th century, was constructed for the rich hatter Ludwig Schurer. It is named after the family who restored it and lived there from 1841 to 1892.
Maison Adolph
16 Place de la Cathédrale
Built around 1350, this is considered the oldest building in Colmar. It is named after the Adolph family, who lived there in the 19th Century.
The gothic picture windows reflected religion's influence on architecture in the 14th Century. The third storey and half-timbered gable were added in the 16th Century.
You'll see a well, which was initially on Marchands Street, next to the house that dates back to 1592.
The Former Guards House
Next to Maison Adolph, on the site of the former chapel Saint-Jacques, is the former guard's house, built in 1575.
Collégiale Saint-Martin de Colmar
Place de la Cathedrale
Roman Catholic St. Martin's Church was built between 1234 and 1365. It once housed the Isenmann Altarpiece (seven surviving wooden panels by Caspar Isenmann that depict the life of Jesus), which is now at the Unterlinden Museum.
The Gothic-style church has a beautiful coloured diamond-tiled roof and several portals, some of which feature intricate tympana. Its original spire and roofs were destroyed in a fire in 1572, so the current bell tower was added three years later.
Inside, you can see a late-gothic sculpture of the Last Supper, a Baroque organ case dating from 1755, and the stunning 13th-century stained glass in the nave. A rare feature of one of the windows is the 13th-century head of a beardless Christ.
Despite the name, the church was only a cathedral for about ten years at the end of the 18th Century.
Open daily from 8 am to 6:30 pm, except Sunday mornings.
Presbytère Protestant de Colmar
11 Grand Rue
The former protestant presbytery was constructed in 1606 as a home for protestant ministers next door to their Church of Saint-Matthieu. Albert Schmidt designed this German renaissance building which has an arcade with ten arches that now comprise of shops and restaurants.
Quartier des Tanneurs
The small area of the Tanners' District in the centre of town is a must-see in Colmar. The picturesque high wood framing houses and half-timbered houses date back to the 17th and 18th centuries. These were once where tanners lived and dried their animal pelts on the top floors.
The Tanners' District is between the Place de l'Ancienne Douane, Rue des Tripiers, Rue de Montagne Verte, and Rue des Tanneurs.
Decipher Signs
Look up at some of the buildings and see if you can work out the historical signs – some are made out of wrought iron with intricate designs.
Schwendi Fountain
Place de l'ancienne Douane
This beautiful town square was the business centre in Colmar and is surrounded by half-timber merchant houses with the Schwendi fountain in the middle.
The fountain, designed and crafted by Bartholdi in 1898, shows the Austrian Holy Roman Empire commander holding a vine stock. Sadly it was demolished in 1940 but was rebuilt after the war with a smaller fountain basin. Schwendi is thought to have brought the Pinot Gris wine grape to Alsace from Tokay.
The piazza hosts festivals during the year, like the spring festival and Christmas Market.
Koïfhus
The old Custom House, built in 1480, is the oldest civic building in Colmar. The ground floor was a warehouse where goods were taxed.
The first floor was used for the meetings of the Décapole, the federation of the ten imperial Alsace cities.
From 1895 to 1898, restorations took place, including the turret and glazed tiles.
Covered Market
13 rue des Ecoles, Quartier de la Petite Venise
The red and orange building by the Lauch River was built in 1865 for farmers bringing their produce by boat to the market.
Today it is still used as a market where about twenty merchants sell fruit, vegetables, meat, cheese, fish, and other regional delights.
Open daily, except Mondays & public holidays. Tuesday: 8 am – 6 pm Wednesday: 8 am – 6 pm Thursday: 7 am – 6 pm Friday: 8 am – 7 pm Saturday: 8 am – 5 pm Sunday: 10 am – 2 pm
The Fishmonger's District
Colourful half-timbered houses line the Lauch River on Quai de la Poissonnerie, once home to fishermen (as you may have gathered).
In 1706 a fire destroyed over forty houses, but they were renovated from 1978 to 1981 to restore many of them.
La Petite Venise
The most photographed and picturesque area in Colmar is Little Venice along the canal with its dream-like colourful buildings and charming bridges.
Stop to browse one of the shops or have a coffee or bite to eat in one of the cafes that line the canal. At night, it's quieter, and the buildings are lit up, providing a romantic setting.
We visited at Easter when the houses were decorated with flowers and Easter bunnies, but Christmas is a magical time of year with all the lights and decorations.
Bruat Fountain & Champ de Mars Park
Parc du Champ de Mars
We came across this beautiful Auguste Bartholdi fountain, built in 1864 as a tribute to Admiral Armand-Joseph Bruat, on our way from the train station into the city centre.
The bronze statue was restored in 1958 (after being destroyed in World War II) and placed on a new fountain by Choain.
Parc du Champ de Mars is the city's busiest park and is popular with families.
Other Things To Do in Colmar
Musee Unterlinden
Pl. des Unterlinden
Opposite the Tourist Information is one of France's best regional museums, covering 7,000 years of history, from the prehistoric era to contemporary art. Set inside a beautiful 13th-century convent of the Dominican sisters of Unterlindenis, art dates back to the Middle Ages and the Renaissance, including the Caspar Isenmann Altarpiece, a 500-year-old polyptych from St Martin's Church.
The Unterlinden Museum opened in 1849 and showcases Alsatian cultural artefacts, ancient mosaics, and artwork by Monet, de Staël, Picasso and Dubuffet.
An underground gallery leads to the 1906 Neo-Baroque old public baths (next to the Tourist Information), which now house modern art and temporary exhibits.
Admission cost 13€ – Children (12 to 17 years) were 8€, and a family pass (2 adults and up to 5 children) was 35€.
Unterlinden Museum is open Wednesdays to Mondays from 9 am to 6 pm (apart from some public holidays).
You can purchase Tickets in advance from Tiqets here.
Musee Bartholdi
30 Rue des Marchands
Frederic-Auguste Bartholdi, the creator of the Statue of Liberty, has a museum dedicated to him at his birthplace. The Bartholdi Museum displays models and sketches of his works, including the Statue of Liberty, the Lion of Belfort, and the Schwendi Fountain.
Visit this museum if you are interested in Bartholdi's life and sculptures.
Entry is €5 per adult and €4 per child.
Boat Cruise on the Lauch River
10 rue de la Herse
Taking a cruise along the river in a traditional flat-bottomed boat (barques) is a popular way to see the Old Town as you glide past the gorgeous houses.
Boats leave from the Saint Pierre bridge, next to Restuarant Le Caveau Saint-Pierre, for the 25-minute trip. In November 2022, the tickets were 4 € up to 10 years old (under 10 are free) and 7 € from 11 years old. Each boat holds eight guests. You can book online or purchase a ticket upon arrival.
We decided to give the boat tour a miss as it was crowded, but if you have time, it's a good way to get a different perspective.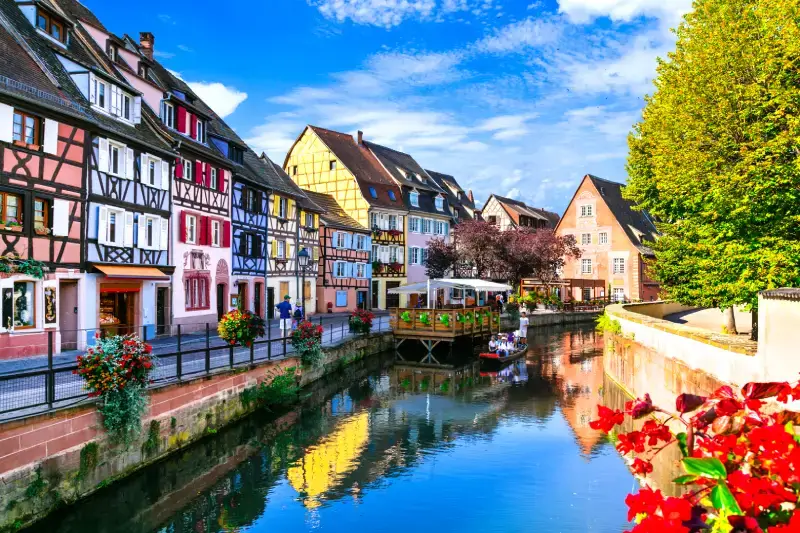 Musée du Jouet de Colmar
40 rue Vauban
The Toy Museum, housed in Colmar's old cinema, offers visitors a chance to reminisce about their childhood with exhibits of vintage teddy bears, board and video games, Barbie Dolls, and a train display.
Statue of Liberty
45 Rte de Strasbourg
If you have a car, visit the Statue of Liberty, a ten-minute drive from the centre of Colmar. The 12-meter-high Statue of Liberty replica is in the middle of a roundabout at the northern entrance to the town.
The sculpture was made to commemorate the 100th death anniversary of Auguste Bartholdi, the creator of the world-famous statue in New York City, who was born in Colmar.
Relax over Coffee
Colmar is a wonderful spot to take in the scenery over coffee. Many cafes in the Old Town overlook cobbled streets and coloured buildings or churches.
Tourist Trains
Colmar has not one but two tourist trains – the Little White Train and the green Little Tourist Train. These miniature trains are a great option for families with small children or people with low mobility.
Departing every half an hour from near the Unterlinden Museum, the trains loop through the town, providing a little commentary.
The Little Tourist Train doesn't run from 23/12/2022 to 31/01/2023, and the Little White Train only operates from March through to the start of November.
Alsace Wine Tasting
Alsace is known for its white wines, particularly Riesling, Muscat, Pinot Gris, and Gewurztraminer. Local wine is found at most restaurants, cafes, and wine shops in Colmar. Enjoying a glass of wine at the end of the day is our favourite way of finishing a day of sightseeing.
The Seven Alsatian vines are:
The Sylvaner – light, refreshing, fruity and subtle.
The Pinot Blanc – soft and delicate, with a touch of freshness.
The Riesling – dry, fine, with a subtle bouquet.
The Muscat d'Alsace – dry, with flavours of fresh grapes.
The Pinot Gris – powerful and soft, with a complex bouquet.
The Gewurztraminer – full-bodied, robust, with a great aromatic richness.
The Pinot Noir – red or rosé, with a fruity taste reminiscent of cherry.
The best way to experience the Alsace wine is on a wine tour, where your guide will take you to wineries for wine tastings. Of course, you can follow the Alsace Wine Route if you have a designated driver, but the tours provide commentary and information about the wines.
Alsace Wine Route
Take a day trip through the Alsace Wine Region to see more picturesque towns with medieval architecture and Renaissance heritage, castle ruins, and the surrounding landscape. The Alsatian Wine Route is 170 kilometres long, but you don't have to drive it all – the best towns to visit are Eguisheim, Kaysersberg, and Riquewihr.
If you're looking to hire a car, we use Discover Cars to find the best deals.
Other options are a half-day tour visiting some of the towns or a full-day tour exploring the towns and wineries.
Things To Do at Night in Colmar
My favourite thing to do at night was to explore the streets of the Old Town – it has a nostalgic feel with dimly lit cobbled streets and lights sparkling on the buildings. Another lovely walk is along the canal, where lights reflect on the water.
A fun thing to do is to visit a Wine Bar to try the local wine.
Things To Do in Colmar at Christmas
Christmas Markets
If you visit Colmar in winter, you're in for a treat. The town is decorated with ornaments and some of the world's best Christmas markets.
It's an incredible experience with Christmas Trees, thousands of twinkling lights, carnival rides, mulled wine, hot chocolate, and sweet treats.
Ice Skating
Place Rapp
What's more magical than gliding around an open-air ice rink to the sound of Christmas Carols? It's gorgeous at night when all the lights illuminate the rink.
Map of Colmar
I've created this map to show you where the main sights of Colmar are, to help you plan your time there.
When to Visit Colmar
Colmar is a year-round destination, but there are certain times of the year when it is busy. The quietest months are generally January, February, and the first couple of weeks in November. However, some businesses close after the Christmas festivities.
Crowds appear with the arrival of the Christmas Markets, during summer, and around Easter. May, June, September, and October are the shoulder seasons with fewer visitors, but the weather is still lovely.
The Christmas Markets will run from the 24th November until 29th December 2022.
How many days do you need in Colmar?
We only had one night in Colmar, but a total 24 hours. Even though we managed to see the sights, I would have liked to spend at least one more day there.
If you're basing yourself in Strasbourg, I suggest booking a day tour to Colmar, which usually includes visiting the enchanting villages of Eguisheim and Riquewihr.
Where to Stay in Colmar – Our Top Ten
There are a lot of choices when looking for somewhere to stay in Colmar. We chose to stay at Hotel St Martin in the centre of town as we were only there for one night.
James Boutique Hotel
15 Rue Saint-Eloi
One of the best hotels in Colmar, James Boutique Hotel offers guests contemporary-styled rooms with a coffee machine. It is about a 5-minute walk from Little Venice. See photos here.
Colmar Hotel
14 Route de Rouffach
Colmar Hotel is conveniently located near the railway station and offers excellent value for money. It takes around ten minutes to walk to the Old Town, and has free private parking in front of the hotel. See photos here.
Novotel Suites Colmar Centre
27 Rue Bartholdi
Novotel Suites features comfortable, clean rooms 350 m from Little Venice, including family rooms. However, you have to pay for parking if you have a car. See photos here.
La Maison des Têtes – Relais & Chateaux
19 Rue des Têtes
This 5-star boutique hotel offers 21 rooms in a historic building in the heart of Colmar. Their family rooms can sleep up to four people with a double or twin bed and a sofa bed, but there are no interconnecting rooms. See photos here.
Paul & Pia – Welcome Home Hotel
1 Rue de la Gare
A great value hotel near Colmar train station, this hotel is like a home away from home. The hosts, Paul and Pia, want to make you feel welcome and offer guests the use of a large kitchen and lounge area. See photos here.
Comfort Hotel Expo Colmar
2c Rue Timken
Rated highly for its customer service and cleanliness, the Comfort Hotel Expo Colmar is 4 km from the centre of Colmar. A great choice for those with a car as the property has free parking.
As well as double rooms, this hotel has family rooms which include a sofa bed. See photos here.
Le Colombier
7 Rue Turenne
This 4-star boutique hotel in Little Venice features antique and modern furniture from Italian designers. There's a range of rooms available, including loft rooms and suites. See photos here.
Hôtel Roi Soleil Prestige Colmar
26 Rue des Métiers
Located on the outskirts of town, Hôtel Roi Soleil Prestige offers comfortable and clean rooms with a Nespresso machine in each one. See photos here.
Hotel Turenne
10 Rte de Bâle
Known for its excellent location near the entrance to Colmar's old quarter, Hotel Turenne is close to the Unterlinden and Bartholdi museums. Reviews suggest the hotel is immaculate, and the staff are friendly and helpful.
There's a range of rooms on offer, some of which can sleep up to five guests. See photos here.
Hotel Saint Martin
Located on Grand Rue in the heart of the Old Town, this was the hotel we stayed in. It's close to all the major attractions and within walking distance of the train station. The staff were friendly, and our family room was clean and comfortable.
The Family Rooms typically sleep three, but we were able to add another bed to sleep the four of us. The hotel had a quirkiness that we liked and was decorated in a typical Alsatian style, creating a cosy and relaxing atmosphere.
We visited in April when the weather was warm but not too hot. Reviews have stated that rooms can be hot in summer – read reviews here.
Where to Eat in Colmar
Alsatian Food
Alsation cuisine is a blend of French and German flavours. Some of the dishes you can try in Colmar are:
Pretzels
Mauricettes (pretzel bread)
Savoury kugelhopf
Choucroûte garnie (like German sauerkraut)
Rosti (oven-baked potato & cheese)
Baeckaoffe (meat & potato casserole)
Coq au Riesling (chicken cooked in Riesling wine)
Quiche Lorraine
Flammekueche (Tarte flambée)
Alsace Cervelas Salad
Kugelhopf (sponge cake baked with raisins, almonds and cherry brandy)
Tarte aux poires (pear tart)
Colmar Restaurants
If you want a fine dining experience, Colmar has three Michelin-starred restaurants – Girardin Gastronomique and L'Atelier du Peintre are one-star and JY'S is two-star.
Colmar also has a wide range of cheaper restaurants and cafes with excellent reviews. You can read them on Tripadvisor.
Picnics
Visit the Covered Market and buy fresh, local produce for a picnic lunch at Parc du Champ de Mars.
Where is Colmar France?
Colmar, part of the Alsace region, is in the eastern part of France along the Rhine River. It borders Germany and is north of Switzerland.
How to Get to Colmar
Colmar is easy to get to by train and car, although parking can be difficult, especially in peak season. We took the train from Zurich and then from Colmar to Strasbourg.
If you're travelling from Paris, there are some direct TGV trains, with others requiring a train change in Strasbourg.
Getting Around Colmar
Colmar town is easy to navigate on foot, and we enjoyed exploring the alleys and corners as we walked around the city.
A fun way to get around Colmar is on a segway tour, which includes a guide's commentary. It's good if you are short on time as you cover a lot of ground in the two hours.
You can also take a tourist train or rent a bike.
What To Bring to Colmar
Comfortable walking shoes are a must when visiting Colmar. You will be taking a lot of steps and walking on cobbled streets. My hiking shoes from Adidas were great!
If you want professional photos, consider bringing a camera with you. I have the Nikon D7500, which I purchased from DigiDirect, but Amazon currently has it even cheaper.
As well as researching online, I like to have a paperback Guide Book. I order ours through Book Depository as they offer free international delivery to over 100 countries and competitive prices, including great discounts on bestsellers and future releases.
A day pack is handy for carrying around water and other essentials you need on a day out. I have an Osprey backpack which is amazing.
History of Colmar
Colmar was first mentioned in 823 in a charter of the emperor Louis the Pious.
The city continued to develop in the Middle Ages and became a town in its own right in 1226. Around that time, religious orders built their places of worship in Colmar, some of which still stand today.
In 1354, Colmar joined in the creation of the Décapole, a federation of the 10 imperial towns of Alsace.
Colmar became a "Royal City of France" after the Revolution in 1679.
Under the Treaty of Frankfurt in 1871, Colmar, like all of Alsace, was annexed to the German Empire. It returned to the French after World War I, annexed by Germany in 1940, and then reverted to France five years later.
Astonishingly, Colmar avoided damage to most of the city during the wars, leaving a picture-perfect historical place with cobbled streets, old architecture, and beautiful tiled roofs.
Which is better Strasbourg or Colmar?
We visited both, and while we enjoyed Strasbourg, we fell in love with the cuteness of Colmar. There is more to do in Strasbourg, but it has more of a city feel than Colmar.
Colmar is touristy, but it's worth staying the night to see it come to life after dark.
Do they speak English in Colmar?
French, German, and English are widely spoken in Colmar.
How To Plan a Trip to Colmar
Use our guide and resources to help plan your holiday to Colmar.
Save money planning your holiday
Flights: We use different sites to get the best possible price for flights. Check matrix.itasoftware.com to get an idea of the cheapest dates, but you can't book through this site. Compare the cost of flights with Kiwi.com and try different routes.

Accommodation: We mainly use Booking.com for accommodation as they consistently have the lowest rates with free cancellation on most properties. We also book through Stayz/VRBO for private accommodation as they are usually cheaper than Airbnb.

Car Rental: To compare rental car company prices, we use Discover Cars, an award winning car rental comparison website. They offer competitive pricing in over 10,000 locations worldwide and are highly-rated.

Tours: We use third-party sites Viator, Get Your Guide & Klook due to their free cancellation policies, instant confirmation, price guarantees, and mobile ticketing. We occasionally book through Red Balloon too.

Money: We recently started using Wise to access funds internationally, including trips to Bali and Malaysia. They offer a debit card in 50 currencies and transfers are fast and free from hidden fees and exchange rate markups. Funds can be accessed through ATMs too. Wise has saved us a lot of money compared to our usual credit card and debit card.

Find out more from Wise here.

Travel Insurance: Cover-More protects the travel dreams and experiences of more than 15 million people worldwide every year (including us!). Part of Zurich Insurance Group, they cover 22 countries across five continents with leading positions in the USA, Australia, Brazil, Argentina, Ireland, India and New Zealand. Protect your trip against several COVID-19 scenarios during the current coronavirus pandemic. 


I hope this guide to visiting Colmar inspires you to spend time in this beautiful part of France and gives you an idea of what to do there and how to plan your visit.