Chamonix in Winter – The Perfect Holiday
Disclosure: This post may contain affiliate links (of which we use) so we may receive a small amount of commission if you buy something through them. As an Amazon Associate, I earn from qualifying purchases. You can read the full disclaimer here.
We spent ages trying to find the perfect place to spend a week in winter that satisfied all our requirements. There had to be activities for non-skiers and children, beginner ski slopes, plenty of restaurants, snow, mountains, and a pretty town. Chamonix had all this and more.
This beautiful, vibrant town in the French Alps has delicious food and wine, great après ski, boutiques, scenic railways, spas, and plenty of things to do for non-skiers. In fact, there is so much more to Chamonix than a ski resort (although the skiing is fantastic too).
It's hard not to fall in love with this picturesque town backed by the snow-capped mountains that dominate the landscape.
Skiing in Chamonix in Winter
Skiing is the highlight for many visitors to Chamonix, which offers some of the best skiing in Europe. The Chamonix Valley covers all levels of expertise from beginner through to expert, and is overlooked by the highest mountain in Western Europe, 4,810 m Mont Blanc.
The surrounding landscape is scenic, with excellent off-piste and freeride terrain, but lifts do not connect the ski areas, and transport can be jam-packed during peak times.
Ski Areas & Resorts
There are four main ski resorts, six small local ski hills, and the Aiguille du Midi.
Beginner Slopes
There are several easy slopes in Chamonix for the beginner. Les Planards, Le Tour, Argentiere/Les Grands Montets, Vallorcine, Brevent, and Les Houches have beginner slopes.
We learnt to ski at the Teleski de Savoy, an excellent learning area for children and near the centre of Chamonix on the way up to the Brévent cable car. There are two ski lifts and a moving walkway, which is excellent for young kids. We hired a private ski instructor, but there's a ski kindergarten at Savoy too.
Les Planards, on the other side of Chamonix's town centre, is also ideal for beginners and intermediate skiers. There are two green (gentle, very easy slopes), one blue (easy slope), and one red (intermediate slope, for more confident skiers and snowboarders) pistes. There's also a ski shop, restaurant, and ski school there.
Brévent-Flégère Ski Resort
Brévent-Flégère is a popular sunny ski area in Chamonix, close to the town centre. It is best suited for intermediate and advanced skiers, with 56 km of ski slopes accessible by 17 ski lifts. The 33 slopes are five black, nine red, thirteen blue, and six green pistes.
The renowned black run, "Charles Bozon", from Le Brévent to Planpraz, is excellent for experienced thrillseekers.
The two resorts are connected by a cable car lift and offer spectacular panoramic views of Mont Blanc.
You can take the Gondola lift from Chamonix to Plan Praz and, from there, an aerial tramway to Brèvent.
Les Grands Montets Ski Resort
One of the most popular resorts in the area, Les Grands Montets offers advanced skiers thrilling open black runs with snow until May.
Chamonix's famous Vallée Blanche Glacier, a 22 km off-piste ski run, is here, but a guide is essential.
Sadly a fire destroyed the cable cars in 2018, so access is now via the Plan Joran gondola. However, access to the summit will be available in 2024 via the 3S cable car.
Les Houches Ski Resort
A ten-minute drive from Chamonix, Les Houches ski resort is best for intermediates. The forested area offers 55 km of slopes – two green runs eight blue runs, thirteen red runs and four black runs, including the famous World Cup slope 'La Verte des Houches.
Balme – Vallorcine
Balme-Vallorcine is accessed by the villages of Le Tour and Vallorcine. La Vormaine is one of the best nursery slopes and is next to the traditional Savoyard village.
Le Tour has 18 slopes – one black, seven red, eleven blue, and one green piste making it perfect for early intermediate skiers.
The Vallorcine side resort has many off-piste areas for advanced skiers and boarders.
Chamonix is a great base to explore other ski areas like Saint Gervais and Megève, Italy's Courmayeur, and Swiss Verbier.
Ski Passes
There are three main ski passes to choose from in winter, depending on your level of expertise and the areas you want to ski – Mont Blanc Unlimited Pass, Chamonix Le Pass, and Les Houches Pass.
As we were all beginners, we chose the Chamonix Le Pass.
Find out more information along with prices at Chamonix.net
If you buy a Chamonix Early Booking ski pass, it gives you a 20% discount. These passes cannot be modified or cancelled due to their early booking nature.
Chamonix Ski & Clothing Rentals
There are several shops offering ski hire in Chamonix. We chose Intersport as there was a shop close to our accommodation.
Ski Instructors
We hired a professional ski instructor for our first three days in Chamonix. There are numerous ones to choose from, and we were thrilled with our instructor, Anne Bosvieux.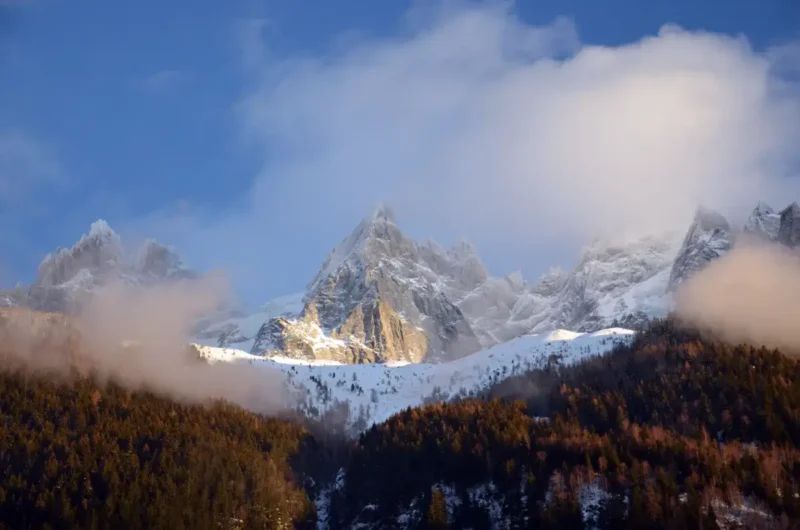 Things to do in Chamonix in Winter for Non Skiers
If you're a non-skier (like me), there are still numerous winter activities in Chamonix. The valley becomes a winter sports wonderland with husky sledging, snowshoeing, glacier hikes, and paragliding. It's not called "the death-sport capital of the world" for nothing!
However, it doesn't have to be all extreme sports. You can choose to relax in a spa, take a yoga class, visit the Ice Cave, explore the mountains with a pedestrian pass, and so much more.
Pedestrian Pass
You don't have to ski to enjoy the snow-capped mountain views. You can buy a return trip on some lifts – ask the cash desk for the available pass options. It's a great way to meet up with skiers in your group for lunch or a drink.
Pedestrians can access the following ski lifts during the winter season:
Gondolas: Brevent-Plan Praz, Flegere, Plan Joran, Le Tour, Vallorcine, Le Prarion
Cable cars: Aiguille du Midi, Brevent, Bellevue
Trains: Montenvers
Aiguille du Midi Cable Car
One of the best winter things to do in Chamonix is ride on the highest cable car in France, the Aiguille du Midi, which takes you to 3,842 m.
Leaving from the centre of town, you travel via Plan de l'Aiguille, where you can stop for a break in the middle of the mountains. At 2310m, Plan de l'Aiguille is the departure point for the Grand Balcon Nord hike to Montenvers.
The second part of the journey takes you over the Pelerin glacier and up the sheer North face of the Aiguille du Midi. 
When you disembark, take in the stunning views and then head up the stairs to the upper panoramic terraces.
In this building is the Espace Histoire, a history area about the cable car construction.
A footbridge connects the cable car station with the Central Piton terrace, which has a 32 m-long steel gallery around it.
The Panoramic Mont Blanc cable car ticket desk is on the other side of the bridge. This gondola connects France to Italy, but unfortunately, it only runs in the summer months.
Once across the bridge, the Central Piton is connected with tunnels, elevators, platforms, and tubes linking the other attractions.
Espace Vertical houses the Mountaneering Museum, Museum of Alpinism, the highest museum ever built.
You can access the summit terrace at 3842m via an elevator. Here, a 'Step into the Void' glass box is suspended over a jaw-dropping 1000m, glazed on five sides – not much reassurance, though!
At the top, the Aiguille du Midi offers spectacular 360° views of the French, Swiss and Italian Alps.  
Back down is Espace Mont Blanc, a small room with large windows overlooking Mont Blanc. Toilets are located here.
Further along is Hypoxia Level, which describes the effects high altitude has on the human body due to low oxygen levels. There's another outdoor terrace near here that provides views of Le Tube.
Restaurant Le 3842 offers a fine dining experience and is one of Europe's highest restaurants. Cafeteria Le Summit 3842 provides a cheaper alternative with breakfast, lunch, and snack items.
See a copy of the Aiguille du Midi map here.
As the Aiguille du Midi is such a high altitude, it is recommended for children over five and children under three are not permitted. It's a rocky ride too, so those with a fear of heights, be warned!
It's cold up there, so wrap up with plenty of layers. Allow at least two to three hours to explore.
As of November 2022, the cost to visit Aiguille du Midi was:
Family pass: 214 €
Round-trip ticket for adult: 69 €
Round-trip ticket for a child: 58.70 €.
Free entry for children < 5 years.
Child entry is valid for 5 to 14 years.
Tip: Admission to the Aiguille du Midi gondola can be included with a Mont Blanc Unlimited ski pass.
If you want to travel with a guide, this half-day Aiguille du Midi tour is a great option.
Montenvers Railway & Mer de Glace
The charming red rack and pinion railway was the first custom-built tourist attraction in the valley, operating since 1908.
The cute red train departs from the centre of Chamonix, behind the SNF train station. The views of the mountains are beautiful as you wind your way up the mountain to Montenvers at 1913m. The journey takes around twenty minutes through pine forests and tunnels.
Once there, the views over the Mer de Glace (sea of ice) are spectacular. It is the largest glacier in France, measuring 7 km long and 200 m deep. Ice caves are carved out every summer as the glacier moves about 70m yearly.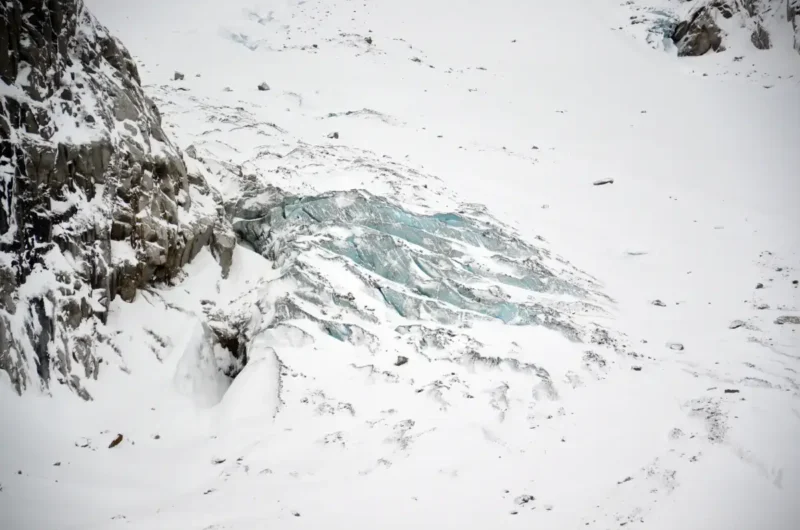 A small cable car takes you from the train station onto the Mer de Glace glacier, where you enter the ice cave. There are 580 steps from the glacier gondola lift terminal to the ice cave entrance.
Unfortunately, the Glaciorium (an exhibition dedicated to glaciology) is only open in summer, and the Crystal Gallery is permanently closed.
If you want to stay for lunch, book a table at Restaurant du Refuge du Montenvers, which serves Savoyard or traditional meals with stunning mountain vistas. Alternatively, Bar des Glaciers is open for coffee, light lunches, and snacks.
The renovated Refuge du Montenvers hotel is set in a 19th-century building. It offers cosy accommodation, including a dormitory (probably the best one I've ever seen), rooms (including a family room), and a suite.
Tip: Montenvers Train is included in the Mont Blanc Unlimited pass.
Mont-Blanc Tramway
The Mont-Blanc Tramway, the highest cogwheel train in France, starts at Le Fayet and ends in Bellevue in winter (the area beyond this point is considered at risk from avalanches). It's popular with skiers in winter.
See a copy of the Mont Blanc Tramway map for the route.
Children must be over six months old for Bellevue and over twenty-four months for Nid d'Aigle.
Timetables and prices can be found on the Mont Blanc Natural Resort site. The railway opens for winter from mid-December to the end of April.
Winter Paragliding
Did you know that Chamonix is not only a top skiing destination but also famous for its paragliding? Take to the air on a tandem flight for spectacular views over the rugged mountains with the safety of an experienced instructor.
Viator offers free cancellation on most activities along with a lowest price guarantee. Take a look at what paragliding deals they have today.
Snowshoeing
Snowshoeing is a tranquil way of venturing deeper into the natural surroundings of the pristine alpine forest when the paths are covered in snow. The snowshoes allow your feet to remain on top of the snow, making walking easier.
You can hire snow shoes from one of the many shops in Chamonix, but to keep safe, book with a guide who will choose a trail matched to your ability and interests. There are half-day, full-day and nighttime options.
Dog Slegding/Husky Rides
If you want to drive your own sledge pulled by a team of huskies, one company in Chamonix offers this experience. As it is a popular winter activity, it does get booked up fast, so secure your spot in advance.
It's typically Alaskan huskies that are used, which have been born and bred for sledging and enjoy nothing more than pulling you along. They are affectionate dogs, and one of the highlights is playing with them afterwards if time permits.
Sessions usually last about an hour and include a 15-minute safety briefing, a 20 to 30-minute walk, and photos with the dogs at the end. The price for December 2022 was 95 € per person.
Read the reviews on Tripadvisor to see if this is for you.
Paret sledging
Schoolchildren once used these wooden sledges to get to school in winter. Now they're used by thrill seekers to race down the slopes of Grands Montets once the last of the skiers have left.
It's not an activity for the faint-hearted, but it will give you an adrenaline rush!
Helicopter rides
Money didn't allow us to take a helicopter ride over the summits of the Valley of Chamonix-Mont-Blanc. However, it would be incredible to view the iconic peaks from above and take in the breathtaking scenery.
Scenic flights range from 15 minutes to half an hour. The 15-minute helicopter ride was 110 € per person in November 2022.
Chamonix Leisure Centre
Richard Bozon Sports Centre offers a range of indoor and outdoor activities – ideal for when the weather is bad.
The 25 m indoor pool has a fun pool with massage jets and a rapid river, a jacuzzi, a 130 m slide and a children's water games area. There's also an outdoor pool, indoor climbing, gym, fitness classes, tennis, ice rink, skate park, spa, and sauna.
In November 2022, entry to the swimming pool was 6.60 € per adult and 4.80 € for children 6 to 18 years old.
Spas
If all that sounds exhausting, recover with a treatment at one of the many spas in Chamonix.
Shop til You Drop
You may not think of Chamonix as a shopping destination in France, but it has a wide variety of retailers selling designer brands, ski wear and equipment, chocolate, books, art, gifts, and much more.
Most shops open about 9-10 am, close for lunch midday, and reopen from 2 pm until 7 pm.
Chamonix has a market selling local products and food every Saturday between 7 am and 1 pm.
There are several supermarkets in town, but they can be expensive, so it may be worth visiting the Carrefour at Sallanches if you plan on cooking a lot.
Explore Chamonix Town
Chamonix is a pretty town to explore, especially in winter when it looks like something out of a fairytale. Take a walk to see small churches, beautiful architecture, and what restaurant you want to dine at for dinner.
Après-ski
As our daughters were young, we couldn't take full advantage of the numbers bars in this lively town. There are places to suit everyone, with open fire lounges to music-pumping bars.
Relax over Lunch or Dinner
When you want some delicious food and wine, book a table at one of the many restaurants in Chamonix. Lunch is often cheaper when establishments offer a set price menu, often with dishes from their A La Carte menu.
You'll find traditional Savoyard dishes like fondues, raclettes, tartiflette, and reblochonnades, along with French, Italian, Asian, and other worldwide cuisines.
For a memorable experience, book a table at one of the mountain restaurants.
Watch a Movie
Cinema Vox shows the latest movies, including some in English (original language movies).
It is located in the town centre at 23 Rue du Docteur Paccard.
Chamonix – What to do in Winter for Kids
We chose Chamonix for our winter holiday as it was child-friendly and had plenty of things to do for families. Children of all ages can learn to ski, ice skate, or spend the day sledging.
Skiing with Children
Our ski instructor took us to the Teleski de Savoy on our first day of skiing, a perfect choice and ideal for young children who are learning to ski. It is the most accessible ski area and has two drag lifts, a magic carpet, and a sledging hill (our girls loved that).
Las Planards is just behind Chamonix train station and is easy to get to. It has a magic carpet, rope tow lift and kindergarten (managed by the ESF Chamonix), with two drag lifts to the top of the green slopes.
Ski Schools
If you don't want to hire a private ski instructor, you can enrol your kids into ski school, where they can learn to ski or improve their skills and mix with other children.
ESF seems to be the most popular, but there are other ski schools to choose from.
Ice Skating
The Richard Bozon Sports Centre has an indoor Olympic size rink, open to the public when not being used by the Chamonix ice hockey team.
The outdoor ice rink at Les Houches is free, and you can hire skates for about €3.50. It's only open in winter from about late December to the end of March.
Luge Alpine Coaster
Located in the Domain des Planards right by the beginner ski area, this luge alpine coaster is a fun activity for all ages. Anyone from 3 years old (3 to 7 years olds must be accompanied by an adult ) can ride along the 1.3 km track with jumps, turns and spins of 540°. It is open year-round (except after the All Saints' Day half-term holidays until mid-December) and located by the Montenvers train station.
Two adults or two children can ride in the same luge.
Sledging/Tobogganing
Sledging is a fun winter activity for young kids or those not interested in skiing. You can rent sledges from ski rental shops (our kind ski instructor lent us one), then head to one of the free, family-friendly snow hills in Chamonix.
For little ones, the Savoy area has a snow hill by the magic carpet or try one of these runs:
Bois du Bouchet Chamonix (close to the start of the cross-country ski trails)
Sommet Prarion Les Houches (top of the Prarion cable car, near the learner carpet)
Le Betté Vallorcine (right behind the Tourist Office)
Servoz Le Tour
Day Trips from Chamonix in Winter
Chamonix is in a great location to explore other towns around France, Italy, and Switzerland. Resorts like Verbier, Courmayeur, St Gervais, and Megeve are included on the Mont Blanc Unlimited lift pass.
You could even visit Annecy or Geneva for a day.
Courmayeur
Only a 25-minute drive from Chamonix or just under an hour by bus, Courmayeur is an easy day trip. Here you can enjoy unspoilt nature, Michelin-starred Italian cuisine, alpine spas, and shops. See prices and times here.
Find out more about Courmayeur.
Megeve
Megeve is another ski town only half an hour's drive from Chamonix. If you want to take the bus, the journey is just over an hour. See prices and times here.
Known as one of the most expensive resorts in the French Alps, Megeve offers designer boutiques, fine dining, and luxury hotels in a rustic setting.
Annecy
The beautiful city of Annecy is picturesque in winter and only an hour's drive from Chamonix. If you want to get the bus, see the times and prices here.
Known as the Venice of the Alps, Annecy has a network of canals and cobbled streets to explore.
Geneva
Geneva is a cosmopolitan city in Switzerland on the shores of Lake Geneva. Explore museums, enjoy hot chocolate or mulled wine in the Old Town, relax in one of the city's spas, indulge in some Swiss chocolate or enjoy the scenery of this beautiful city.
The quickest way to Geneva from Chamonix is by car, which takes around an hour. The bus takes about fifteen minutes longer. Check times and prices here.
When to visit Chamonix in Winter
The first snow of the season is usually around mid-November, but many attractions are still closed, and snow is not guaranteed. Most ski areas open about mid-December, depending on the snowfall. Mid to end of January through to March are the best times to visit Chamonix for excellent snow and ski conditions.
We visited Chamonix in the last week of January, and there had been a lot of snowfall.
Where to stay in Chamonix in Winter
Due to the number of tourists visiting Chamonix in winter and summer, there are numerous accommodation options, including hotels, apartments, and guest houses. However, there is limited ski-in ski-out accommodation.
We stayed in this Le Paradis 18 (2-bedroom apartment) as we wanted a kitchen. It's in an excellent location, only a 5-minute walk to the Chamonix – Planpraz Ski Lift and just 150m to the Savoy Ski Lift. It can sleep up to 8 guests with a double bed in one room, two sets of bunk beds in another, and a sofa bed. The apartment had everything we needed, and we loved having a cosy log fire to enjoy a glass of wine in front of.
The 4-star Heliopic Hotel & Spa is in front of the Aiguille du Midi cable car at the foot of Mont Blanc. Wooden architecture, luxury rooms, and a NUXE spa make this hotel popular with travellers. There are double, twin, and family rooms available.
Another popular hotel is the 4-star Alpina Eclectic Hotel in the centre of Chamonix. The contemporary designed hotel has 128 rooms and ten suites with views of Mont Blanc, the Brévent, and the Aiguilles rouges.
See more accommodation options on Booking.com and Stayz/VRBO, including chalets and private accommodation.
Where is Chamonix, France?
Chamonix is in the French Alps, south-eastern France, close to the borders of Italy and Switzerland.
How to get from Geneva to Chamonix
If you're flying into Europe, the closest airports are Geneva (GVA) & Lyon St Exupéry (LYS).
Geneva airport, about an hour's drive via the Autoroute Blanche (A40) motorway, has various options for transfers to Chamonix, including the train, bus, shared shuttle, or private transfer.
If you are planning on driving from Geneva to Chamonix, read these tips on what route to take.
Buses are the most affordable transportation between Geneva and Chamonix and one of the quickest, taking around 80 minutes. You can view the bus schedules and cheapest options here.
Despite being able to travel by train from Geneva to Chamonix, it is not recommended as the journey time is about three hours and requires changing trains and a shuttle transfer from Geneva Airport to the train station.
We chose a shared transfer by minibus like the one offered by Chamexpress.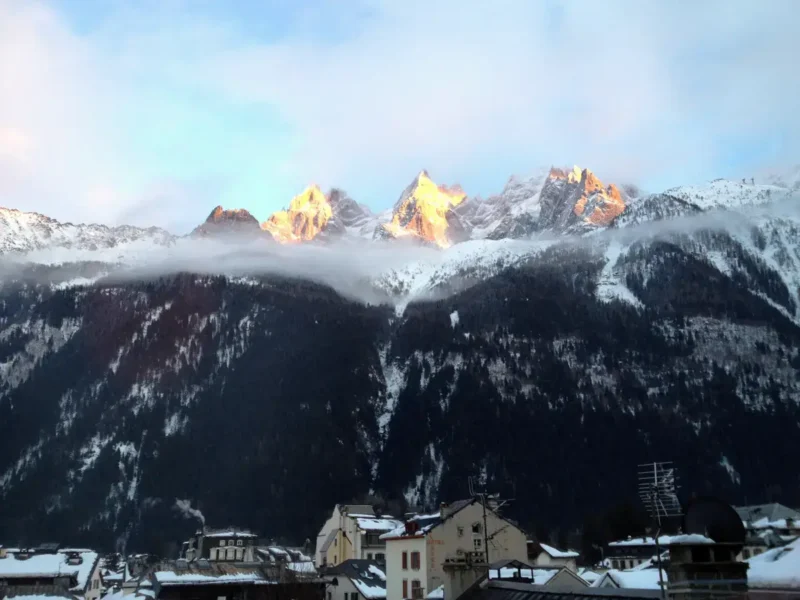 Getting around Chamonix in Winter
Getting around the town on foot is easy if you choose accommodation in the centre of Chamonix.
However, the ski areas in Chamonix Valley are not linked by ski lifts, apart from Brevent & Flégère. Therefore, it's best to use the buses (free with your ski pass) to get to other ski resorts.
Here is a link to the Chamonix bus services and timetables.
What to Wear in Chamonix in Winter
It's a good idea to layer clothing, including thermal underwear. Chamonix is casual, so most people wear jeans with a lovely top/jumper going out.
Here's a list of what to wear in Chamonix in winter:
Thermals
Waterproof boots with good treads or snow boots
Wool socks & ski socks
Ski Jacket (handy even if you're not skiing)
Thick scarf, beanie and gloves
Jeans and tops
Fleeces or jumpers
Warm pyjamas & slippers
Snow pants ( I wore mine for walking too)
Goggles & Sunglasses
Swimwear (if you have a heated pool/spa)
Cost of Visiting Chamonix in Winter
Chamonix isn't too expensive for a French ski resort. You can save money by staying in self-catering accommodation and having some meals in. The restaurants are comparable to Paris.
The obvious costs are the ski passes, hiring of ski equipment, and instructor or ski school.
Our family had an amazing time in Chamonix when we visited in January and made plenty of fun memories to look back on. We'd love to return to Chamonix in winter; it's a magical place full of winter activities.
If you found this article helpful, please consider booking through one of our links. It won't cost you anything but will help towards the cost of running this site. Thank you.

To keep up-to-date with our travels, follow us on Facebook.