Brunei Bandar Seri Begawan Cruise Port Tour
Bandar Seri Begawan, previously known as Brunei Town, is Brunei's largest city and capital.
We visited Brunei on an Asian cruise with Princess Cruises and docked at the Bandar Seri Begawan port (the terminal is about 25 km from the city).
Bandar is worth exploring with its beautiful Islamic architecture, museums, palaces, water villages, and rainforests. We decided on the ship's excursion to see the city's sights.
Disclosure: This post may contain affiliate links (of which we use) so we may receive a small amount of commission if you buy something through them. As an Amazon Associate, I earn from qualifying purchases. You can read the full disclaimer here.
Brunei Bandar Seri Begawan Cruise Terminal
The small cruise terminal has a restaurant, souvenir shop, café, and money changer.
 Bandar Seri Begawan Sights
Crystal Arch at Jerudong Park
The first stop on our Brunei City Sights tour was the Crystal Arch, the world's largest diamond replica. Standing tall on the roundabout at the entrance to Jerudong Park, you can take photos of this monument decorated with tiny gold mosaic tiles.
Jerudong Park Playground, the largest and most expensive amusement park in Southeast Asia, is only open in the late afternoon during the week but from 10 am on the weekend.
Royal Regalia Building
This museum houses the Sultanate's regalia and heirlooms, including gifts from royalty and heads of state from other countries. It's free to enter, and interesting to learn about Brunei's history and the Sultan.
Sultan Omar Ali Saifuddin Mosque
This spectacular mosque is right in the city's centre on its own lagoon, making it seem like it's floating.
The mosque was built in 1958 and named after Omar Ali Saifuddien III, the 28th Sultan Of Brunei. The sparkling dome is made of real gold and features stained glass windows. It is a beautiful building lit at night with green lights illuminating the dome.
The inside is for prayer only. The marble was imported from Italy, the chandeliers from England, and carpets from South Arabia and Belgium.
This mosque is the tallest building in the city's centre, with the minaret making it 52 m high – no building can be taller by order of the Sultan. The ceremonial stone boat in the lagoon is a replica of a 16th-century royal barge.
Unfortunately, our tour didn't spend any time at the mosque (I would have loved to have spent longer there and seen it in more detail).
Kampung Ayer Water Village
We had some spare time in Bandar, so we explored the Brunei River. You can catch a water taxi from here, 'Penambang,' to Kampung Ayer. The fares are negotiable and can be shared with other passengers to reduce costs. However, the best way to see Kampung Ayer is on a tour to learn about the history and see inside a house.
The wooden houses are built on stilts over the river, and it is the largest water settlement in Southeast Asia, with over 30,000 people residing there. It's not just homes; buildings include mosques, restaurants, shops, schools, and a hospital.
Istana Nurul Iman Palace
The world's largest residential palace is 3 km southwest of the city centre and has 1,788 rooms, 257 bathrooms, a banquet hall that can seat over 4,000 guests, a 1,500 people-capacity Mosque, 5 swimming pools, and a 110-car garage!
The Sultan's residence meaning "Palace of the Light of Faith" in Arabic, was built in 1984. The design features Islamic and Malay architecture and can be seen best from the river (our tour guide took us to a spot along the river to view it).
Jame'Asr Hassanil Bolkiah Mosque
Built in 1994, the largest mosque in Brunei is surrounded by ornate gardens and fountains. The modern Islamic architecture features intricate details, gorgeous blue tiles, gold domes and four 60-meter tall minarets.
We spent time admiring the ornate décor and relaxing in the gardens.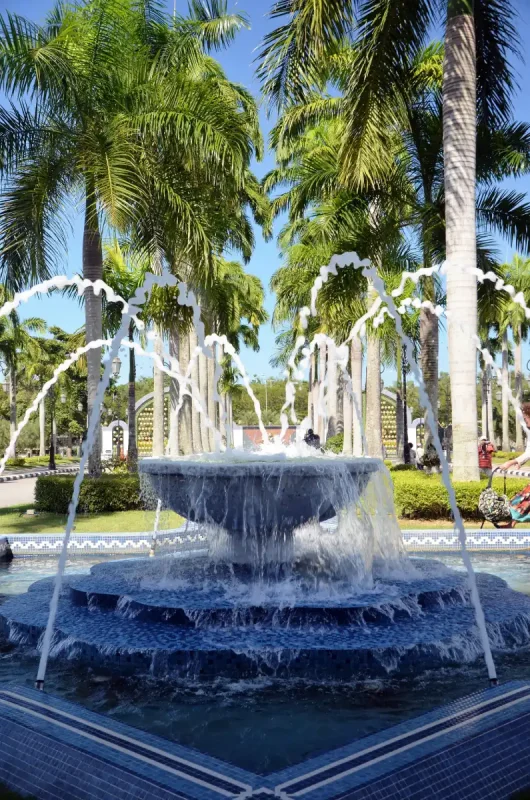 This was all our half-day excursion had time for. Still, if you organise a private tour, you may visit the Malay Technology Museum, Brunei Darussalam Maritime Museum, and the nature reserve.
Brunei was our least favourite port of call as we didn't think there was much to do. However, this could have been down to our choice of excursion.