This travel guide not only provides the best things to do in Walpole but also tips on the weather, location, and where to stay.
Walpole is a small quaint town and makes an ideal place to stop on the way to Denmark or Albany. The drive takes about 45 minutes from Walpole to Denmark and one and a half hours from Walpole to Albany.
Most people visit Walpole for the Valley of the Giants Tree Top Walk. However, consider staying here for a couple of nights as the nature in this area is incredible. We loved visiting Walpole; it's such a picturesque place with plenty of walks and stunning beaches.
Disclosure: Some of my links are affiliates (of which I use), which means that I may receive a small amount of commission if you buy something through them. As an Amazon Associate, I earn from qualifying purchases. This does not cost you a cent, nor do you pay more; I get a little towards the cost of running this blog, so I can keep it going. If you are thinking of booking through any of these companies, I would be very grateful if you could use my links. I am appreciative of all your support.
The Best Things to do in Walpole
Valley of the Giants Tree Top Walk
The Valley of the Giants Tree Top Walk is the most popular tourist attraction in Walpole. It is 19 km from Walpole town along South Coast Highway in the Walpole-Nornalup National Park.
This architecturally designed 600m platform takes you on a gradual climb to nearly 40m above the forest canopy. It is safe for children and constructed of steel trusses and pylons. The platform is fully accessible for strollers and wheelchairs.
Just so you know, the platform does shake slightly, but it feels stable and completely safe.
You can read more about the construction of the Tree Top Walk on the DPAW website.
The birds-eye view over the 400-year-old giant red tingle trees is amazing. It's incredible to see them from this perspective and get up close to these majestic trees without damaging them.
The Tree Top Walk is open daily, apart from 25th December, from 9 am to 4.15 pm. Allow one hour here but two hours to combine with the Ancient Empire Walk trail.
The cost for the Treetop Walk is A$21 per adult, A$10.50 for children aged 6-15, and a family pass (2+2) is A$52.50. Children under six years old are free of charge.
I recommend this attraction for supporting ecotourism and minimising the impact on these ancient trees.
Ancient Empire Walk
A little tip, if you don't want to pay the money for the Tree Top Walk, entry to the Ancient Empire Walk is free.
It is part of the Valley of the Giants complex and can be completed on its own or part of the Tree Top Walk.
The 450m trail takes you through the forest floor to marvel at the 400-year-old tingle trees.
Walking through the hollowed-out trunk of these giants is an amazing experience not to be missed. It makes you realise just how tall they are, and you get to see a different perspective of them.
Most of the trees here are unique to the south-west of Western Australia. Some plants can be traced back to the supercontinent, Gondwana, when Australia was joined with Africa, India, Antarctica, and South America.
Over 50 million years, Australia has experienced a significant
climatic change. However, this part of WA has minor seasonal change, rainfall between 1000 & 1200mm, well-drained gravelly soil, low nutrient content, and hilly terrain. This combination has allowed species, such as relict spiders and snails from Gondwanan times, to survive in this forest.
The forest mainly consists of red tingle (Eucalyptus jacksonii), yellow tingle (E. guilfoylei), marri (Corymbia calophylla) and karri (E. diversicolor).
The beautiful, old gnarled Grandma Tingle is a highlight of the walk. Her wrinkles and "face" give her a human character and, at around 400 years old, is the forest's matriarch. She used to be called The Gatekeeper as though she was keeping watch over the forest.
The Ancient Empire Walk is open daily, except for 25th December, from 9 am to 5 pm.
Free guided walks are offered every day outside of school holidays, subject to weather conditions. Daily times: 10.15 am, 11.30 am, and 2 pm. 
This is one of the excellent free things to do in Walpole.
Giant Tingle Tree & Hill Top Lookout
The Giant Tingle Tree and Hill Top Lookout are accessed from Hilltop Road, off South Coast Highway. The one-way windy road is unsealed but suitable for 2wd (check with your vehicle hire company, though).
The drive itself is lovely as you go through a forest of Red Tingle and Karri trees. There were also lots of wildflowers out when we visited in October.
The lookout is 2km along the road. It's worth a quick stop for a few photos and wonderful views over the Frankland River, Nornalup Inlet, and the Southern Ocean.
Another 3 km along Hilltop Road and you arrive at the Giant Tingle Tree car park. From here, it's an 800m easy loop walk.
The Giant Tingle trail is paved, and you can either return the same way or continue the loop. The continuation of the trail uses part of the Bibbulmun Track and then winds back to the car park.
The highlight of the trail is, of course, the Giant Tingle. Said to be the largest, living girthed eucalypt in the world at 24m. She is pretty impressive as you can see in the photo.
This red tingle has been hollowed out by fire but is still alive as the living and growing parts of the tree are located just below the outer bark. How incredible is that!
Years ago (before we knew better), tourists would drive their cars through a particular tingle tree and take photos of their car in the tree. This, thankfully, has been banned as the old Tingle died due to this.
Red Tingles grow up to 75m and have huge buttressed trunks, which provide stability for its shallow roots in the moist soil.
Circular Pool
Circular Pool is a 15-minutes drive from Walpole town, in Walpole Nornalup National Park. The roads are unsealed but ok for 2wd (if allowed by your vehicle rental). You can visit here after the Giant Tingle Tree.
Lionel Gunson was the first National Park Ranger in Western Australia in 1962. At that time, Circular Pool was accessed by a fire break. When a car nearly rolled into the pool, Lionel and a friend built a car park higher up.
You can take stairs down to the lookout from the car park or follow a gradually descending path.
The name derives itself from the way the river flows in slow circles. If you look carefully, you can see it.
Circular Pool is beautiful to look at with the bubbles and froth cascading over the rocks of the Frankland River. It looks like a giant cappuccino! The froth results from saponin; this comes from plants as they break down in the water. As the water tumbles over the rocks, it churns up the saponin, making a cappuccino effect. It's at its best in winter.
The water here is quite dark due to the tannins from native plants breaking down.
Marron (which can be caught in season), freshwater Mussels, and Western Minnow inhabit these waters.
Circular Pool is a nice place for a picnic, a wonderful walk, or a place to canoe. Some people swim here in the summer months.
Conspicuous Cliffs
Conspicuous Cliffs are located east of Walpole. Travel east along South Coast Highway for 13 km and then turn right onto Conspicuous Beach Road. This is a 7km unsealed road but ok for 2wd.
It's a 200m return walk to a picnic shelter and lookout with full accessibility from the car park.
A boardwalk and stairs lead down to the beach. A stream runs alongside, and the stairs finish close to the stream. This can be hard to cross after heavy rainfall in winter or early spring. However, the left side of the beach is easy to access.
The isolated beach with its soft, white squeaky sand and wild surf is a must-visit. However, I wouldn't recommend swimming here as the waves are big and known for rips. Surfers enjoy the large surf breaks here, though.
The view of the limestone cliffs, the granite headlands, and the unspoiled coastline are spectacular. It would have been amazing on a clear day.
The uphill walk to the top lookouts is well worth the effort and a highlight of our time in Walpole. There are benches to rest on and a lookout about the halfway mark. Although the views from here are wonderful, it's nothing compared to the top.
The walk up provides views over the coastal heathland with swamp paperbarks and red flowering gum trees (they flower in summer).
From the top, the panoramic views over the Southern Ocean and the rugged coastline are magical. It can be windy up there, so take appropriate clothing.
Conspicuous Cliffs are a popular whale-watching spot from July to September.
Peaceful Bay
Peaceful Bay is 30 km east of Walpole and can be combined with Conspicuous Cliffs.
Nearby landowners once used the area as summer grazing for their cattle. It is now a quiet coastal holiday destination.
The sandy beach lies on the Great Southern Ocean and wraps around the headland. The limestone cliffs and big boulders give it plenty of character.
A small jetty provides easy access for boat owners and a good place to fish. The beach also has 4wd access and seemed popular when we visited with lots of four-wheel-drives on the beach.
In summer, it's an excellent snorkel site with plenty of marine life close to shore.
The coastal bushland and dunes are alive with a carpet of wildflowers in spring.
Knoll Drive & Coalmine Beach
Knoll Drive is a 5 km one-way circular drive on the peninsula between the Walpole & Nornalup Inlets.
It's 3 km east of Walpole, then turn right onto Coalmine Beach Road. The Coalmine Beach Car Park is about 2 km along, just past the road to the Caravan Park. The car park is where the loop brings you back to.
Knoll Drive has views over Nornalup Inlet and takes you through the native forests of the Walpole-Nornalup National Park.
Stop along the way at the lookouts or for a picnic. The Channels picnic area has views of the narrow channel that links the two inlets. There are barbecues here too and picnic shelters.
Coalmine Beach is a great beach for kids as the water is shallow, and it's a boat-free zone.
Coalmine Beach got its name from the shallow seam of coal at the base of the cliffs.
Mount Clare Summit Trail
Mount Clare Car Park is located 8 km west of Walpole along South West Highway. From here, turn into Tinglewood Road and travel about 1 km along the gravel road.
The 2.4 km return walk is a moderate Grade 3 trail, which you should allow 1 to 1 1/2 hours to complete.
The short and gradual uphill walk takes you through magnificent tingle and karri forest. We had to climb over a couple of fallen trees, but the walk wasn't that hard. There were lots of wildflowers, moss, fungi, and lichen, which made the walk even prettier.
Look out for the teapot tingle along the way. Can you see how it got its name?
The granite outcrop summit offers stunning views of the bushland and the Southern Ocean on a clear day.
It reminded me of the walks in England with all the leaf litter, not to mention it was raining 🙂
Two other walk trails leave the car park here; the 4.2 km return Deep River Loop Walk and the 8 km Shedley Drive Loop Walk. I'm going to do the Deep River Loop Walk next time as I want to see the suspension bridge.
Sandy Bay
Sandy Beach is 4 km west of Walpole along South West Highway. You need to travel on gravel roads to get there.
As it is on the Nornalup Inlet, the bay is tranquil and perfect for swimming and canoeing.
The narrow sandy beach and calm water make it ideal for families with young children. There is a toilet, although it's a pit one.
There were quite a few flies around when we visited in early spring, despite hardly being anywhere else. Not sure if that was due to a huge dead fish washed up onto the beach, though!
There's a 1.5 km trail from Sandy Beach to Rest Point, which follows the inlet through tingle and karri forest. We didn't have time to do this one, unfortunately.
Fernhook Falls
If you are visiting in winter or early spring, consider a visit to Fernhook Falls. We didn't do this as access is via unsealed roads, and they didn't look in great condition. As we had a hire campervan, we decided against it.
John Rate Lookout
We popped to John Rate Lookout, although it was raining, and decided to take a couple of photos. I can imagine the views and the area would be gorgeous on a sunny day.
The lookout is named in honour of the first forester in the Walpole area. In the early 1950s, John Rate discovered a third tingle tree species, now known as the Rate's tingle (E.brevistylis). Tragically, he was killed when a large karri limb fell on him.
Accommodation in Walpole
Camping
We stay at Coalmine Beach Holiday Park. I have to say that it's the best campsite we have stayed at. Our site was huge and had a fire pit that we could use (bag of wood purchased from reception). There were four campers' kitchens with stove/oven, microwave, toaster, kettle and fridge/freezer, seating, and barbecues. The amenities were clean, and we never had to wait to use the showers. Best of all is it felt like camping in the bush (with kangaroos around us and lots of birds) but with the luxury of having all the amenities. We can't wait to return.
We also spied some amazing Glamping Tents, which we've booked for next April. Check them out here; they look incredible, and my idea of camping!
We use booking.com to book our accommodation as they offer competitive prices, the system is easy to use, and their cancellation policy is great. Click here to check on the price and read the fantastic reviews. Alternatively, click on the photos to check the prices on Agoda.
Mid-Range
Tinglewood Cabins would be my choice if I wanted to stay in a chalet. It gets a 9.5 star rating on Booking.com, and I like that it has a fully equipped kitchen and a fireplace. See if it is still available for your dates by clicking here.
Budget
Tingle All Over Budget Accommodation is a hostel but suitable for families too. They have family rooms, one of which has a private bathroom. The rest of the rooms have a shared bathroom. Tingle All Over gets great reviews with prices around $30 per person for a dorm, going up to about $130 for a family room with a bathroom for four people.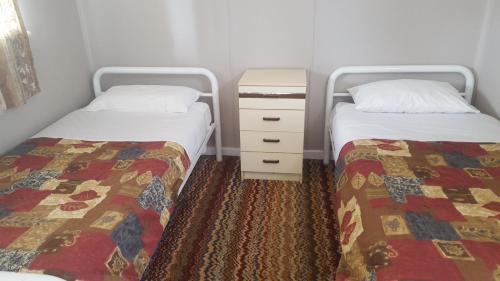 Location & How to get to Walpole
Walpole is in Western Australia's South West, 412 km from Perth.

International and domestic visitors will fly into Perth Airport. Find details about visas, prohibited items, currency, and safety on our Australia page.
Car Hire – There are several car hire companies available at the airport but I usually find that Europcar has the best deals for us.
The earlier car hire is booked, the more options there are, and the lowest prices.
Walpole is a 5-hour drive from Perth, along State Route 2 and National Route 1.
TransWA runs buses to Albany that stop in Walpole. However, it's hard to get around this region without a car.
The Ultimate Western Australia's South West Road Trip
This bucket list road trip takes in the very best of Western Australia's South West region and is a must for first-time visitors to WA. See a detailed itinerary and plan your route today with tips on where to stay and what to do.
Walpole Forecast & Weather
The hottest months are from January to March, where the average highs are 24/25 degrees.
The coldest months are from June to September. During this time, the temperature will be around 16/17, with a minimum of 9.
The most rain falls between May and August, with December to February being the driest months.
See the detailed 7-day forecast at the Bureau of Meteorology.
Brief history & Settlement of Walpole
I want to respectfully acknowledge the Nyoongar People, the Traditional Owners, and First People of these lands. I would like to pay my respect to the Elders past, present, and future, for they hold the memories, the traditions, the culture, and hopes of the Nyoongar People.
The Nyoongar People called this area "Nor-Nor-Up", the place of the norne (black snake). This might explain how Nornalup got its name.
Captain Thomas Bannister discovered Walpole in 1831. The river here was named in honour of Captain W Walpole by Governor James Stirling.
The first European settlers to the area were Frenchman Pierre Bellanger, and his family, in 1909. This was followed the next year by an English family, the Thompsons.
Land was put aside for a National park in 1910, which started a small but thriving tourism industry.
Today Walpole is a little town servicing the surrounding rural areas where fishing, dairy, and beef are the main industries.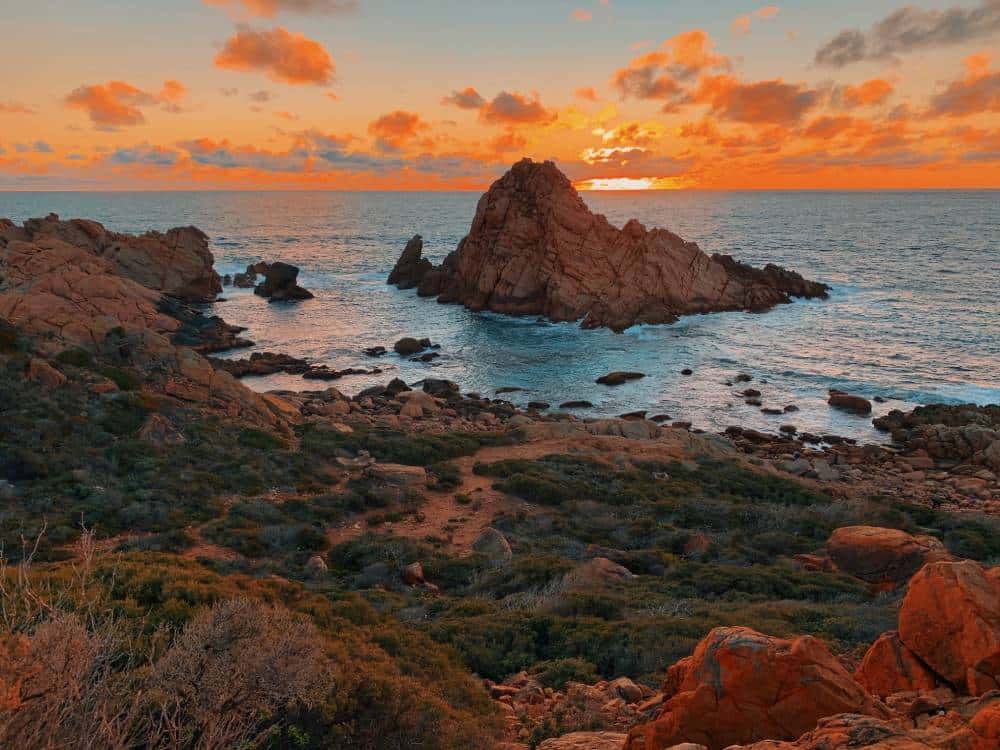 Western Australia's South West Travel Guide
This detailed travel guide provides information on all the regions that make up Australia's South West. Read about the destinations, including what to do and where to stay.


Save money planning your holiday
Flights: We use different sites to get the best possible price for flights. Check matrix.itasoftware.com to get an idea of the cheapest dates, but you can't book through this site. Compare the cost of flights with Trip.com and try different routes.

Accommodation: We mainly use Booking.com for accommodation as they consistently have the lowest rates with free cancellation on most properties. We also book through Stayz for private accommodation as they are usually cheaper than Airbnb.

Car Rental: To compare rental car company prices, we use Rentalcars.com. They are the world's biggest car rental site, comparing all main brands including Europcar, Budget, Ace, Hertz, Avis, and Alamo. We usually end up using Europcar as they offer the best deals and are a well-known company.

Tours: We use third-party sites Viator, Get Your Guide & Klook due to their free cancellation policies, instant confirmation, price guarantees, and mobile ticketing. We occasionally book through Red Balloon too.

Travel Insurance: Cover-More protects the travel dreams and experiences of more than 15 million people worldwide every year (including us!). Part of Zurich Insurance Group, they cover 22 countries across five continents with leading positions in the USA, Australia, Brazil, Argentina, Ireland, India and New Zealand. Protect your trip against several COVID-19 scenarios during the current coronavirus pandemic. 


Western Australia Travel Guide
For other ideas on where to visit in Western Australia along with the best things to do, where to stay, how to get around, and other essential information, click on the link below.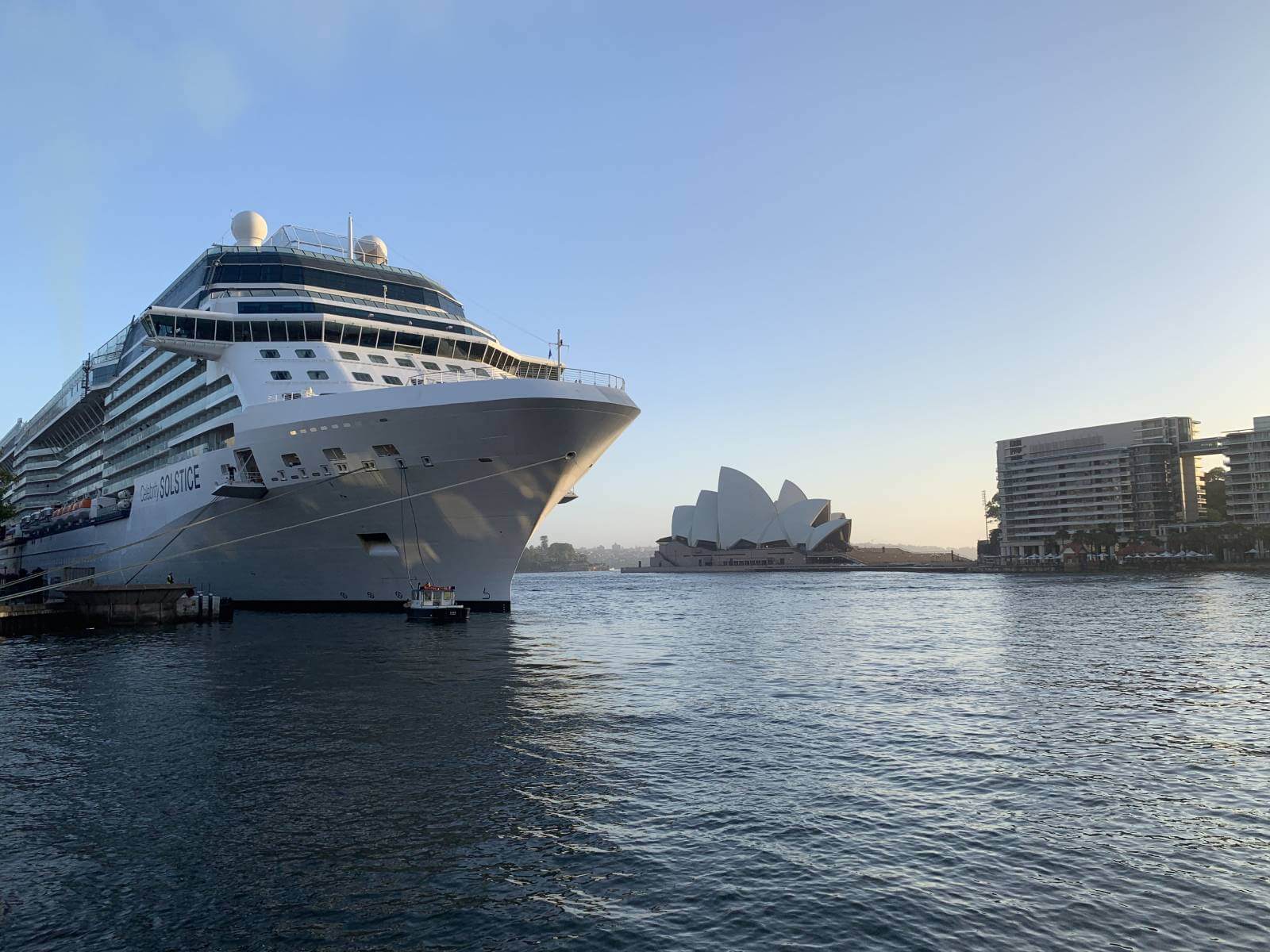 Free Australia Travel Guide
For other ideas on where to visit in Australia along with the best things to do, the ultimate road trips, bucket list items, where to stay, how to get around, and other essential information like safety & health, click on the link below.


FAQ
What is the population of Walpole?
The current population is around 500.
How far is Walpole from Perth?
Along National Route 1, it is 411.4 km which will take about 4 hours and 30 minutes by car.
What region is Walpole in?
Walpole is in the South West region of Western Australia.
How far is Denmark from Walpole?
Denmark is 65.2 km from Walpole and would take about 45 minutes in a car.
Is there a supermarket in Walpole?
Yes, there's an IGA in the town centre, opposite the Tourist Information. The shop is open 7 days a week but check times of opening here.
There's also a fuel station and a liquor store here.
Where's the best place to eat in Walpole?
By far the best food is from Mal and Barbs Flaming Hot Takeaways. The fish and chips are not only huge but are the best we've had in Australia. This comes with amazing and friendly service.
The Walpole Bakery has delicious sausage rolls too.
If you found our Things To Do in Walpole guide helpful, please consider booking through one of our links. It won't cost you anything but will help towards the cost of running this site. Thank you 🙂