Can you go to Brussels with toddlers? We did and we'll share with you how we got there, what we did and where we stayed.
Brussels with toddlers on Eurostar
Travelling to Brussels from England on Eurostar was easily the best way with toddlers. Within two hours of leaving Kings Cross St Pancras International station, you arrive in the centre of the city. No trying to get to airports or back into the city from one.
You need to be there 45-60 minutes before departure and the gate closes 30 minutes prior to the train leaving. Don't forget everyone needs a passport, even babies and toddlers. If you are there early, there's plenty of food and drink options in the main station before heading into the Eurostar terminal.
Another bonus of train travel is there isn't a weight limit for luggage. As long as you can carry it and get it onto the luggage racks, then you're ok. Very handy when you have lots of items to bring with you for your little ones.
Children under 4 can travel for free providing they sit on a lap for the whole journey. We decided to buy child tickets for our twins as we wanted them to have their own seats.
There are family seats available where you can sit four around a table so check out the seating plan when you book. All the trains have baby changing facilities too.
The journey itself is very pleasant and we managed to keep the girls entertained with snacks and sticker books. You are able to buy food on board and they do cater for children. However, they don't sell baby food, but are quite happy to warm up baby bottles and food.
Disclosure: This post may contain affiliate links (of which we use) so we may receive a small amount of commission if you buy something through them. As an Amazon Associate, I earn from qualifying purchases. You can read the full disclaimer here.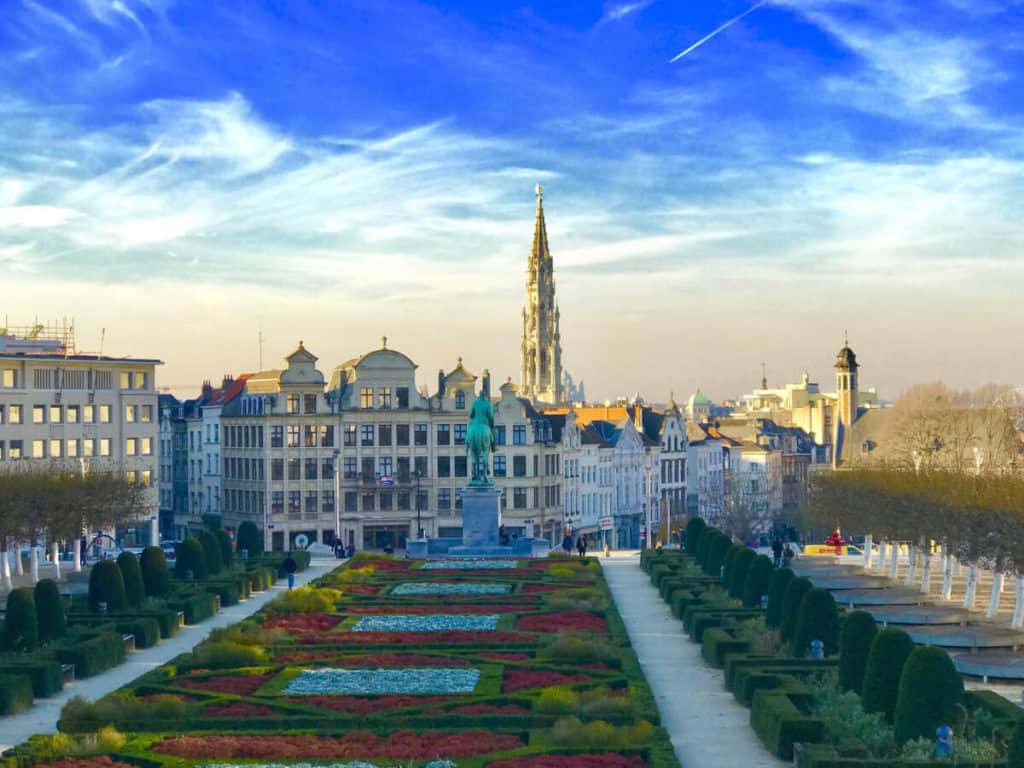 Things To See
We spent most of our days walking around the city. Our daughters, who were 18 months old at the time, were quite happy to sit in their strollers (providing we kept up the food supply :)).
Jardin du Petit Sablon
Our first stop was this pretty little square. It's a picturesque garden which dates back to 1890. Statues surround the park and fountain and there are park benches to rest on.
Notre Dame du Sablon
Opposite Jardin du Petit Sablon is the Notre Dame du Sablon. The beautiful Catholic church was built in the 15th Century in Brabantine gothic style and has two Baroque chapels.
Palais Royale
The Royal Family no longer reside here but The King and other members of the Royal Family still use it. The King has his office here and welcomes foreign Heads of States during official visits. Unfortunately, the palace wasn't open while we were there but is open to the public during the summer holidays.
Grand Place
Grand Place is a square in the center of Brussels. It encompasses City Hall, Guildhouses and Maison du Roi. UNESCO listed it as a World Heritage site in 1998. It comprises of several different architectural designs including Gothic, opulent baroque, neoclassical and neogothic. This is due to the square being nearly destroyed by the French Army in 1695 but being rebuilt within 5 years.
If you happen to be there in August, have a look for the flower carpet. It only happens every other year with the next one being held in 2020. It looks absolutely stunning and I would love to return to see it one day.
Mannekin Pis
The Peeing Boy statue is one of the most famous icons of Belgium. This is actually a replica of the 17th Century stone original which is now in the Museum of The City of Brussels. It started off as a fountain in the 15th Century however, towards the end of the 17th Century, the statue became part of the people's lives. He even has several outfits that he wears during the year.
Brussels Park
This park was known as Parc Royal and is a perfect place to let your toddlers run off excess energy and to have a reward for being pushed around the old city. There's also a drinking water fountain, toilets, and a playground if you have older children.
Atomium and Mini Europe
This international symbol of Brussels is the most popular tourist attraction. It is open 365 days of the year and has varying prices depending on what else you want to see and do there. It provides panoramic views over the city, a unique interior, and exhibitions. Mini Europe is also located here and can be included in the price of the ticket.
Museum of Natural Sciences
A great choice for toddlers, especially those who love dinosaurs. It is also very reasonably priced. You can find all the information you need on the Museum's webpage.
Toy Museum
Another museum but this time exhibiting toys from previous decades. It opened in 1990 and was started by a family who loved toys. The collection grew with donations from the public as well as purchases. This former grand mansion now holds over 25,000 historic toys and games with the oldest dating back to 1830.
Accommodation – Citadines Toison d'Or Hotel
Our main reason for choosing Citadines Toison d'Or was the kitchenette facilities and closeness to a metro, although we managed to walk to most places of interest. Besides that, it was clean, central, the staff were friendly and the area felt very safe. The nearest metro is Louise which is a 2-minute walk.
Where to eat with Toddlers
To be honest, we found it easier with twins to eat in a casual setting. We particularly liked Drug Opera in Old Brussels. We found it to be child-friendly and the girls loved their pizza and fries. Others to try include Chez Leon and Houtsiplou.
If you liked Brussels with Toddlers, please pin for later.
Please note that this post contains affiliate link/s and any sales made through such links may reward me a small commission but at no extra cost to you.